We give exams all through our student life and each time no amount of guidance is enough to sail though them smoothly
Prologue
'I am facing the same negative scenario that I have faced before. Is there a way out of this problem?' he wondered.
Part I: The guilt
Ahsen felt bad. The school's exams were about to start in a week and he had not studied at all. As always, he had been wasting his time during the school term on playing games and chatting with friends on gadgets, watching TV and sleeping.
He only thought about the exams when he got the exam timetable. And now there was so much to do and he didn't know where to start.
'If only I could turn back time and start the preparations earlier,' was the thought that kept running through his mind. But what he thought could not possibly happen. He wondered if there was a way out of the dilemma he faced.
Part II: The remedy
Luckily for Ahsen, his cousin, Ali, came over for a visit that day. Seeing his younger cousin in despair, Ali enquired what was troubling Ahsen. Ali was honest enough to accept his mistake in leaving the exam preparation so late and discussed his dilemma.
Ali comforted Ahsen and decided to provide a solution to Ahsen's problem. The good thing was that Ali documented his solution so that Ahsen could refer to it as and when required.
Ahsen's cousin further suggested that, in the future, the documented guidelines would help him all the time, whatever the level and extent of Ahsen's preparations would be.
The following guidelines were suggested by Ali:
• For each subject, ascertain the chapters or course that would be tested in the test/exam.
• Review the class work and homework in your notebooks. Get notebooks from your class fellows of any work that you might have missed. Also make sure that you have all the worksheets or notes, etc., provided by your teachers.
• Recall and keep in mind each teacher's guidelines regarding how to study and prepare for the exams. Each teacher and subject have different requirements and need a different approach, so act accordingly.
• Read carefully (for a thorough understanding) all the aforementioned course material and the important points highlighted in your course books.
• For mathematics, do as many questions as you can of each exercise based on the amount of time you have for the preparation.
• Make a timetable based on your exam dates and assign a reasonable part of the time you have to each subject. It's no use neglecting a subject or a few subjects and focusing just on the others. Of course, the amount of time you give depends on the difficulty level of the subject and the amount of course to be covered.
• Try to solve past papers, questions done in the class and those in your book once you have done the reading of the course material.
• Always keep in mind that there is no substitute to hard work. You cannot pass exams by magic. You would have to study and work hard for it.
• Leave all other activities that waste your time, give your gadgets to your parents and only use them once in a while, for a very short time, to relax yourself during study breaks.
• Also motivate your friends to work hard and plan their study schedule well. We tend to get influenced by our friends and having friends equally dedicated towards studies will help to keep our determination strong.
Part III: The aftermath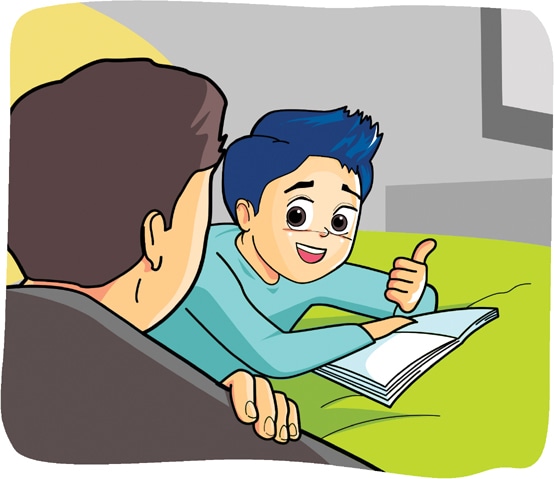 Ahsen went over the guidelines. The urge to procrastinate was great in him. But his cousin had warned him that the guidelines would be of no use unless he actually followed them and worked hard.
After starting the exam preparation, the first two days went really great for Ahsen. He worked really hard, but gradually, procrastination and temptations to do fun things took over.
Ahsen realised that he was running out of steam. He called his cousin on phone for advice again.
Ali suggested that it was time for a little soul-searching.
"You can lie to others but please don't lie to yourself!" his cousin's words were stern. "Ask yourself honestly what you really want to achieve! Once you set the study aims that you really want to achieve, whether out of fear or motivation or good sense, only then you would be able to study consistently with a sense of self-commitment. Only by being true to yourself you would set personal study targets that extract a sense of commitment and motivation from you to study hard," Ali explained.
So for the first time in his life, Ahsen set himself realistic study targets.
"My personal aim is to at least pass in all the subjects, while getting good marks in the few subjects I really like," Ahsen told his cousin.
Part IV: The action day
Ahsen planned his studies and did his homework about how to approach and tackle each subject on the exam days. He had gathered information from a variety of sources and made a list for reference purposes.
His list included the following:
• Make sure you have enough mental energy and freshness to do your best on each exam day.
• Calm your nerves and push all negative thoughts out of your mind.
• Read all instructions and questions on the exam paper carefully before starting to attempt it.
• Before attempting each question, read it carefully to determine what it asks you to do. Tailor your answer perfectly to the requirements of the question.
• Figure out how much time you have for each question. Make sure you allocate ample time for solving each question. The amount of time you allocate for each question should depend on the marks it carries. Questions carrying more marks should be given more time than the ones carrying fewer marks.
• Make sure you write the correct question number (as it appears in the question paper) against the answer to each question you write in the answer sheet. For example, if you are writing the answer to the Question No. 5 part (b) sub-part (iii), then write "5 (b) (iii)" against the answer to the question.
• The last 10 minutes of the exam time should be devoted to review of the answers and correction of mistakes, if any, in them.
• Your marks will depend on what you produce on the answer sheet. A part of your preparation might get wasted if you fail to deliver during the exam.
• Do not leave any question unanswered, unless there is negative marking and marks will be deducted for the wrong answer. Sure you may not know the correct answer, but there is no harm in trying as sometimes once we start solving a question, the answer starts to come to mind. Remember, a partially correct answer is better than no answer at all.
Part V: Epilogue
After having followed all the guideline that Ahsen received and working hard, Ahsen was able to do well in his exams. His result was better than his initial expectations.
Ahsen realised that being organised and giving attention to small things are very important for doing well in exams. These steps can get anyone out of studies and exam related troubles and problems.
Published in Dawn, Young World, February 23rd, 2019