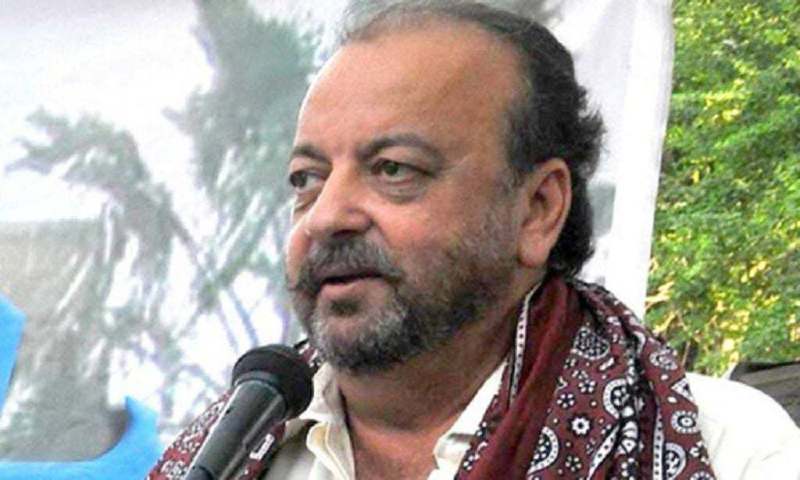 KARACHI: Senior Pakistan Peoples Party leaders, including members of the provincial cabinet, staged a sit-in outside the residence of Sindh Assembly Speaker Agha Siraj Durrani in Defence in protest over not allowing female ministers Azra Pechuho and Syeda Shehla Raza to meet Durrani's family in his house where a raid by a National Accountability Bureau team was in progress.
The members of the Sindh cabinet led by former chief minister Syed Qaim Ali Shah and Sindh PPP president Nisar Ahmad Khuhro reached Speaker Durrani's house, where scores of party workers also joined them.
The house was surrounded by personnel of paramilitary Rangers and inside NAB officials were carrying out a search and taking photographs.
Cabinet meets at CM House
Following the news of Durrani's arrest in Islamabad by NAB, the Sindh cabinet met at the Chief Minister House for a consultative session with CM Murad Ali Shah.
The meeting, which lasted for about two hours, expressed serious concern over the arrest of Speaker Durrani and termed it an illegal act since he was not issued any call-up notice or any letter from NAB asking him to appear before its officials.
Senior PPP leaders denied entry in the house during raid by NAB
The cabinet members later reached Speaker Durrani's residence but they were denied entry to the house. Even the female lawmakers were not allowed to meet female members of Durrani's family.
Talking to media, former CM Qaim Ali Shah questioned as to why members of Durrani's family were not allowed to come out of their house.
He said that it was sheer injustice and not accountability that women members of his family were being kept in illegal confinement. He said that it was for the first time in the history of Pakistan that the custodian of a house was arrested.
Mr Khuhro said if NAB had proofs against the speaker then why they raided his residence and what documents were they searching for.
He said keeping the family under house arrest was an "illegal action" of NAB.
Imtiaz Ahmad Shaikh said that the family was under house arrest since afternoon. "What type of justice is it?" he asked.
He said that NAB had taken action against the speaker but "under what law is it taking action against his family".
Parliamentary party meeting summoned
Meanwhile, sources said that a meeting of the parliamentary party of the PPP was likely to be held tomorrow to discuss the situation.
In today's informal consultative session of the cabinet, it was decided to resume the Sindh Assembly session, which was adjourned till Feb 27, probably on Feb 22 so that a production order could be issued by the deputy speaker.
According to Article 53(3) and Rule 14, Deputy Speaker Rehana Leghari has become the acting speaker and under Rule 82(2) she could issue the production order to bring Speaker Durrani to attend and preside over the session.
The sources said that the session was being summoned so that the whole house could lodge a strong protest against the arrest of the speaker without informing the custodian of the house as required under the law.
Published in Dawn, February 21st, 2019