Ten toads hitch a ride on snake's back
At least ten toads were filmed riding on the back of a python, called Monty, in a man's back garden. Paul Mock filmed the animals sitting on the 3.5 metre snake after floods breached a dam. It makes for disturbing, yet compelling, footage.
Paul said: "I was a bit shocked to see the snake at all. Because the weather was so bad, I almost stepped on him. I've no idea why the toads were sitting on his back as they can obviously swim. They must just have been attracted to the snake's scent."
Man gets lung infection from socks
A man has ended up in hospital with a severe fungal infection in his lungs caused by sniffing his socks. The unnamed man from China would take a whiff every day at the end of work. As he was changing into more comfortable clothing, he would take off his smelly socks and inhale the odour.
As a result, he caught an infection from a fungus that had developed in his footwear from his sweaty feet and spread to his lungs when he breathed in the spores. The man was admitted as an emergency case to the hospital in the city of Zhangzhou where an x-ray confirmed him suffering from a severe lung infection caused by his frequent sniffing of his own socks and he has been kept in for treatment.
Town flooded with chocolate
Chocolate flood ummm ... feels like a dream. Fire-fighters were called out to an unusual job after a tonne of melted chocolate spilled out from a huge vat.
In what has been described as a 'small technical defect' the liquid chocolate oozed out of the tank, out of the factory and onto a road where it solidified. The job to clear it up then fell to around 25 fire fighters who pried it off with shovels, hot water and torches to remove the leftover bits from cracks and holes in the road.
The chocolate oozed from the DreiMeister chocolate factory in Westoennen, North West Germany.
Europe enjoys a frosty tradition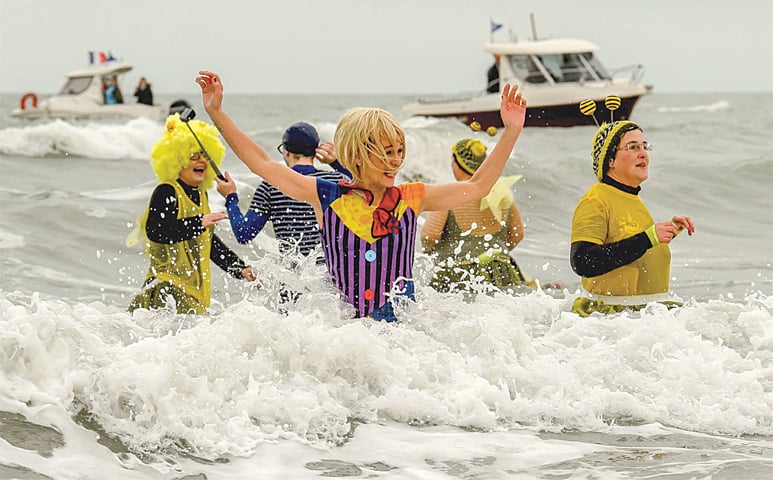 From Edinburgh to Lisbon by way of Berlin, the chilly thrill of a New Year's dip appealed to many looking for a bracing way to ring in 2019.
How cold? "Nine or ten (degrees Celsius), but it's fine, it feels good," said Claudy, who took part with around 1,000 others in the annual rite at Malo-les-Bains, northern France.
Similar scenes played out elsewhere in Europe, some themed, others not, with the common denominator a willingness to take the plunge as others cheer from the shore, wearing woollen caps and gloves.
In the Netherlands, a crowd of about 10,000 had a swim in the North Sea at Scheveningen, where the water was a frosty seven degrees Celsius and an epic beach bonfire more than 40 metres (131 feet) high had showered nearby streets with burning embers on New Year's Eve.
Published in Dawn, Young World, January 12th, 2019