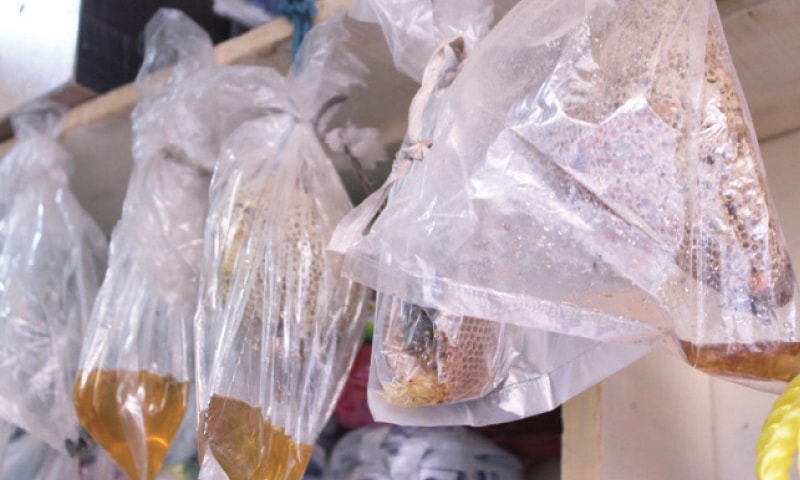 KOHAT: The season of harvesting the precious delicacy of wild bee honey and hunting of Siberian birds is at its peak in Kohat and nearby areas.
The honey has become scarce due to ruthless cutting of forests.
However, farm honey and adulterated wild bee honey have flooded the market and being sold at large scale unchecked due to difficulty in differentiating between the real delicacy and fake one by common people.
Cheaters sell fake wild bee honey at shops in the local Political Market due to shortage of the original one owing to ruthless cutting of trees in Bazidkhel jungles – the main source of honey – by the people for firewood.
Despite exorbitant rise in the prices of wild bee honey the lovers are buying it eagerly for its medicinal value and taste from selected shops which sell genuine product hanging with twigs to guarantee its purity.
The price of one kilogramme of honey has gone up to Rs4,500 that was brought from the jungles of Bazidkhel and sold at low price to the shopkeepers, who then earn thousands of rupees from the business. The price of natural honey has registered a rise of Rs500 per kilogramme as compared to last year.
The most valuable beri (sidr) honey, mainly brought from Afghanistan and some from local areas, was also short in the market. It is used in medicines by Hakims and is available at local shops.
A survey conducted by the chemistry department of Kohat University of Science and Technology had exposed the danger of wiping out of beri honey if more trees were not planted and the existing ones not preserved.
Due to shortage of the honey, the businessmen are bringing it from Karak district, which is sold by the forest guards for Rs2,200 per half kg.
One Nawaz, a chicken trader, said that the beehives were collected by the children and youth alike from the jungles and the honey was sold for Rs3,500 a bottle of less than one kilogramme.
He said that prices of honey-filled hives range between Rs5,000 and Rs6,000 a piece depending on the size.
Hadi Jan, who had bought a small hive for making medicine for his father, said that the Rs1,200 hive yielded about 150 grams of honey.
Meanwhile, the hunting of Siberian migratory birds is also at its peak in the wetlands near lakes.
The arrival of birds of 13 to 15 species has started at more than four big wetlands in Kohat division, a watcher of the district forest office, Nasrullah Khan, told this correspondent.
He said that there were four registered wetlands in Kohat and 11 in Hangu and Karak.
He regretted that due to climate change most migratory birds had diverted their route to Iran and India.
He said that earlier 35 to 40 species would come to the local wetlands. He said that the hunting season would continue till mid of January, but the birds would stay here till April.
The most found varieties of ducks are gadwall, grey goose, red creased pochard, pintail and shoveler.
Published in Dawn, December 31st, 2018