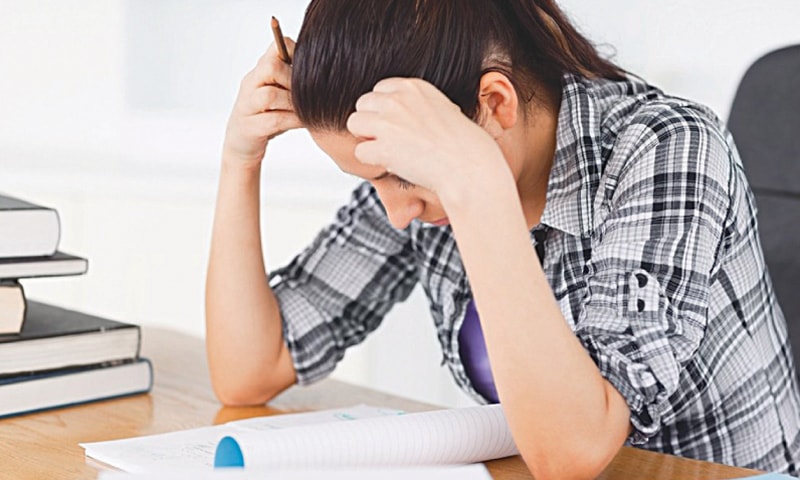 Recently, the alleged death of a student in Lahore due to a heart attack caused by exam stress gained widespread attention, bringing attention to a widespread issue.
Exam anxiety is a force to be reckoned with. Studies throughout the world suggest that students with high levels of anxiety get lower grades, no matter how well they've prepared for their tests or exams. Around 20 percent of students are struck by severe anxiety, whereas 18 percent are affected moderately.
Kiran Zuberi, a history teacher at Nixor College in Karachi, identifies parental and peer pressure as the root cause of this anxiety. "I think parents have too many expectations, which lead to tension and stress in students that eventually becomes counterproductive," she says. "It's also linked to the student's own level of confidence, and obviously, that is fuelled by how well one has prepared for the exam itself."
Come exam time and students are gripped by anxiety which may affect performance
Explaining this further, Kanwal Qadeer, who teaches psychology at Southshore College, and is a psychotherapist herself, says, "I feel it depends on the exam that is given. If you talk about primary classes, or internal school exams, pressure or enforced fear from the teachers' side causes anxiety. Students in higher classes are affected by peer pressure. In addition to this, the correlation between high grades and admission in good universities also creates a do-or-die situation. This can explain the constant fear on these teenagers' minds."
Reinforcing the perception of peer pressure as a significant cause of exam anxiety Abbas Shurafana, a student of eighth grade at The City School, says, "At school my friends are always asking me about my grades, and at home, my mother wants me to spend the whole day studying. She's even arranged a home tutor to take tests and keep me in check. He tells me how other students can achieve much more than me. It's maddening, and now even the thought of exams makes me nauseous."
"There's always an intense pressure to succeed," says Abdullah Allawala, an O' level student at Karachi Grammar School. "But I feel it's worse on those who spend the whole year partying and playing games instead of studying. For me, at least, a balance is necessary to study well and score well."
Both Zuberi and Qadeer feel that there's no question of students being overburdened by the schools. Qadeer says that it is the job of schools and teachers to explain and make clear the curriculum and its requirements, which is normal and necessary. "I feel that the students overburden themselves, by leaving everything to the last minute, and then having too much to cover in a short span of time," she adds.
Zuberi points out that schools have actually tried to make things easier; for instance, a lot of A' level schools have even eliminated mid-term exams and rely more on tests spread across the year for an overall grade. "These test dates are given well in advance and reduce the amount of collective data that pupils have to learn and understand," she says.
At some schools, according to Allawala, the syllabus is halved for subjects that students aren't taking O' level exams for that year. "I will be appearing in Islamiat and Pakistan studies exams this year, so the study material for other subjects is reduced, and that helps a lot," he says.
While the problem may have been identified, its solution is the key to more intellectually stimulated and mentally satiated students. Zuberi says that belief in oneself is mandatory. "Yoga and meditation help, I feel there is a serious need for this over-stimulated younger generation to indulge in these," she says. "They are going through an information overload. This will only improve with more mindfulness. Of course, when one's mind is clearer, they will be able to up their game with better organisational skills and time management. It's also good to have group studies, though with a group of supportive friends and not with competitive and toxic class fellows. Even if the latter are better at studies, if they create an unhealthy learning environment, cut them out."
Stressing the importance of planning, Qadeer says, "Students can very well reduce their burden by planning ahead. Students who keep up with the pace of the class and the curriculum and keep themselves in check, of course, feel less stress than those who create backlog through the entire year and then panic at the end." She advises students to plan beforehand and keep their resources ready. "I also infer a need to prepare oneself for exams with a reduction in socialising and going out, and an increase in the time spent on preparation," she says. "Study all subjects every day with a 15-minute break in between, otherwise it gets too monotonous. Try to study not more than three hours per day; otherwise it's all quantity and no quality. It's always better to study during the day, when there's sunlight, because that's when your brain is the most attentive."
Aiming for better sleep the night before the exam is Zuberi's advice to students. "Relaxation and meditation is the key," she says. "When you reach school, go over the notes orally with a peer or friend. Eat chocolate and energy bars, or drink coffee or tea if you're used to it. That's it. Just relax and try to do your level best."
Parents and teachers, too, play an important role in creating an intellectually stimulating rather than a pressure-filled environment. "The best thing a parent can do for their child is to not compare him/her to others," says Zuberi. "Parents should remember that grades only represent a part of the child's true potential. Create a nurturing environment, and give positive feedback instead of criticism. In case you do need to criticise, avoid using negative language. Try to balance your child's weaknesses by also highlighting their individual results in your explanations."
Qadeer is of the view that for teachers, there should be more acceptance if students don't get a high grade. "They should always tell students to try their best, instead of just aiming for an A," says Qadeer. "Stress is always necessary for improvement, but it can be positive and negative. Negative stress stops students from performing better. Teachers should realise when that happens and try to create a more positive environment for them. That's their job. Educate, don't enforce."
Published in Dawn, EOS, December 23rd, 2018