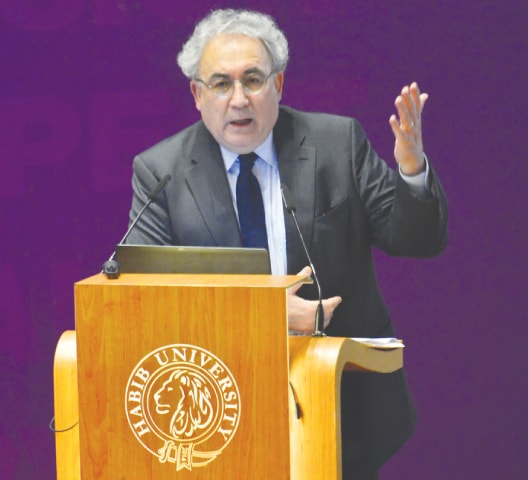 KARACHI: "The world around us is changing, and not, by many standards, for the better," said Professor of History and Director of Yale Programme in Iranian Studies at Yale University Dr Abbas Amanat, setting the course for his keynote address on 'Persianate Studies as an Interdisciplinary Space' that was part of the day-long Critical Knowledge: Pioneering Comparative Liberal Studies symposium at the Habib University on Saturday.
The symposium served to inaugurate the university's new major programme Comparative Liberal Studies (CLS) that takes a unique approach to critical knowledge areas in the humanities, which is said to have been neglected in the country.
Dr Amanat in his talk explained how Persianate space offers a fresh ground for rethinking the shared memories embedded in the history, literature, philosophy, religion, art, architecture and music of the Eastern Muslim lands, from Xinjiang and Bengal to Anatolia and the Balkans, and from the Caucasus to the Persian Gulf. "For centuries it served as a medium of cultural and material exchanges across diverse ethnic, national and sectarian divides," he said, adding that official knowledge, on the other hand, often left out aspects of human intellect giving way to disrepair.
He spoke about cognitive disrepair such as confusion, distraction, absence of cognitive resources and reflection, effective disrepair such as anxiety, depression and narcissism, ethical disrepair such as damaged relations, intolerance and nihilism, political disrepair such as degradation of democracy and government, rising fascism, economic disrepair such as inequality and cancerous growth and ecological disrepair such as anthropocene and accelerating climate change. He said there was a need for a balance between transmittal sciences and religious sciences and intuitive knowledge and acquired knowledge.
Earlier, while introducing the programme, director for Comparative Liberal Studies Assistant Professor of the School of Arts, Humanities and Social Sciences, Dr Nauman Naqvi explained that CLS brings together four branches of knowledge — history, philosophy, religious studies and literature — and aims to communicate critically essential knowledge in the humanities to cultivate within students the importance of critical inquiry and the need for vital knowledge production in today's world.
In the afternoon keynote, Professor of Middle Eastern and Central Eurasian History, and Sufism at the College of New Jersy Dr Jo-Ann Gross focused on ethnographic, historical and literary approaches to the study of Isma'ilism in Afhan and Tajik Badakhshan. She looked at how the 19th and 20th century genealogical histories were preserved by families from generation to generation, tracing the Sayyid descent of pirs and shahs and how sacred landscape of shrines are linked to those genealogies, and to oral and textualised traditions of Isma'ili foundation figures.
"Despite its common representation as a peripheral region of ancient mountain culture, the Badakhshan region, and in particular Shughnan, had long been host to a flourishing Persianate manuscript culture that persisted until the early Soviet era in Tajikistan and to the rule of Mohammad Zahir Shah in Afghanistan, unlike other regions of the Islamic world in which orality and the manuscript tradition were replaced by print culture. In Badakhshan, a textual corpus of religious tracts, local histories, poetry, financial documents and genealogical histories produced pirs, khalifas and their relations have been preserved for generations in the form of family archives in village houses, particularly in Shughnan, which have largely remained unstudied until recently," she said.
Other speakers included Dr Jamal J. Elias, Dr Jessica Radin, Dr Waleed Ziad, Dr Francisco Jose Luis, Dr Hasan Ali, Dr Mohammad Haris, Dr Sinkwen Cheng, Dr Nomanul Haq and Dr Nur Sobers-Khan.
The symposium concluded with a concert.
Published in Dawn, December 16th, 2018