PML-N President and Leader of the Opposition Shahbaz Sharif on Wednesday addressed the National Assembly session convened on the opposition's demands to protest his arrest by the National Accountability Bureau (NAB).
The PML-N president has been in custody of the NAB since Oct 5 in the Ashiyana-i-Iqbal housing scam. His production orders were issued by NA Speaker Asad Qaiser last week, after the opposition requested him to convene a session.
Leader of the House Imran Khan, Finance Minister Asad Umar and Foreign Minister Shah Mahmood Qureshi were not in attendance.
At the outset of his speech, Shahbaz thanked opposition parties and leaders — in particular PPP chairperson Bilawal Bhutto Zardari.
"This is the first time in history that an opposition leader was arrested without any charges in such a hasty manner," said Shahbaz, adding he did not want to discuss the merit of the case against him. "I want to talk about the unholy alliance between PTI and NAB."
"During the election campaign, I openly said that PTI and NAB are arm in arm.
He pointed out that only PML-N members were arrested by NAB and that his arrest came right before the by-elections. "But man imposes and God disposes," said Shahbaz, adding that despite all efforts, PML-N members won many seats [in the by-polls] that were won by PTI previously.
Shahbaz, speaking about the references and verdicts against his brother Nawaz Sharif, said: "NAB court's verdict [in Avenfield reference] clearly says that no corruption could be proven against Nawaz Sharif."
"Yet, he was arrested. He came back, leaving behind his very sick wife who is no more today, to satisfy his conscience.
"We need to find answers to this. You are the custodian of this house, Mr Speaker," said Shahbaz.
"I'm not here to argue my case, I'm not here to cry, or discuss the merit of the case," he reiterated, but went on to narrate details of different aspects of the case.
"A NAB official told me that in the Ashiyana-i-Iqbal housing scam, there is no corruption allegations against you, but that you tried to use your political influence to pass this project on to Kamran Kayani, the younger brother of the then army chief Gen Ashfaq Parvez Kayani.
"I told him [NAB official] that I first met Kamran Kayani in 2008, when we formed a coalition government in Punjab. Chaudhry Pervaiz Elahi was in power at that time.
Shahbaz recalled telling General Kayani to ask his brother Kamran to do his job properly. "General Kayani told me to cancel the contract if Kamran was not delivering."
"Later, Kamran promised me that he wouldn't give me a chance to complain again. However when he didn't deliver I withdrew the contract from him. Gen Ashfaq Kiani has never complained to me about it."
Read: NAB gets Shahbaz's custody for 10-day interrogation
Shahbaz also questioned the circumstances in which he was arrested by the corruption watchdog. "I was called in for the Saaf Pani case but then told that I was being arrested in the Ashiyana scam," said the PML-N president about his arrest on Oct 5. "Is this the tabdeeli [change] that was promised?"
"Those who are fascist and do not obey the law, should remember the end of Hitler and Mussolini."
Allegations of property in China
The younger Sharif said that the NAB has also accused him and his children of having properties and investments in China. "I told them that if that was the case and you have evidence, I will apologise personally and that I don't deserve to be in the assembly," he said. "[But] I told them to produce their evidence.
"However, if this is not true, it is not just me you [NAB] are accusing but you are also accusing China and Turkey, our most trusted friends."
He claimed that at being asked to provide evidence, NAB investigators changed their allegation and instead accused him of holding assets in benami account.
"This is what is happening in that cell," he said, before adding: "Earlier, PTI had accused me of having properties in Turkey and China and today, NAB is saying the same thing. After this no one needs proof of their unholy alliance."
Shahbaz told the house that the NAB even asked him to stand witness against his fellow PML-N leader Khawaja Asif. "I said 'what? Is that why you called me here?'"
"I had heard reports that NAB had been offering [free passes] to people to stand witness against me. I believed those reports when [a similar offer] was extended to me."
The PML-N politician said that he remains undeterred by his incarceration and will continue with his political struggle. "They know I am a stumbling block," he said. "I would like to say in all humility that I do not fear prison. I have always raised my voice in my own humble way"
Shahbaz also defended his conduct as the former Punjab CM, saying: "I have committed many sins but when it comes to governance I have given my blood and sweat to Punjab."
He claimed that he had made a Turkish company lower its contract cost in Punjab's solid waste management project, asking the house "would I have done that if I were corrupt?"
Towards the end of his speech, Shahbaz also took aim at Prime Minister Imran Khan's 2017 claim that he had been offered a Rs10 billion bribe by a close associate of Shahbaz to drop the Panama case against his sibling Nawaz Sharif.
"I served him notices, but he has never appeared before court," he said. "Neither him nor his lawyer."
'Sub judice matters cannot be discussed in NA'
Once Shahbaz concluded his speech, Law Minister Farogh Naseem told the house that sub judice matters cannot be discussed in the National Assembly.
"Any case in court cannot be discussed here," the minister said. "This is not a court of law and it [house] cannot decide whether NAB's inquiry is legal or not."
Naseem also dismissed Shahbaz's allegation that his arrest was a combined act of the NAB and the government.
"NAB has the power to arrest whether the issue is pending [or not]," he said. "NAB is an independent institution and did what it did without any interference from the government."
At this, Shahbaz clarified: "I have not talked about cases in court. I [only] talked about the serious allegations that were levelled against me."
Information Minister Fawad Chaudhry attempted to address the parliament but he had barely managed to congratulate the speaker for convening "this historic session" when loud chanting from opposition benches forced him to cut his speech short.
Khursheed Shah delivers impassioned speech
After Chaudhry was told to take his seat, PPP leader Khursheed Shah took the centre stage and acknowledged the speaker's neutral role in the session. "I appreciate you for keeping the government side from taking over the discussion," he said. "I hope you will continue to play your role like this."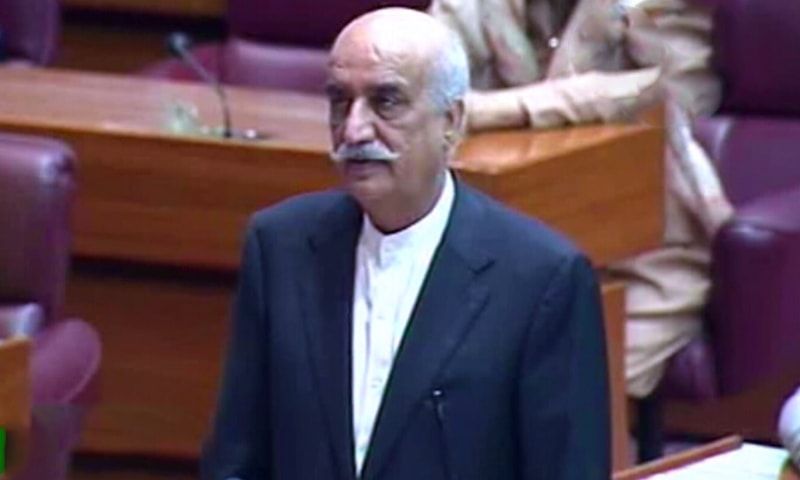 Khursheed countered the law minister's argument and claimed that matter of "law and Constitution" can be discussed in the parliament.
"Parliament is not merely for debate," he said. "It is the mother of all institutions. Law minister talked about the NAB Ordinance's section 36 and other laws."
"One rule is also that the things said [in the parliament] are not contested," he reminded Naseem, before adding: "Parliament is supreme."
Regarding Shahbaz's arrest, Khursheed said: "This is the first time in history that a sitting leader of the opposition has been arrested. We are not scared that this arrest will bring disaster. The opposition has asked that the government make a committee to look into this matter."
'PTI not behind Shahbaz's arrest'
After Khursheed's speech concluded, Information Minister Chaudhry was given another chance to address the parliament, but was once again met with loud chants of disapproval from opposition MNAs.
According to Chaudhry, the cost of "this NA session would be Rs100 million". Addressing the PML-N's claim that it is being politically victimised, he said: "They should not talk about victimisation. The vision of this party started after Zulfiqar Ali Bhutto's hanging so they should not talk about victimisation."
The minister categorically rejected Shahbaz's allegation that the PTI government was behind his arrest. "PTI did not appoint a single clerk in the current NAB," he said. "All the cases that have been initiated against them were not filed by us.
"[Furthermore,] when NAB appointments were made, the prime minister was Nawaz Sharif and the leader of the opposition was Khursheed Shah."
Chaudhry also attempted to allay Shahbaz's concerns that Pakistan's bilateral relations with its neighbours could deteriorate.
"Dilemma of the PML-N leadership is that they have deviated from democracy and gone toward monarchy," he said. "They think that if they leave, relations with China will deteriorate. That will not happen. Our relations with China will grow stronger."
Govt is 'at war with everybody': PML-N leader
Former foreign minister Khawaja Asif in his address to the house criticised the PTI government for "fumbling, stumbling" and making mistakes and "u-turns" two months into its tenure.
The PML-N stalwart said it wasn't a good omen that the government was doling out minister-level posts to people with "baggage", such as those possessing dual nationalities and owning offshore companies
Criticising Shahbaz's arrest by NAB, he said the process of accountability will not last long if it remains "selective". He said the process could only be effective if it is all-encompassing.
"This institution [NAB] was not set up for the accountability of politicians or a specific political class only," he said, adding that the PML-N would welcome proposals to overhaul the accountability law.
He said governments normally "mend fences" at the start of their terms, but the PTI administration has vitiated the atmosphere to a level not seen before in its first two months.
"They are at war with everybody," the PML-N leader said, criticising the government's decisions.
Asif urged the PTI government to learn from the mistakes made during the past tenures of the PML-N and PPP, instead of spoiling its tenure with the same practices.
He said the politics of revenge which the PPP and PML-N had engaged in against each other in the 1990s created a space which was then occupied by other forces, and as a result, the country had to face eight years of military dictatorship.
"They should learn some lessons at our expense," he said, urging the treasury benches to also learn lessons from the "humbling experiences" they have had so far in government, including the loss of some seats in the October 14 by-polls.
He also called out the PTI leadership for seeking a bailout of a "record" $15 billion from the International Monetary Fund after initially "abusing the same IMF".
Arrival to Parliament
The PML-N president was brought to Islamabad from Lahore by NAB earlier in the morning. Upon reaching the parliament, Shahbaz was handed over to the assembly's junior sergeant of arms by NAB authorities at Gate Five of the building.
Shahbaz was barred from chairing a meeting of PML-N's parliamentary committee in the building, DawnNewsTV reported, as the production orders were only issued for him to attend the NA session.
PML-N leaders, including Rana Sanaullah, Marriyum Aurangzeb, Asif Kirmani and Maiza Hameed, had arrived in the NA building to attend the meeting.
Former leader of the opposition Khursheed Shah met Shahbaz in his chamber after the latter's arrival. The leaders discussed opposition's future course of action.
Speaking outside the parliament, Information Minister Chaudhry said that opposition's "noise" will not put a stop to the process of accountability.
He said opposition parties should come out with concrete proposals to amend the accountability laws to ensure transparency in the process, Radio Pakistan reported.
Opposition demands NA sesssion
On Oct 6, lawmakers of a couple of opposition parties in both houses of parliament had met Speaker Qaiser at his residence and [demanded immediate convening of an NA session][6], and sought the issuance of production orders for the leader of the opposition so that he could attend the session.
The delegation of opposition leaders comprised PML-N chairman and Leader of the Opposition in the Senate Raja Zafarul Haq, former NA speaker Ayaz Sadiq, Jamiat Ulema-i-Islam-Fazl leader Maulana Abdul Ghafoor Haideri and PML-N lawmaker Rana Tanvir.
During the meeting, the opposition leaders demanded that the NA session be summoned immediately so that they could raise the issue of Shahbaz's arrest effectively.
On Oct 5, Shahbaz was arrested by NAB authorities in the Rs14 billion Ashiyana-i-Iqbal housing project scam, when he visited the anti-corruption body's Lahore office for a hearing. The arrest was termed as an attempt "to steal the by-elections" by Ayaz Sadiq.