Pakistani documentary Indus Blues: The Forgotten Music of Pakistan has won the Grand Jury Award for Best Documentary Feature at this year's Guam International Film Festival.
Indus Blues explores the struggle of Pakistani folk musicians who are trying to sustain their art and keep the fading art forms alive in a world dominated by modern musical instruments.
Speaking about the film, the festival's Head Juror Dr Tom Brislin said the documentary explores an issue that wouldn't have come to attention otherwise.
"It truly gives a voice to the voiceless," said Dr Brislin about the film.
Indus Blues is directed by Pakistani filmmaker Jawad Sharif, who has also won awards for his earlier work K2 and the Invisible Footmen, and has been produced by the Foundation of Arts, Culture and Education (FACE) in association with Bipolar Films.
The film, which was selected from among over 300 entries submitted from over 50 countries, tells the story of the challenges facing Pakistan's local artists and craftsmen who are working to survive in a space where pursuing folk music is becoming increasingly fraught with many barriers.
These challenges can vary from the art not being financially viable to it increasingly becoming a social taboo.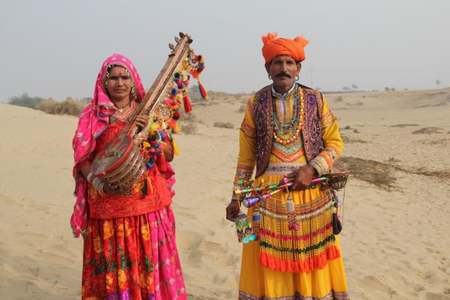 The documentary features nine folk musical instruments which are at the verge of extinction and takes the audience on a trip across the Indus river as it tells their stories. In many cases, the performances on these instruments feature the last remaining maestros who know how to play them.
After winning the award which he could not travel to Guam to receive, Sharif said he hoped that the way the film is getting international recognition, in the same manner our artists and musicians should get recognised and we should take pride in them and own them.
"I dedicate this award to our musicians and craftsmen as they are the ones who have made it possible, and to my team," Sharif said.