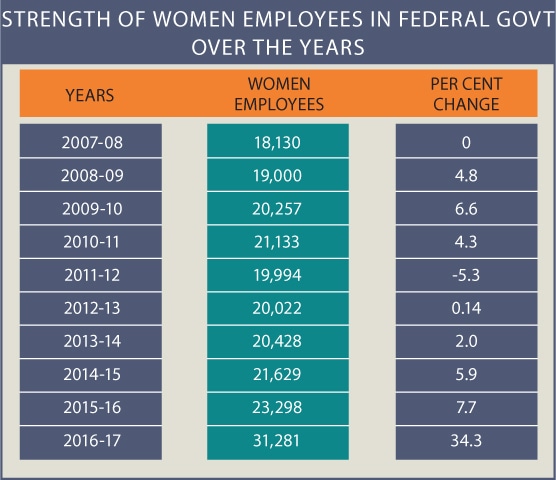 KARACHI: Of the total 649,176 sanctioned posts in the federal government, only 5.48pc are currently occupied by women and 2.82pc by non-Muslims
As per the Establishment Division's statistical bulletin about the employees of the federal government and its autonomous bodies for 2016-17, the total number of sanctioned posts are 649,176, but 78,623 of them are lying vacant, leaving the departments to function with 570,553 employees only.
Interestingly, as per the analysis, the actual strength of women employees stands at 31,281— even less than the number of vacant positions. However, the percentage share of women employees saw a significant increase of 34.26pc in 2016-17, as opposed to 7.7pc (23,298 women employees) in the previous year.
Reluctance to hire women because they won't continue in civil service is cited as one of the reasons for the situation
The bulletin shows that out of the existing strength of 31,281 women officers, 1,246 are working in the main secretariat while 30,035 occupy positions in attached departments and subordinate offices.
The analysis reveals that among the 1,246 female employees working in the main secretariat, Punjab has the largest share at 73.68pc (including 8.43pc in Islamabad) followed by Sindh at 12.76pc (4.65pc for rural and 8.11pc urban). Percentage of women employees in Khyber Pakhtunkhwa (KP) stands at 7.9pc while Balochistan and Azad Jammu and Kashmir (AJK) have 1.93pc and 1.77pc share, respectively. The Federally Administered Tribal Areas (Fata) cover 1.36pc of the quota and Gilgit-Baltistan (GB) 0.56pc at the bottom of the share.
Of the 30,035 female employees working in attached departments and subordinate offices, the largest share of 58.70pc goes to Punjab (including 7.57pc in Islamabad), while Sindh has 13.09pc, GB 16.12pc, KP 7.33pc, and Balochistan 2.52pc. A tepid share of 1.32pc and 0.92pc is covered by AJK and Fata, respectively.
Talking about the gender disparity in public offices, former federal secretary Rukhsana Shah explained that there was a general reluctance to hire women on the posts owing to the mindset that women will not continue work.
The huge backlog, she said, could be reduced by introducing more technical cadres, including food and environment inspectors to encourage women joining the workforce. Majority of the female officers (Grade 16 and 17) were working as teachers, psychologists or nurses, added Ms Shah, suggesting that the public commission should make the environment more favourable to women.
Given the increase in the percentage share of female employees in the past year, she pointed out that Punjab was progressing in this regard as it had also increased the job quota for women. "Just recently, a woman (Maria Mahmood) took charge as Pakpattan district police officer," said Ms Shah.
However, earlier this year, a parliamentary panel learned that despite women having a 10pc and minorities a 5pc quota from the overall share of provinces (excluding merit), around 100 seats of the Central Superior Services (CSS) allotted to minorities and women went unfilled in 2016.
According to former civil servant Syed Saadat, women quotas often remain unfilled owing to cultural barriers.
Speaking to Dawn, he pointed out that women do well in the CSS and were, in fact, edging out men. "However, there is a hesitation to serve on tough postings or in remote towns and the government offices do not have conducive environment for women that impedes career progress," he regretted.
In 2016, the top three positions of the CSS exam were taken by women. Out of the 85 female applicants, 84 were recommended for appointments. Similarly in 2017, out of the 111 females — who cleared the exams — 106 were recommended for appointments.
Distribution of female employees
Speaking to Dawn, former federal secretary and principal secretary to then prime minister Yousuf Raza Gillani, Nargis Sethi, said that the number of women at top positions could be "counted on fingers".
"There are hardly any women for policymaking. And those who are working are only assigned areas like tourism and health which limits their scope," she regretted, adding that more women needed to be inducted into "hard" governance areas like finance and commerce.
Talking about the factors barring women from progressing in the public sector, she said it took over 10 years to reach a ministerial position. "There are still female officers working on entry grades 16 and 17. As you go up, the number declines," she said, adding if more women were encouraged to pursue and maintain their careers, the overall aptitude of governance would also improve as female candidates performed better in CSS examinations.
The Defence division is the largest administrative unit in terms of female employees, revealed the analysis. Women make up 32.1pc of the workforce in Pakistan Railways, 14.16pc are employed with the KP Frontiers Corps, and 9.57pc are with the Balochistan Frontier Corps. The General Headquarters has 8.0pc female employees. The second largest unit with the most female employees is the Capital Administration and Development division with 27.03pc strength, with majority of them working as teachers and nurses.
The Kashmir Affairs and Gilgit-Baltistan, Interior and Communications and Postal Services Divisions have a female share of 14.80pc, 4.75pc and 3.14pc, respectively, out of their total workforce.
According to the Establishment Division, among the total (1,028) females working in occupational groups, the Inland Revenue Service remained predominant having 22.1pc (228) female officers working in BS 17-22.
It is followed by Pakistan Administrative Service (148 employees) at 14.4pc, Office Management (102) at 9.9pc, the Pakistan Audit and Accounts Service (94) with 9.1pc, Pakistan Customs Service (87) at 8.5pc, Foreign Service of Pakistan (83) at 8.1pc, Information (82) at 7.98pc, Commerce and Trade (44) at 4.28pc, Postal (37) at 3.60pc, Secretariat (34) at 3.31pc, Railways (Commercial and Transportation) (28) at 2.72pc, and Economists (26) at 2.53pc.
The Police Service of Pakistan and the Military Lands and Cantonments have the lowest number of female officers (24) at 2.33pc and (11) at 1.07pc, respectively.
Non-Muslim employees
Out of the total strength of 16,133 (2.8pc) federal government's non-Muslim employees, a sizable number of 14,730 (91.3pc) are Christians, whereas 224 (1.4pc) are Ahmadis, 956 (5.9pc) are Hindus (caste), 176 (1.0pc) are Hindus (non-caste), 13 (0.1pc) are Sikhs and 34 (0.2pc) belong to the other religions.
Of the total number of non-Muslim employees, Punjab combined with Islamabad has the highest share of minority quota with 10,405 officers — including 10,114 Christians out of the 14,730 and 176 Ahmadis of the total 224 working in the federal government.
Sindh, on the other hand, has the most Hindu (caste and non-caste) employees with its workforce comprising 916 Hindu officers. KP has the highest number (seven out of total 13) of Sikh officers under its belt.
Published in Dawn, September 23rd, 2018