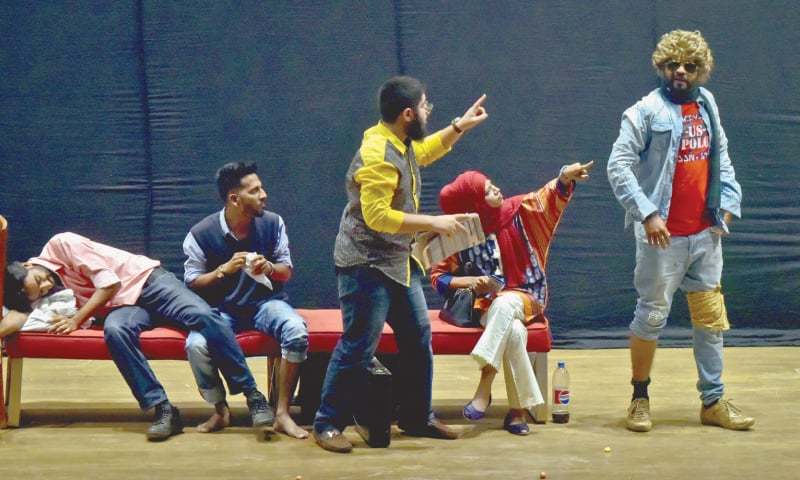 KARACHI: The first ever deaf theatre competition Ishara: Lafzon Se Aagay organised by Connect Hear in collaboration with 'I Am Karachi' brought many a hidden talent of non-hearing individuals in front of a packed audience at the J.S. Auditorium on IBA's city campus on Saturday. There were people occupying the stairs even.
There was laughter during ABSA School & College for the Deaf's staging of a job interview where the employer is only looking to hire staff based on their beauty, not brains. And thus there is this FA-pass pretty young female being asked her father's name, the name of her favourite dish, etc. Whatever she blurts out is called as absolutely correct while the far more educated candidate with an MBA degree is asked ridiculously impossible questions such as the name of the employer's father, which he has no idea about, or how many grains in a kilogramme of rice, just because he is male.
And there were sighs during the Shia Imami Ismaili Organisation's very thought-provoking performance about the life of a deaf student. The scene opens with a doctor explaining to parents of a newborn that their child was deaf and mute. The father, who also happens to be deaf and mute, then promises his little baby to always be by his side as his own story of struggle throughout his life due to his disability is shown around him on the stage as flashbacks.
J.S. Academy for the Deaf's performance of a train compartment and its passengers once again brought out giggles and Tiptoe Production's pantomime performance, which was not part of the competition, offered interesting entertainment.
Faiza Saleem, Shehzad Ghias Sheikh, and Kulsoom Aftab were among the notable judges that graced the event with their presence. Akbar Shah from National Academy of Performing Arts was the chief guest. And outside the auditorium there was more in store with an interactive photo booth and media wall, T-shirts for sale and even a matchmaking stall along with the food stalls.
The theatre competition achieved yet another milestone in ConnectHear's venture to create a more inclusive society for the deaf community of Pakistan. With Ishara they wanted to bring forth an initiative that allowed non-hearing individuals access to a platform to showcase their innate theatrical talents.
Areej Al Medinah, co-founder and chief strategist of ConnectHear read out co-founder Azmina Dhanji's speech as the latter spoke to the audience in sign language about her own challenges and ambitions in life. Azmina shared that she is a deaf and mute daughter of deaf and mute parents whose struggle connecting with society she witnessed firsthand while growing up and wanted to bridge the gap.
"The deaf are individuals with equal skills whose talent and potential must be realised too. The deaf community comprises five per cent of the population of Pakistan," she said, adding that looking to change things here she joined hands with two of her high school friends with passion for the deaf community to start a social entrepreneurial startup ConnectHear incubated at the Nest i/o, P@sha's Technology Incubator that offers sign language interpretation services and initiatives such as inclusive concerts, interpreted news and sign language training workshops.
Published in Dawn, September 10th, 2018