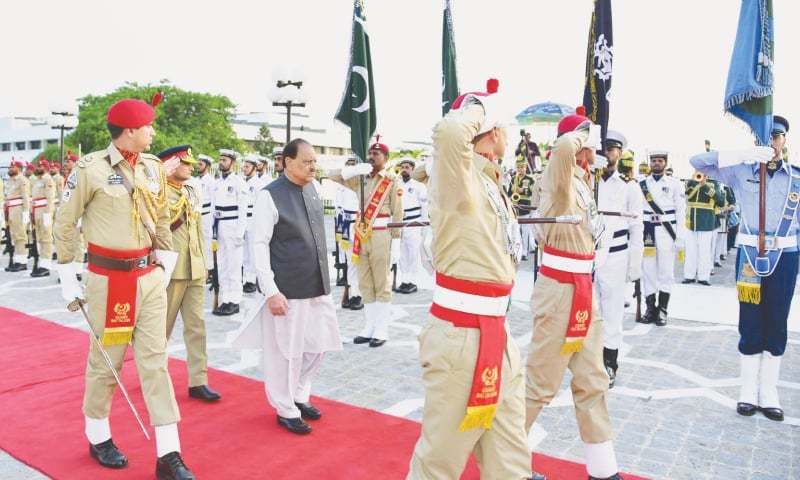 ISLAMABAD: Prime Minister Imran Khan has decided to expand his cabinet with the inclusion of four new ministers, taking the total number of cabinet members to 25.
According to an official announcement by the Prime Minister Office, the four new members of the federal cabinet will be former Senate chairman Muhammedmian Soomro, Syed Ali Haider Zaidi, MNA from Karachi and acting secretary general of the Pakistan Tehreek-i-Insaf, hot-headed MNA from Swat Murad Saeed and Umar Ayub Khan, MNA from Haripur.
Mr Soomro will be made minister for privatisation, Mr Ayub is to be allocated the portfolio of energy and Mr Zaidi will assume the charge of maritime affairs ministry.
However, the portfolio of Mr Saeed will be announced later, says the official announcement.
The statement has not made it clear whether those being inducted into the cabinet will serve as full-fledged ministers or they will be assigned the status of minister of state.
Two more former associates of Musharraf join Imran's cabinet; Mamnoon given farewell guard of honour, Alvi to take oath as president today
The cabinet expansion was announced on the day President Mamnoon Hussain completed his five-year term. The new ministers will be administered the oath by President-elect Dr Arif Alvi.
Currently, there are 16 ministers, one minister of state and four advisers in the cabinet of Imran Khan, along with three special assistants.
Musharraf's 'associates'
There are a number of faces in the federal cabinet who had either served in the cabinet during the military rule of former army chief Gen Pervez Musharraf or had been association with him in the past.
Mr Soomro had also previously served as Senate chairman and then caretaker prime minister during the military regime of Gen Musharraf. Similarly, Umar Ayub had also served as minister of state for finance in the cabinet of former prime minister Shaukat Aziz, also during the Musharraf regime.
Soon after taking the oath on Aug 18, Prime Minister Khan had announced a 21-member cabinet with 16 ministers and five advisers, mostly comprising old faces. Later, he nominated Shehryar Afridi, an MNA from Kohat, as minister of state for interior. He also appointed Mirza Shahzad Akbar, Iftikhar Durrani and Naeemul Haq as special assistants on accountability, media and political affairs, respectively. Only Arbab Shahzad has been given the status of minister of state.
Last week, adviser to the prime minister on parliamentary affairs Dr Babar Awan submitted his resignation following the filing of a corruption reference against him by the National Accountability Bureau for his alleged involvement in the inordinate delay in construction of 525MW Nandipur power plant, when he was law minister in the Pakistan Peoples Party government between 2008 and 2013.
Of 21 members of the present cabinet, seven belong to the coalition parties with whose support Mr Khan managed to win the prime minister's election with four more votes (176) than the required number.
Under Article 92 of the Constitution, "the total strength of the cabinet, including ministers of state, shall not exceed 11 per cent of the total membership of Majlis-i-Shoora (parliament)." As the total membership of the two houses of the parliament is 446, therefore, the cabinet size cannot exceed 49, which means Mr Khan has constituted 50pc of his cabinet with the inclusion of four new members.
Those members of his cabinet who had either served during the Musharraf regime or remained associated with him at any position are: Makhdoom Khusro Bakhtiyar, Dr Farogh Naseem, Zubaida Jalal, Awami Muslim League chief Sheikh Rashid Ahmed and Abdul Razak Dawood.
Farewell Mr President
Meanwhile, outgoing president Mamnoon Hussain was given a farewell guard of honour at President House on completion of his five-year term, according to government-run news agency Associated Press of Pakistan.
Clad in brown Shalwar Kameez and charcoal waistcoat, the president arrived at the forecourt of Aiwan-i-Sadr on a buggy and was escorted to the salute dais where, after the national anthem, he reviewed the guard of honour presented by smartly turned out contingents of the armed forces.
The officers of the Aiwan-i-Sadr gave a warm send-off to Mr Hussain, who had taken the oath as Pakistan's 12th head of state on Sept 9, 2013 after his election as a candidate of the Pakistan Muslim League-Nawaz.
Dr Arif Alvi of the PTI — who was elected 13th president of the country defeating two opponents from a divided opposition on Sept 4 — is set to take oath of his office on Sunday (today). Chief Justice of Pakistan Mian Saqib Nisar will administer the oath to him at a ceremony at President House at 1pm.
A dentist by profession, Dr Alvi defeated the joint opposition's candidate Maulana Fazlur Rahman and the Pakistan Peoples Party's Barrister Aitzaz Ahsan in a one-sided contest after the opposition parties failed to agree on a joint candidate.
In his interaction with the media on the presidential election day, Dr Alvi had said he would not like to be an "inactive and silent president" as his party was not sending him to the President House for "hibernation".
Promising to play a "meaningful" role in addressing key issues facing the country, he had said that provision of justice and better health services and addressing the issues of unemployment and out of school children would be his top priorities.
Published in Dawn, September 9th, 2018