NOWSHERA: United Nations High Commissioner for Refugees (UNHCR) Filippo Grandi has described the decades-long stay of Afghan refugees in Pakistan as "a protracted refugee crisis" and urged the world community not to forget the displaced people.
"We call them protracted refugees and I always say that protracted refugees should not be forgotten," he said while talking to media personnel after visiting the Voluntary Repatriation Centre (VRC) for Afghan refugees at Azakhel, Nowshera, on Saturday.
UN Undersecretary-General for Humanitarian Affairs and Emergency Relief Coordinator Mark Lowcock and film star Mahira Khan, who has been designated the UNHCR advocate for refugees and youth of the host communities, accompanied Mr Grandi.
Calls film star Mahira Khan powerful advocate for highlighting refugees' issues
The high commissioner said the stay of Afghans in Pakistan for nearly four decades was one of the longest refugee situations in the world. He said these Afghans would complete 40 years of their refuge next year.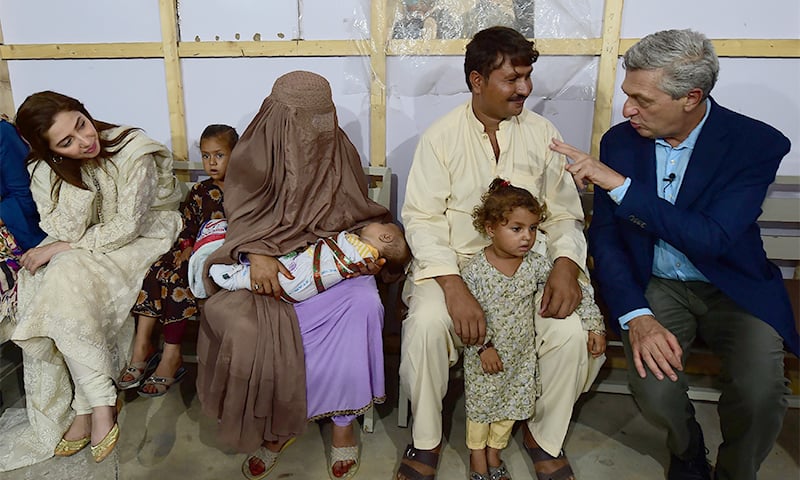 He rejected the perception that Afghan refugees in Pakistan would never go back to their country. More than four million had returned to Afghanistan over the past 20 years and many were ready to go back home, he said.
"We saw this morning that refugees were going back, but not many, because they (Afghans) are concerned about their security," he said.
Millions of Afghans took refuge in Pakistan when the former Soviet Union invaded their country in 1979. According to the UNHCR, over four million refugees had returned to their country since 2002.
Pakistan is still hosting around three million Afghan nationals, including 1.4 registered refugees. Voluntary repatriation had slowed down during the last two years because of surge in violence, lack of basic amenities and unemployment in Afghanistan.
Officials said that only 10,000 refugees had returned to Afghanistan since March 1, 2018 which indicated the slow pace of return. Only 45 refugee families left the VRC for their home country on Saturday as the sprawling VRC, Azakhel, was offering a deserted look.
Only a few Afghan boys and girls who were invited to the meeting with the UNHCR and his entourage were seen taking selfies with Mr Grandi and Mahira Khan. The two met refugee children, women and youth who apprised them of their problems.
"Unfortunately the situation has deteriorated. We have to help Afghans to get out of this bad period of insecurity, poverty and bring back services especially education," the high commissioner said.
Mr Grandi said that Prime Minister Imran Khan during their meeting in Islamabad on Friday was very clear about the problems of refugees and assured him that Pakistan would never force (Afghans) to go back to Afghanistan.
He called for more resources and most importantly political attention to help Afghans restore peace to their country. "We should not be pessimistic," he said, adding that they would help young Afghans to go back and rebuild their country.
He said that young refugees needed education and skill to rebuild their country.
He called Mahira Khan a very powerful advocate to highlight issues and thanked Pakistan for a very long hospitality to Afghan refugees.
Ms Khan while speaking on the occasion said: "I am very happy to be doing this job". She said that more than half of the refugees were children. "If we come together we can make future of this world better," said the film star.
Earlier, Mark Lowcock said that he visited Bara, Khyber tribal district, and talked to local people about the situation. He said 10,000 houses and hundreds of schools and other buildings had been destroyed during militancy in Khyber district.
He said he saw children sitting on the floor in schools. He said the government had launched schemes in affected areas and people were given cash through ATMs to rebuild their damaged homes.
Meanwhile, Mr Grandi commended charitable work of the Shaukat Khanum Memorial Cancer Hospital, saying that providing free-of-cost treatment to underprivileged cancer patients was a noble act.
"Hospitals like this are a symbol of hope for thousands of cancer patients who have little resources," Mr Grandi said during his visit. The UN refugee agency had provided high-tech machines worth Rs710 million to Peshawar's Shaukat Khanum Memorial Cancer hospital to support free-of-cost treatment to cancer patients, including Afghan refugees.
The radiotherapy machines will be fully operational by the end of this year. The UNHCR will also provide training to technicians to operate the equipment effectively. The new cancer equipment will provide some 30,000 treatment sessions to both Pakistanis and Afghan refugees in 2019.
Published in Dawn, September 9th, 2018