September 09, 2018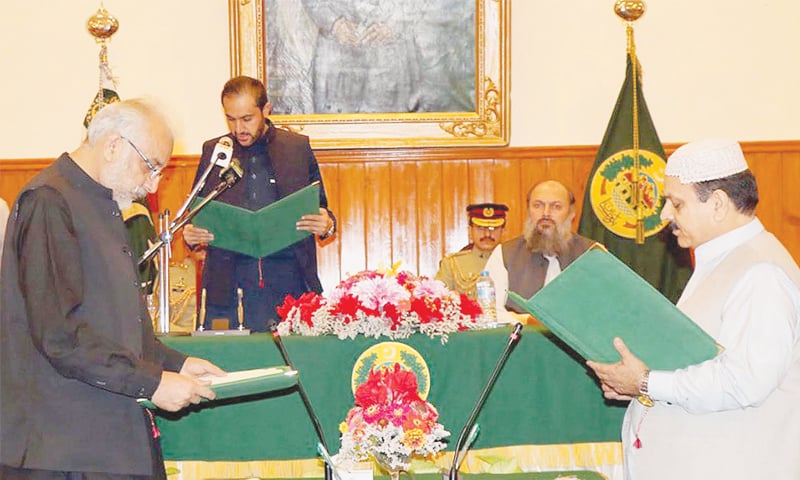 QUETTA: Two ministers were inducted into the cabinet of Balochistan Chief Minister Jam Mir Kamal Khan Alyani on Saturday.
They are Mir Asadullah Baloch of the Balochistan National Party-Awami (BNP-A) and Sardar Abdul Rehman Khetran of the Balochistan Awami Party (BAP).
Acting Governor Mir Abdul Quddus Bizenjo administrated the oath to the new ministers at a ceremony held in Governor House. Mr Alyani, Balochistan Chief Secretary Dr Nazeer Akhtar and other senior officials attended the ceremony.
With the induction of two more ministers the strength of the provincial cabinet has risen to 16 — 12 ministers and four advisers to the chief minister.
Mr Alyani can induct two more ministers and an adviser into his cabinet, as according to the 18th Amendment to the Constitution, Balochistan's cabinet can have 15 ministers, including the chief minister, and five advisers.
The BAP appeared as the single largest party in Balochistan in the July election. After inclusion of some independent members and women and minority members' seats, the party has 24 legislators in the 65-member provincial assembly.
The Pakistan Tehreek-i-Insaf (PTI) led by its provincial president Sardar Yar Mohammad Rind is the second largest party in the house with seven seats.
The other coalition partners in the six-party ruling alliance are: Awami National Party (ANP) with four seats, BNP-A three seats and Hazara Democratic Party (HDP) and Jamhoori Watan Party (JWP) with one seat each.
Among the 12 ministers, nine belong to the BAP and one each to the ANP, PTI and BNP-A.
Among the four advisers, two belong to the BAP and one each to the ANP and HDP.
The JWP is the only party in the six-party alliance which has yet to be given representation in the provincial cabinet.
Meanwhile, CM Alyani has changed the portfolios of two ministers who were reportedly not satisfied with the portfolios earlier allotted to them.
According to an official notification issued here on Saturday, Sardar Mohammad Saleh Bhootani has now been allotted the portfolio of local government and rural development. Earlier, he had food and parliamentary affairs.
The portfolio of Sardar Sarfaraz Chakar Domki has been changed from culture and archives to labour and manpower.
The portfolios of two ministers and three advisers in the cabinet have not been announced so far.
Published in Dawn, September 9th, 2018