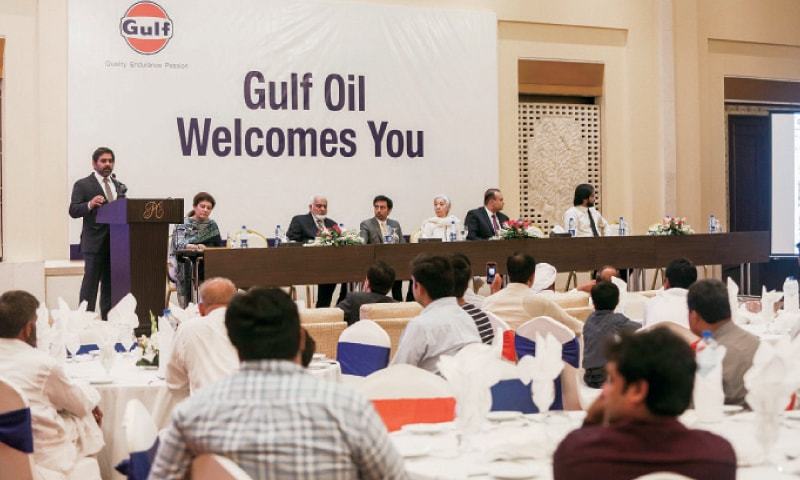 LAHORE: Haroon Oils Limited (HOL) on Friday launched Gulf Oil Middle East Limited's (Gomel) distribution network in the country, pledging to provide world's high-performance lubricant products to the consumers in Pakistan.
"We thank all of you for being here from various parts of the country. We consider you as our core strength in providing high-standard Gulf Oil products to the consumers in Pakistan," HOL's Chief Executive Officer (CEO) Mrs Amber Haroon Saigol said while speaking at the launch ceremony held at a local hotel.
Founded in 1901, Gomel is a part of the Global Conglomerate. It is the fastest growing lubricant company, operating in more than 100 countries. Similarly, the HOL, sole distributor for Gulf Oil, has been operating since 1964 and has the ISO certification (9001-2008).
A large number of people engaged in the business of oil and lubricant products from all over the country were present at the launch. Gomel ranks amongst the top 15 global lubricants' companies with more than 20 blending facilities. While launching its products in Pakistan through the HOL, Gomel is offering various promotion programmes, including Gulf Bandhan (trade loyalty programme), Gulf Ustaad (mechanic loyalty programme) and Consumer Offer -- Gulf Cars Synthetic Promotion.
"It is a matter of great pleasure for Gomel to launch its products in Pakistan which is among the top five markets of the region. We, in association with HOL, are ready to play a major role in the distribution of our products here," said Mr Satayabrata Das, Gomel's CEO, in his video message to the audience on the occasion.
Earlier, HOL's National Sales Manager Mr Majid Mahmood briefed the gathering about the quality and wide range of Gomel's products.
"Since Gomel's products are internationally recognised in terms of quality, standard, distribution and services, it is very easy to sell these," he said, promising to always maintain the standards of the products.
Speaking on the occasion, Gomel's Business Manager (Pakistan) Rehan Zaki talked about the growing business ties between his company and the HOL. "The relationship between HOL and Gomel is not new, and it has grown stronger over the last 50 years. So the partnership between Gomel and the HOL is also a renewal of relations," he added.
Published in Dawn, September 1st, 2018