Pakistan's Dabangg Hero
Talk about being self-effacing! Fahad Mustafa is in the news for appearing as the lead actor in two of the three Pakistani films that were released on Eidul Azha — Jawani Phir Nahin Aani 2 and Load Wedding.
Naturally, the media has a renewed interest in knowing how he feels about being one of the most successful film stars of modern times. On one such occasion, while requested to comment on his films often premiering on Eid, the Load Wedding star remarked that he feels like he is the Salman Khan of Pakistan. To be honest, it makes sense. We have no idea, however, how Salman K would feel if he was told he's the Fahad Mustafa of India.
RK Studio on sale
Sad news for those who are interested in the history of films in the subcontinent. By the time you will read these lines, the iconic RK Studio — constructed by the legendary actor/director Raj Kapoor seven decades ago — might have been sold off.
Yes, last week the late showman's family announced on social media that it could no longer keep the studio for multiple reasons. Actor Rishi Kapoor, one of Raj Kapoor's three sons, informed a journo, "For a while, we did juggle with the idea of renovating the place with state-of-the-art technology. In reality, it isn't always possible for a phoenix to rise from the ashes … The investment in rebuilding the studio would not have yielded sufficient revenue to keep it going." It should be added here that last year a major fire destroyed many a precious object and part of the building. Famous films such as Awara, Mera Naam Joker and Karz were shot in the studio. Alas!
Angry nawabzadi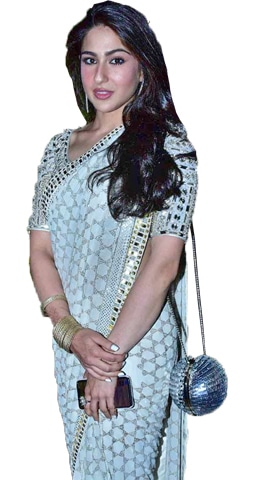 Sara Ali Khan, daughter of the nawab of Pataudi Saif Ali Khan and his first wife Amrita Singh, has all the trappings of not just a nawabzadi but also a showbiz celeb. Here's an indication: she visited a temple with her brother Ibrahim Ali Khan where she wanted to distribute certain things among the poor and needy.
As it often happens, paparazzi spotted her and started taking her pictures. Someone also recorded a video on his mobile phone which was later picked up by the media. Sara AK did not like it one bit. The moment she sensed that she was being recorded, she started saying 'Yeh mat keejyey … aisa mat keejey' [don't do this] in a firm voice. However, the shutterbugs did not lend an ear to her and kept shooting the young girl until she got into her car. As the pretty girl has learnt to her discomfiture, nobody listens to royalty these days.
Hamza the lyricist
These days, actor Hamza Ali Abbasi is known more for his social and political commentaries than acting skills. But his admirers have now discovered another talent in the artist: he can also pen lyrics.
This came to everybody's notice when musician Fahad Humayun released the video of his new song Kambakht featuring Faiza Mujahid. It turned out that the lyrics to the song were written by Hamza AA. Tell you what, they weren't bad. In fact, I thought that the lyricist could have used more diverse rhyming words than the ones he has used in the song — e.g. raani and kahani. In any case, the lyrics were still better than his political commentaries.
Presidential Praise
Not all major American showbiz celebrities are anti-Trump. Kanye West and his wife, reality TV star Kim Kardashian, are two of them. The musician has openly spoken in favour of the US President, surprising many social commentators and talk show hosts, such as Jimmy Kimmel and Stephen Colbert.
On Aug 24, it was Donald T's turn to return the favour. Addressing a fundraising dinner for the Ohio Republican Party in Columbus, he said, "Now we're doing great and Kanye West liked me and that really lifted me. He [Kanye] has some real power … He's got a good wife too in Kim. I'll tell ya." Well, Mr President, you too have a good wife and you too have some real power. The world will tell ya. It's another thing you're tottering on the brink of impeachment.
Daughter Thurman
One doesn't know how to react to this! Ace director Quentin Tarantino has cast the daughter of Uma Thurman and Ethan Hawke, Maya Hawke, in his upcoming, eagerly awaited film Once Upon a Time in Hollywood.
Why the surprise? Well, Uma T has worked with Quentin T in a few films and earlier this year she told a newspaper how 'uncomfortable' she felt while doing an action sequence in Kill Bill because he did not provide her with a stunt double. This caused friction between the director and the actress. She even insinuated that he wanted to kill her. Apparently, things have cooled off between the two since. In fact, Uma T says that she could again work with the filmmaker if he wrote a good part for her. Well dear, he has written a good part, but not for you. It's for your daughter. Clever bloke.
Published in Dawn, ICON, September 2nd, 2018