I first met Wolfgang Burat when he came to Karachi for a talk titled 'Being there — punk as photography' held at the Goethe Institut a few months ago. Burat is a German photographer and co-founder of the cult German music magazine Spex. From 1980 to the early 1990s he documented the music scene around him, including coverage of artists from both Germany and abroad. His work is considered relevant for social and music history, pop theory and art history.
A selection of his work was also exhibited at the Amin Gulgee Gallery in a retrospective titled Brilliant Dillentantes. His photos, often showing bands performing at very small venues or mingling with the crowd and, with there being no formal separation of space between the performer and the attendees, were oddly reminiscent of what the underground music scene looked like in Pakistan just under a decade ago. German punk rock in the 1980s was the alternative music scene. The rockers were rebels of their time and wanted to express what it meant to be 'free.' And they had a special disdain for musicians they considered mainstream.
Speaking about the punk rockers themselves, Burat laughed that "It was never important to get famous. It was important to do something interesting. And it's not very interesting to make money."
Documenting the 'alternative' music scene of Germany in the 1980s and 1990s has not prepared photographer Wolfgang Burat for the chaos of Karachi
According to Burat, photographing that with a film or analog camera was tricky. "You never know how the photograph is going to turn out," he said. "It was always a risk if it came out shitty. Many times, when I looked at it, I thought I had failed, but nowadays when I look at my old photos, I realise I did not fail."
Showing a black and white photo which showed an office with stacks of paper and publications strewn about, Burat mentioned that that was one of the offices at Spex magazine. "The thing is we did it all on our own," he added talking about the struggle of maintaining a publication focused on documenting the alternative culture in Germany. "We were very proud of that. The paper didn't make a lot of money."
Later, over lunch at a local restaurant, Burat showed me one of the several books that have been published showcasing his work. Thumbing through the book, I was surprised, intrigued and awed to see that several well-known non-German artists from 'back in the day' were also a part of the book. Of course, I wanted to know all about how he ended up photographing some of them.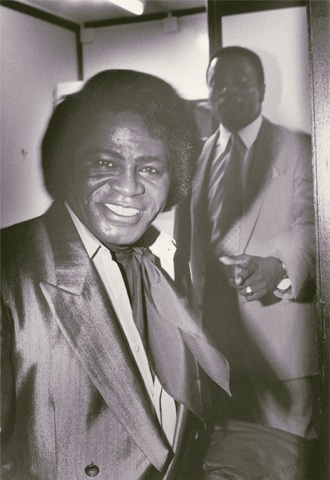 There's a photograph of smiling James Brown that he took, sometime in 1988, that stands out because of the presence of a stern man in the background — a complete contrast to Brown. "That was at a very progressive jazz festival in the Netherlands," relates Burat. He and the writer for Spex were there to cover the festival and they tried sneaking into the backstage area. Brown sat there signing autographs for a group of fans.
Burat introduced himself to Brown and asked him if he could take his photograph. "After the gig," Brown told him. And so Burat went away. After the gig was over, he turned up outside Brown's container-turned-dressing room.
What was going on? "They were doing his hair inside," says Burat. "After a while his bodyguard came out and said 'Okay, Mr Brown is ready now. You have two minutes.' When Mr Brown came out, he had his freshly done hair in a crisp shirt and suit. He looked at me and smiled and started talking."
Burat wasted no time. "Bang! Bang! Bang! Bang! I took around 15-20 photographs and he just turned and went back into his room."
He literally just gave you a few minutes, I remarked. How would you even know if the photographs would come out right? "It was a risk," admitted Burat. "But it was clear to me that I would get an image. This one is one or two out of the 20 that I took. Missioned accomplished."
Burat's photo of Chaka Khan, a reflection in the mirror, was also taken in the Netherlands. Khan was there for a television performance and Burat met her backstage along with other members of the press. "She was looking in the mirror," he said, "and saw that I was looking in the mirror too. So, I took a photograph from the mirror. Then she started playing around, like posing. I took those photos in one or two minutes."
While flipping through Burat's book, I came across a photograph of one of my all-time favourite artists, Sade. Burat photographed her sometime in 1984 for the cover of Spex. The location: the studio space of a record company. "She is very calm, very soft and very, very friendly," he relates. "And very empathic. Because I wanted her for our cover, there was a set I'd built up. I took my flashlights with me and a big camera…" Which one? "A Mamiya 6X7. Normally I would photograph with a Nikon 35mm," he responded. Sade did her make-up herself. The shoot lasted somewhere between 20 min to half an hour. "We had a lot of fun doing the photographs," says Burat. Just by the delight in his voice, you can sense that he's smiling.
He liked how the photographs came out. "I was quite pleased with them because they looked not so 'normal.' But then there was that situation…"
Burat had returned later to the same studio space to photograph another artist. When she saw him, a woman from the record company, approached Burat and started shouting at him. "'How could you do those photographs?! The make-up was totally shitty! The lipstick wasn't accurate! You did a very bad job'!" he relates, mimicking the mannerism of the record label rep with disgust clearly audible in his voice.
But Sade was there as well. When she saw the cover with her photograph on it, her reaction was the opposite. "'Oh, great photograph! That's wonderful!'" relates Burat. "And then the woman from the record company started smiling and said, 'Oh yes! As I said before, it's so nice!'"
He pauses for a moment. "I hated those people from the record company," he said with a hint of anger. "When you say something but you don't mean it, you're a 'special' kind of person. That's what they were." I assume he means 'hypocrites.' 
Burat also has a photograph of a very grim looking Nick Cave taken sometime in 1987. "It's one of my favourite photos because it really shows a little bit of how he is," says Burat. "He's not easy to take [photographs of]. He always tries not to pose and makes funny faces. As if he's thinking, 'Oh you f****** photographer. You're a nuisance to me.' This way of angriness that he's showing is also his energy."
How did you end up photographing him? "It was in a friend's apartment," relates Burat. "He and some of the band members were sleeping there. We had some talks, some drinks, a few smokes and then we did some photographs."
Coming back to the present era and to where we were, Karachi, he said, "I have great respect for people that live with all this urban density. I have never seen anything like it. The crazy traffic … is a reflection of everything. In contrast Germany really is totally structured."
"I can really learn from this," he added. "Because this is the future. Chaos is the future."
Published in Dawn, ICON, August 19th, 2018