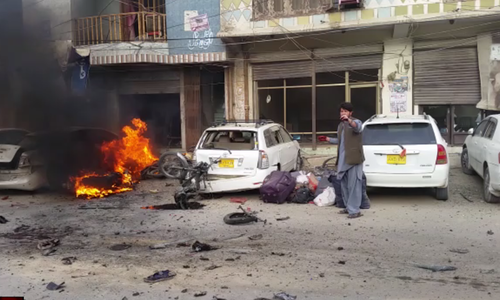 At least one person was killed and nine others, including three Frontier Corps (FC) personnel, were injured in a blast in Balochistan's Chaman city on Sunday, DawnNewsTV reported.
Police said unidentified miscreants allegedly targeted a vehicle carrying FC personnel in the Mall Road area of Chaman. The suspects had reportedly planted improvised explosive device (IED) in a motorcycle parked on the roadside.
The injured were rushed to Civil Hospital Chaman for medical treatment where a state of emergency was imposed to treat the injured.
The impact of the blast broke the windows of nearby shops and vehicles.
Police, Levies and Frontier Corps officials have cordoned off the site of the blast.
A similar blast occurred in Chaman on July 20 this year leaving at least five people injured and nearby shops and cars damaged.
Chaman Station House Officer Gul Muhammad said a vehicle belonging to a law enforcement agency (LEA) was the target of the blast.
According to administration officials, the blast was caused by a remote-controlled motorcycle bomb parked at the side of the ride. The bomb was detonated when the LEA's vehicle passed by.