Shumaila Islam started making visuals like the impressionist masters after going through various phases of exploration during her academic training. Finally she started creating abstract and semi-abstract visuals, employing multilayered rich colours, harmonised with flowing and fluttering lines. She didn't consider herself as a born artist.
"My maternal grandfather was into the business of weaving and block-printing but I was not interested in any sort of arts or craft. My elder sister would practise making portraits. She suggested me to opt for fine arts at higher secondary school, and the pleasure of drawing a line became a lifetime romance later on," Shumaila recalls.
After doing masters from the Institute of Art and Design, University of the Punjab in 1999, she worked as an art teacher at a junior school.
Shumaila thinks that practising art as a professional and making art for kids' learning were altogether different and she explored a wide range of materials and practised various genres from making small-scale three-dimensional models to large-scale murals.
"It helped me a great deal in making a strong understanding with mediums. My lines got mature and confident but, on the other hand, it was tough to get back to small canvasses when I resumed studio practice after working almost a decade for school," she says while talking about her experience.
"Working with objects, assemblage and collage are the elements I learnt to use during teaching. On a later stage while doing my MPhil, I created visuals, narrating my research-based artistic concepts with the help of these very simple and basic materials. The maturity of concept and skilled usage changes the impact of materials," she believes.
The recent body of works Shumaila is painting is the outcome of her research work on South Eastern arts. Flowers remain the mainstay of these paintings.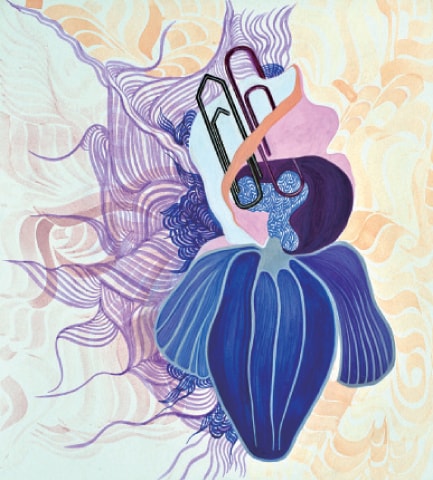 "I started randomly on a big scale, employing broad brushes, dripping the paint and finishing them with moving lines. I studied mythology related to flowers and further narrowed down studies to the use of flowers as symbols in Persian traditional arts. On this traditional basis, I knitted my visuals to express the contemporary concerns of my own," she explains her work.
She questions the contemporary trends of image-making with no regard to the aesthetics of visuals.
"During academic studies, we were trained, through a laborious process, to master the basic techniques of image-making. The traditional skills were considered as the backbone of visual arts.
"The present fashion of rating every absurd thing as 'Abstract Art' results in the production of visuals with no spiritual and conceptual depth, and unfortunately the trend is getting popular among those who need shortcuts."
With a good number of group shows to Shumaila's credit, her works are in a process of evolution. She learnt traditional calligraphy, and calligraphic lines are one of the major elements of her paintings. She develops her visuals skilfully, employing multiple layers of water-based radiant colours on low-textured paper. Following the rich tradition of calligraphic paintings by Askari Mian Irani and Ahmad Khan, Shumaila seems reluctant to cross the boundaries, except for making some innovative compositions where the negative spaces are given significant importance to enhance the visual impact. On the other hand, she dares to paint the taboo subjects using flowers as a metaphor and comments bluntly with a feminist approach, resisting suppression and violence against women in the name of honour.
Published in Dawn, August 5th, 2018