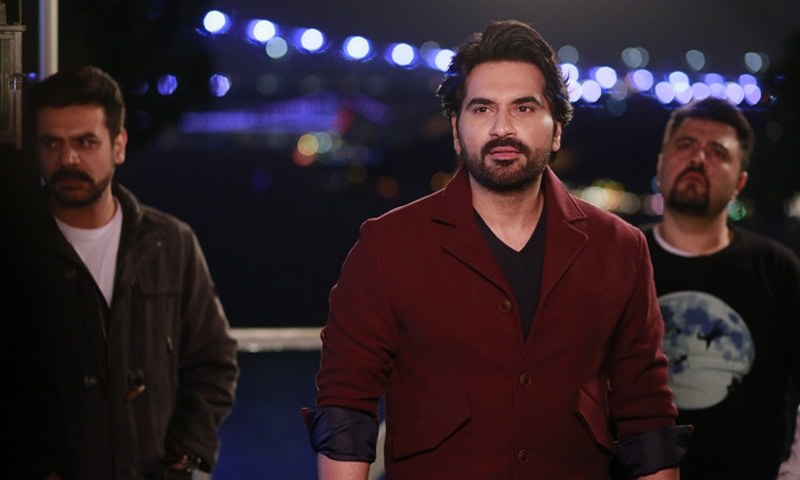 At four o'clock in the afternoon, lot A of Studio 146 is quite dark.
Not extremely dark, mind you. Just enough to make sure that one would trip over the clutter of high-voltage wires that litter the floor.
Two stagehands wiggle pass me as I squeeze through an opening that leads to a stage crammed with production assistants, PR people and an actor or two.
The razzle-dazzle of celebrities doesn't matter right now because the only thing that takes your attention away is the music. And it is deafening, no matter where you stand.
With barely weeks until release, the producers of Jawani Phir Nahi Ani 2 (JPNA2) are filming last-minute additions to the soundtrack. By the looks of the set, the song is one of those "let's all dance to the music" title tracks featuring the entire cast.
Jawani Phir Nahi Ani broke box office records when it came out in 2015. It remains the second highest grossing Pakistani film to date. Now its sequel is set to hit the screens on the coming Eid. Icon goes behind the scenes to ferret out whether the team is being weighed down by expectations ...
Ahmed Ali Butt sits in a chair near a makeshift set, overlooking the film camera. His face as grim as that of a pissed-off director — or that of a man who is dead-tired but still knows that it is just the start of a very long day.
Sohail Javed, the actual director of the shoot, is a few feet away, happily choreographing the Steadicam operator to sway close to the actor, and then pulling back. A few minutes later, Javed trades in the Steadicam for the track. By now the camera operator knows what to do — go close and then move back (you've probably seen Javed pull this move off a thousand times in music videos. I guess it's an easy enough paycheck).
In the middle of the set that looks like a circular steel passageway stands Humayun Saeed. Clad in a red jacket and wearing dark glasses, Saeed's arms and shoulders are slumped in a bhangra-like motion. A pro at what he does, Saeed knows his beats in and out, inventing dance moves on the fly.
On the right is model-actor Omer Shahzad (who plays the film's antagonist), walking to-and-fro, relaxing his muscles. I believe he is the next to boogie.
I am told by someone that the song will be wrapped up by the early hours of the morning. One other song was set to be filmed the next day before most of the cast flew off for an awards ceremony overseas.
With exception to Vasay Chaudhry and Nadeem Baig (JPNA2's director) everyone shuffled their schedules to finish this shoot. And because this is a Humayun Saeed production, the feeling of camaraderie is infectious — or so I am repeatedly told by everyone (especially Fahad Mustafa).
About an hour later, I find myself sitting with Saeed in a dingy make-up room on the top floor.
"JPNA2 is a direct sequel with the same characters," he tells me pacing the room.
Coyly avoiding questions about what happened to whom (and especially how the story is going to cover Hamza Ali Abbasi and Mehwish Hayat's absence), Saeed tells me to keep my senses up when watching the movie. "You will find some clues in the middle of the film, and some clues by the end about what happened to whom and why," he says.
Saeed replies with a "let's see" as we talk about the inevitability of JPNA's eventual threequel. "We've yet to figure out how — and whether if — there is a part three. When we made the first movie, we didn't factor in a sequel. The audiences' reaction motivates us to create sequels — for example, we have a sequel to Punjab Nahi Jaungi [PNJ] in the works next."
Our conversation eventually leads to my point of view of the trailer, which I feel is more "family friendly" than JPNA's. I asked if this was a deliberate move after PNJ's success.
There are no villains in the movie," Omer Shahzad says. The actor may have a valid point once you think about it. Why would a villain feature in a title song in the first place?
"There has to be some consideration. One has to attract both families, children and youngsters. When we were making JPNA, we thought about youngsters first and then families. With PNJ, we put families first. With JPNA2, we're expanding to include mature audiences, families and youngsters," Saeed tells me.
Suddenly we hear a thunderous metallic crash downstairs as the first set is being pulled to pieces. In another dressing room, the cast starts changing outfits for the second round. A set of a grey hallway is being lit by director of photography (DoP) Suleiman Razzak.
Sarwat Gilani, who has wrapped up her sequence, continues from where Saeed left off. "JPNA2 has a unique flavour and charm, [in fact] with all the charming people in the movie, one could say that it has a continuous charm," Gilani says.
"Gul [the wife of Vasay Chaudhry's character] has more to do in the film this time," she continues, but attests that nothing of deep significance has changed about the character.
"I still have a rock-solid opinion of what type of a person my husband is. He is still the same as well. He was an incompetent cop then, and he's an incompetent cop now." Gilani then lets loose a spoiler about Vasay's character that I'll hold off on until the review.
Gul does look more modern I point out, given the way Gilani was dressed for the shoot. "[Gul's] dress sense has evolved a little, with a mix of modern and traditional. It's just a slight change so that people will not get bored," she says.
Omer Shahzad and I end up having a long chat as the actresses change costumes for another round of jigging [dancing].
"My character [literally] turns the film around," he tells me. Shahzad plays a Nawab who is part of a love triangle between Saeed and actress Kubra Khan. However, he is quick to clarify that despite what people may presume, he is not the villain. "There are no villains in the movie," Shahzad says. The actor may have a valid point once you think about it. Why would a villain feature in a title song in the first place?
"The movie is about people and characters, and everyone is integral to the story," he reiterates.
Shahzad, who recently starred in the film Azaadi, also tells me that his role has been substantially increased from what it was initially. Like Saeed, though, he isn't giving out much detail.
As the busy shoot continues downstairs, a very tired yet somehow still energetic Mawra Hocane and I talk next. Hocane plays Xoe — that's Zoey with a very weird spelling.
"Xoe's very, very rich and very, very fashionable," Hocane says. "She's [also] a very simple girl at heart. You know how girls are, very emotional and very simple, and [yet still] a diva."
Playing Fahad Mustafa's romantic interest, she says that both characters fell in love because they were good-looking people.
That's a pretty superficial idea of romance, I tell Hocane. In fact, it harks back to 1980-90s Bollywood, where characters got bit by the love bug because they were good-looking.
"The more typical something is the better," she replies. Instead of trying our hand at something different [and not succeeding], we end up being wannabe different.
"One thing that makes me happy and satisfied about Nadeem Baig is that he doesn't try too hard. He gives you the typical, but it's garnished in such a way that everyone wants to watch it."
Next up is Kubra Khan, JPNA2's leading lady. "Selina [her character] is a sort of a happy-go-lucky, tomboy-ish girl who is very ambitious," Khan tells me.
The word 'ambitious' catches me off guard.
"Ambitious in the sense that [I believe] everyone finds comfort in their particular bubble. She, on the other hand, has the will to break out of hers," Khan explains.
"The more you see her, the more you understand her. When you see me in the first shot, you're going to go — oh great, she's like that! — and then you're going to see me again, and go "Oh!" So she keeps developing as a character."
Like Fahad Mustafa, Khan is also appearing in two movies on the same release date — Parwaaz Hai Junoon and JPNA2. But unlike Mustafa, she clarifies that she only has a cameo in the former.
Speaking of Mustafa, the actor looks as tired as Ahmed Ali Butt. I doubt that I look any better because I have been on the JPNA2 set for seven hours now.
In his aloof tone, Mustafa tells me that "characters are more or less the same in every movie. It's just how you present them." The actor then expressly makes it clear that he's not going to define his character.
"It's a good thing that people are confused by his presence," he tells me.
The role, whether good or bad, was a deliberate call and Mustafa knew from day one that both of his movies — JPNA2 and Load Wedding — would be competitors at Eidul Azha.
"If people think that Humayun is a success, or that I am a success, they're wrong. Nadeem Baig and Nabeel Qureshi [the director of Load Wedding] are the ones who are successful," he says.
"It's a fun film. The hero is Humayun Saeed and everyone else is a supporting character. Keeping me and Humayun aside, I think you'll be surprised when supporting characters [played by] Sarwat, Sohail Ahmed and Ahmed Ali Butt steal the film from us.
"For all the right reasons, to be a part of such a prestigious product, I guess, is a big thing by itself," Mustafa says. "As you can see there are no egos on the JPNA2 set. No one has their own separate room. We're all in this together."
As long as this camaraderie lasts, it seems Jawani will keep returning.
Published in Dawn, ICON, August 5th, 2018