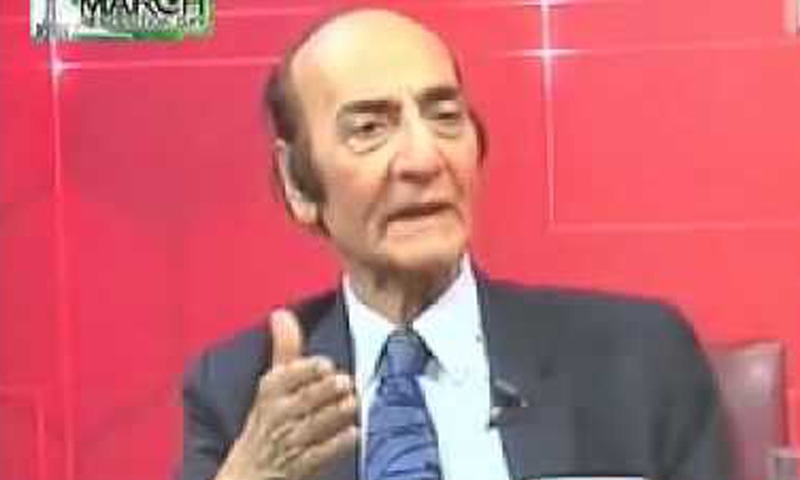 HARROWING moments in Calcutta during those nerve-racking 1971 days when the crisis in East Pakistan was at its peak are some of the nightmarish experiences Mehdi Masud had during his long career in Pakistan's foreign service.
Masud, who died after a prolonged illness on Tuesday, was ordered by Islamabad to dash to Calcutta on a 24-hour notice after Pakistan's Deputy High Commission was occupied by India-inspired elements as war between the two countries loomed large. The Indians resorted to methods that could hardly be called diplomatic. They harassed him and repeatedly attacked his residence, but Masud stood his ground and insisted on performing his duty as a diplomat, until India chose to arrest him and deny him access to his East Pakistani colleagues at the mission. He remained under arrest for several months.
His epic performance during those trying moments didn't go unnoticed. A letter by Aziz Ahmed, then foreign secretary and later foreign minister, dated Aug 16, 1971, congratulated him for being safe back home "after your horrifying experience in Calcutta," while Abdul Sattar, former foreign secretary and later foreign minister, in a letter on the same date, called himself "one of those who admire your deep commitment to the cause of our country and the selfless manner in which you have dedicated your great abilities and talents in Pakistan services".
Tributes also came from Intelligence Bureau Director Nazir Ahmad Razvi, who said Masud's name "has become a legend with us", while Riaz Paracha, later foreign secretary, in a letter dated Aug 20, 1971, congratulated him for his "deliverance from a nightmare which I hope and pray none of us may ever see. You stayed the course splendidly and at all time kept the flag flying. No one can do more than this..."
A brilliant student, he was selected for the foreign service after he topped the results of the examination for the Central Superior Services in 1952. During his 37 years in diplomatic service, Masud was ambassador to Germany, Belgium, the European Union, Kuwait and Jordan, besides serving with missions in Washington, Tehran, Ottawa, Colombo, New Delhi and the United Nations. He was the only Pakistani diplomat to have been posted to all three missions in India — New Delhi, Calcutta and Bombay, except that the Indian government at the last moment refused to upgrade Pakistan's Assistant High Commission at Bombay, now Mumbai.
With his passion for a separate homeland for the Muslims of the subcontinent, Masud took part in the Pakistan movement, and worked as a member of the UP Muslim Students' Federation for the All India Muslim League, especially during the 1946 election, and opted to come to Pakistan immediately after partition.
After retirement from the foreign service in 1989, Masud worked with the Sindh Public Service Commission (1997-2000) and was elected the first president of Hamdard Majlis-i-Shoora. While he worked for a number of think tanks, including the Institute of Strategic Studies, Islamabad, and was on the governing body of the Area Studies Centre for Europe of the University of Karachi, former president retired Gen Pervez Musharraf appointed him a member of the Foreign Policy Advisory Committee.
In his later years, he became a prolific writer and contributed hundreds of articles to newspapers in Pakistan and abroad. In October 2001, the International Biographical Centre (IBC), Cambridge, conferred on him the IBC's 21st Century Award for Achievement "in recognition of outstanding contributions" as an intellectual. The IBC's publications are recognised as an essential reference source around the globe.
In retirement, Masud's only source of income was his pension and Behbood Savings Certificates.
The writer is Dawn's Readers' Editor
Published in Dawn, June 20th, 2018