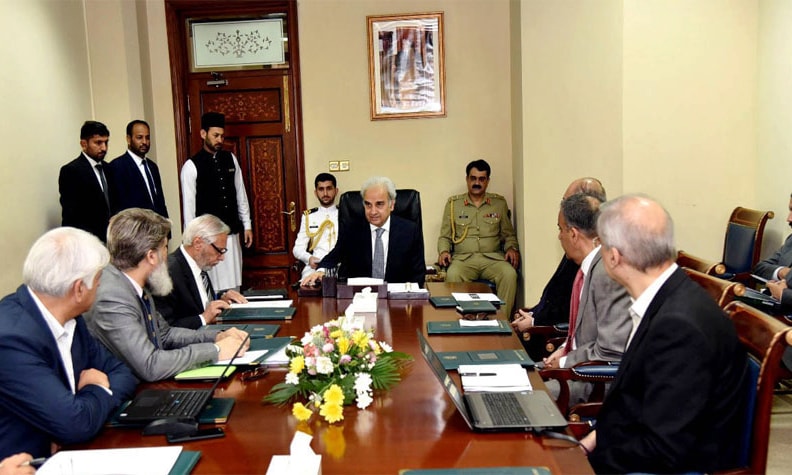 Caretaker Prime Minister retired Justice Nasirul Mulk has directed the Ministry of Energy to take steps to curtail power sector losses in order to improve the overall efficiency and sustainability of the power sector, Radio Pakistan reported on Tuesday.
Ha gave the directions in a briefing on the power sector, attended by secretary Power Division and officials of Pakistan Electric Power Company (Pepco) and National Transmission and Despatch Company (NTDC).
Secretary Power Division briefed the prime minister about the overall outlook of the power sector, including generation, transmission and distribution of electricity in the country.
The prime minister was also briefed about the current as well as anticipated power demand and supply situation.
He was informed that the generation capacity has increased from 18,753MW in 2013 to 28,704MW today. However, officials said that hydel generation dropped to only 3,090MW last month compared to 6,333MW in 2015 due to weather conditions and the resultant reduced water supply.
Every effort is being made to ensure strict implementation of the load management plan which was approved by the previous cabinet for the month of Ramazan, the meeting was told.
Justice Nasirul Mulk expressed his concern over huge losses in various distribution companies and directed the power ministry to immediately start taking steps to curtail these losses.
He said every effort would be made by the federal government to get the required administrative support from provincial governments towards addressing enforcement issues in the power sector.
He observed that a comprehensive plan should be prepared which would help the next elected government in further improving efficiency and sustainability of the sector.