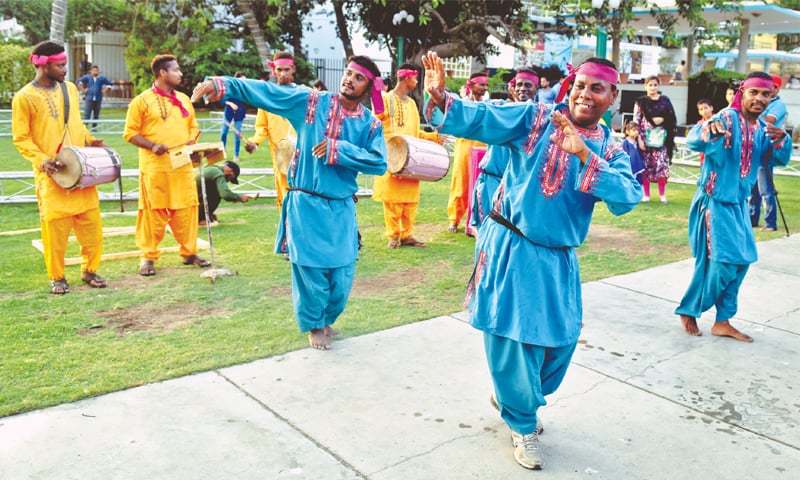 KARACHI: Amid song and dance, local handicraftsmen and members of various local communities who look towards the sea for their livelihood flocked to the Beach Luxury Hotel on Thursday for the opening of the Sea Festival 2018.
Organised by the culture department of the government of Sindh, the festival is an effort to bring together all of the different communities that either reside near the sea or have livelihoods directly connected to it, explained culture director, Sindh, Aleem Lashari.
"The culture department [wants] to represent all those communities that are related to the sea. And we also want them to enjoy events where there is traditional and cultural entertainment as is present at the Sea Festival. Some of the communities in attendance hailed from Ibrahim Hyderi and from villages near Hawkesbay."
Attendance and diversity on the first day were slim.
When asked about how the different community members were invited to the festival, Mr Lashari said that representatives of the department went to different communities personally and distributed flyers about the event.
Social media was also used as a medium to target a larger audience. "However, because of security concerns the event could not be held near the sea as was initially envisioned."
Stalls at the festival were limited but did offer a flavour of the province. Lungis, khais, Sindhi caps, ajraks and many other handicrafts of Sindh were on display.
One of the more popular stalls was where different items made of decorative shells were on display. Beautifully hand-painted glass lamps were also on display and many a buyer could be seen haggling away at the stall.
Lacquered woodworks known as Jandi had a designated stall too where Nabi Bux was busy carving away.
Organisers had also made arrangements of musical troupe singing folk songs to accompany guests on free boat rides. Other activities for children such as face painting, drawing and even pottery lessons had been arranged.
This is not the first such festival organised, with the culture department taking initiative, however small, to gather the cultural identity of the province and introduce it to people who do not have access. The reason? Because there is a growing realisation that knowledge of the artisans and the different traditional crafts in Sindh is at a record low and may even be dying.
The other reason is that consumers are fast identifying the commercial value of introducing these arts and crafts to local and international audiences.
The festival was inaugurated by Sardar Ali Shah, Sindh Minister for Culture, Tourism, Antiquities and Archives. He spoke about recognising the importance of the sea in the livelihoods of different people of Sindh.
The festival is being held from 4pm to 10pm. It will conclude on Saturday.
Published in Dawn, April 20th, 2018