April 10, 2018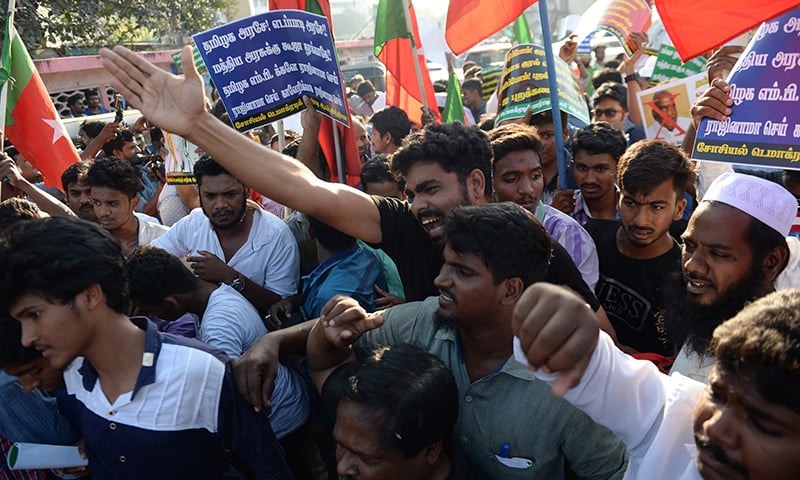 Protesters burned merchandise and jostled with police outside a cricket stadium in Chennai on Tuesday, demanding Indian Premier League matches be cancelled as the southern city reels from a water crisis.
Hundreds of demonstrators, some wearing black t-shirts and waving black balloons, gathered near the venue shouting slogans before Chennai Super Kings' match against Kolkata Knight Riders.
Police tried to force protesters on to buses outside the stadium in Chennai, the capital of Tamil Nadu state.
The drought-prone state has witnessed mounting protests in recent weeks over a disputed accord with neighbouring Karnataka on how to share water from the key Cauvery river, a hot-button issue in southern India.
"We want all seven IPL matches in Chennai to be cancelled until our demands are met. We will also ask the spectators to boycott the match," said one protester sporting a black T-shirt.
The state government had recommended IPL games be moved out of Chennai because of the protests but said they would provide security if they went ahead.
"Around 4,000 police personnel will stand guard around the ground. We have covered all bases to make sure that nothing goes wrong," a Tamil Nadu police spokesman told AFP.
The Chennai stadium is scheduled to host the IPL matches between April 10 and May 20.
The Super Kings have also told the sellout crowd that they will not be allowed to take mobile phones, bags or other electronic devices into the ground.
Some state politicians and activists have lashed out at the Board of Control for Cricket in India for holding IPL matches in the state at a time when sentiments were running high.
Tamil cinema superstar Rajinikanth has also weighed in on the controversy, urging fans to support the protesters.
"If they (organisers) don't cancel the matches, at least they should allow players and spectators to wear black badges," he said.