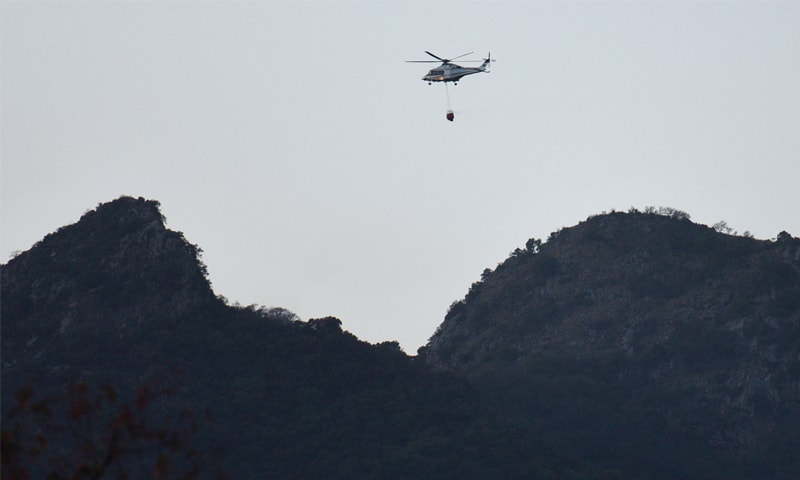 ISLAMABAD: The first major fire of the season on Margalla Hills on Thursday kept officials of the environment wing and the emergency directorate of the Metropolitan Corporation Islamabad (MCI) on their toes. But even after over 24 hours, the flames could not be put out completely.
The fire that started in the Kalanger village on Thursday was still raging when this story was filed on Friday night. Four helicopters from defence authorities and Cabinet Division also took part in the operation to extinguish the fires and cleared a portion of the land but as night felled a significant part of the hills was still on fire.
"Helicopters helped us a lot but because of darkness now they have stopped operations. Our firefighters are stilling trying to extinguish the fire," said Director Environment Irfan Niazi, who was supervising the operation. "We are hopeful that the flames will be extinguished in a few hours but the strong winds contributing to flare up the fires."
Metropolitan corporation firefighters and four military and Cabinet Division choppers launch operation to put out flames
The official said apart from the Kalanger village, fires also broke out at other points such as near Sanduri peak and Sadpur picnic point.
"We extinguished flames at two spots but a major fire at Kalanger is still raging because of the winds," he said.
Director Emergency and Disaster Management Zafar Iqbal explained that the fires were a result of human errors. "Less rain could also be a reason," he said.
However, some officials from the environment directorate said frequent fire incidents on the hills could be deliberate attempts by the local people.
They said every year CDA/MCI hired inhabitants of various villages located on the hills for a few months for firefighting operations. Those who cannot get such seasonal jobs deliberately lit the fires.
The director emergency said over 200 firefighters from his directorate and the environment wing were taking part in the operation.
"Our firefighting tenders extinguished the flames in accessible areas but we are facing problems due to the terrain. Fire tenders cannot reach the main targets where firefighters are trying to extinguish the flames using traditional methods," he said.
Spreading over 12,605 hectares, the Margalla Hills National Park witnesses scores of fires every year. The fires damage the forests and also add to air pollution.
According to documents, between 2013 and 20 17 the emergency and disaster management unit of the MCI handled 2,833 fire incidents on greenbelts of Islamabad, including the Margalla Hills.
Out of these incidents, 1,125 occurred last year. "The incidents of fire on greenbelts are increasing," the director emergency said. However, every year hardly five to seven incidents of major fires take place on the Margalla Hills.
The official said the emergency directorate only carried out major operations.
"Most of the cases on Margalla Hills are handled by the environment wing which has a large number of firefighters who extinguish the flames in difficult terrains using traditional methods," he said.
Published in Dawn, March 31st, 2018