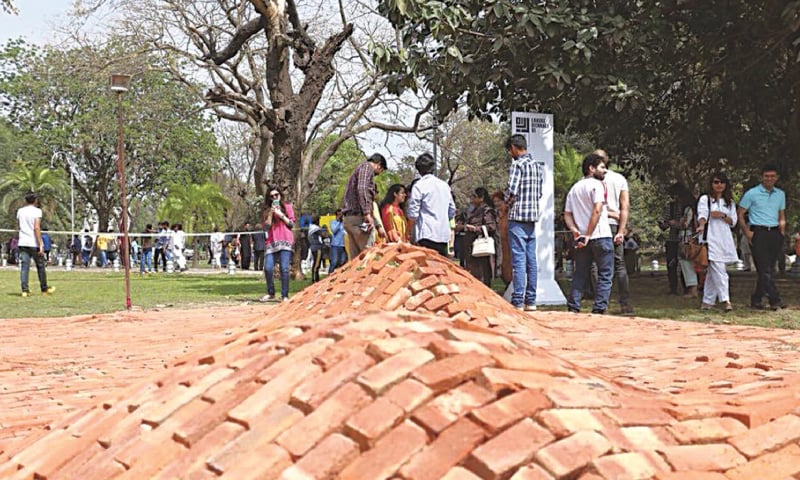 The city of Lahore has a rich and multilayered history of art practice and intellectual and creative discourse. It has long been the center of learning in South Asia for the arts and has produced some of the finest artists and intellectuals of the region.
In recent times, The Lahore Biennale Foundation (LBF) has emerged as a facilitator for critical thinking amongst practitioners of art and a catalyst for engaging people from all walks of life. Exhibitions of art in public spaces and a meaningful exchange of ideas at various forums has become the hallmark of the LBF. This non-profit organisation has collaborated with government bodies as well as international partners to support art projects across Pakistan in an attempt to facilitate research and experimentation, and to push the boundaries of art practice in the hope that it would become "an agent of social transformation."
The Lahore Biennale (LB01), a first of its kind in the city, is currently the LBF's most ambitious project and was much awaited for almost a year. A series of organisational and perhaps even 'ideological' glitches were finally overcome, and Lahore is now abuzz with this mega event. Taking place from March 16 till March 31, 2018, the LB01 engages 60 artists whose work has been exhibited at seven different venues, each a public venue of iconic historical importance.
The inaugural Lahore Biennale is a quantum leap for the arts and a promising endeavour to engage the public
In addition, a large variety of collateral events, including art exhibits, musical performances and intellectual discourse, have been arranged at various art galleries and venues all over the city. Artists, curators and art critics from Pakistan and across the globe, including Turkey, Iran, Bangladesh, Sri Lanka, India, Europe and the United States, were invited and hosted by the LBF. The three-day inaugural functions were especially arranged for these participants in addition to local dignitaries and professionals.
Having participated in some of the inaugural events, one was able to savour the company of diverse individuals, and perhaps even look at one's own city with fresh eyes. Seeing the Alhamra Art Gallery flooded with people of various nationalities, visiting the Old City premises in open-air "rangeela rickshaws" with the sound of Noor Jehan's Punjabi songs competing with the blaring horns of police entourages, walking down the innumerable narrow lanes of inner city bazaars to reach Mubarak Haveli, and finally savouring the serene environs of the Naqsh School of Arts housed in the Haveli, are some of the special memories from the inaugural day's adventures. The bus service was safe and efficient, while the timelines were a bit chaotic and exhausting.
Most participants were energetic enough to bear with these planning glitches, as the LBO1 had such a variety of inspiring art experiences to offer. The Lahore Fort, Mubarak Haveli and Tehsil Park, Shahi Hammam, Lahore Museum, Alhamra Art Gallery, Bagh-i-Jinnah and the Canal intersection have all taken on a new life and soul with multifaceted artworks and narratives on display.
It is awe-inspiring to see so many young artists present their ideas in thoughtful and innovative ways and also the older ones intertwined in this discourse, as they share their stories and experiences. What is critical in this endeavour is how far and how many from the public engage in the mega effort and, equally, how the intellectual elite partakes of public spaces they seldom visit. The coming days will show how many people engage in this event and how positive was the 'social transformation' that LBF envisages.
However, it is a quantum leap for art as well as the city of Lahore, and must be an ongoing endeavour that continues to evolve and contribute to the growth of a cultured and pluralistic society.
For more information about LB01:
https://www.lahorebiennale.org/lboi
Published in Dawn, EOS, March 25th, 2018