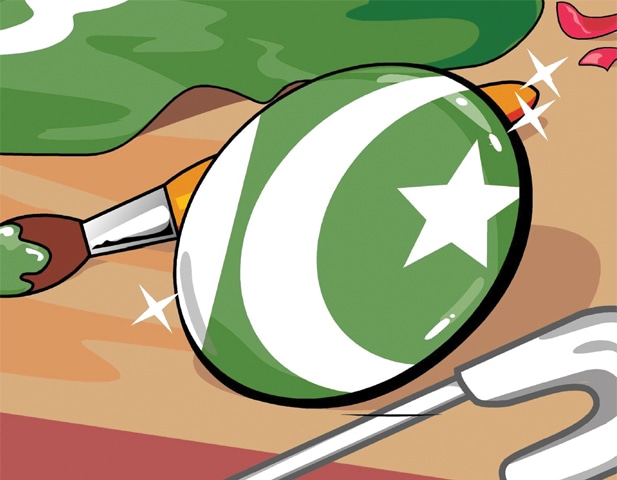 On the occasion of Pakistan Day, here are some quotations of our great Quaid, Muhammad Ali Jinnah, which serve as a guiding light for us.
Unity must be upheld
"We are now all Pakistanis — not Baluchis, Pathans, Sindhis, Bengalis, Punjabis and so on — and as Pakistanis we must feel, behave and act, and we should be proud to be known as Pakistanis and nothing else."
Quaid-i-Azam Muhammad Ali Jinnah promoted unity in all the ways possible. He not only united the Muslims of the Subcontinent to struggle for a separate nation, he became the leader of all Muslims while serving in the All-India Muslim League.
It was his call for a greater cause that amalgamated Muslims on a single platform to voice their opinion for a separate homeland.
Empowering women
"There are two powers in the world; one is the sword and the other is the pen. There is a great competition and rivalry between the two. There is a third power stronger than both, that of the women."
Quaid-i-Azam, in this quote, is advocating the use of the power of the pen to change the world. It is the writers, poets and lyricists who give a nation the impetus to stand up and fight for what is right.
However, also in this quote, Muhammad Ali Jinnah has expressed his confidence that women are the third power after the sword and the pen. He was talking about women empowerment.
A clear example of such empowerment was seen when Fatima Jinnah, Begum Salma Tassaduq Hussain, Begum Fatima, Jahanara Shahnawaz, Shaista Ikramullah, Mumtaz Shahnawaz, Rana Liaquat, Begum Zari Sarfraz and others, played their part alongside men to work towards the establishment of Pakistan.
Women are serving in Pakistan and abroad in various fields and making their country proud.
Achieving greatness
"With faith, discipline and selfless devotion to duty, there is nothing worthwhile that you cannot achieve."
When talking about personal management and achieving dreams and aspirations, it is faith in Allah, a conviction in our abilities, discipline in what we do and a selfless devotion to what we want to accomplish, that makes the best equation for success. Discipline in following a routine, managing time and following things to do list with the commitment to excellence that will help you rise higher than your past and greater than your competition.
Pakistan first
"Every Mussalman should serve Pakistan honestly, sincerely and selflessly."
Muhammad Ali Jinnah, in this quote, has shown his patriotism and love for Pakistan, the country he created with his tireless efforts and with a vision to give the Muslims of the subcontinent a homeland where they could live with ease. Honesty, sincerity and selflessness are qualities that make a good human great.
Humans nurture their relations and develop their academic and professional life with honesty, it is with sincerity that real care and love surfaces among humans and through selflessness can a person achieve a higher consciousness to do good and be great.
Nature's blessings on Pakistan
"Nature has given you everything: you have got unlimited resources. The foundations of your State have been laid, and it is now for you to build, and build as quickly and as well as you can. So go ahead and I wish you God speed."
Pakistan is blessed with natural landscapes as beautiful as the ones in Switzerland and Europe. There are coastal plains and deserts; there are cities that experience extreme heat in summers and below freezing point in winters.
Pakistan is blessed with all four seasons, there is a wide range of flora and fauna, and animal and plant species spread across its geographical terrain. Pakistan has been blessed with Trango Towers, salt range, volcanoes, mountain ranges, plateaus, forests, sea, rivers, deserts and a wide range of mineral resources. Nature has surely given Pakistan everything. What we do need is a determination to become great and the vision to use our resources in the best way possible.
The three rules of success
"My message to you all is of hope, courage and confidence."
Corporate leaders, motivational speakers, educationalists, athletes and people belonging to all walks of life promote and propagate the prominence of being hopeful at all times. Even in adversity, one should have hope that we will find a way out of our problems and reach success.
Moreover, such leaders also instil in us, through their actions, that courage can transform our lives. Courage leads you to prepare for a tough exam, courage makes you give a good class presentation; courage helps you learn and ride a two-wheel bicycle, courage enables a teenager to rise up against bullies and courage helps us focus on our strengths and reduce our doubts and fears.
Furthermore, Quaid-i-Azam, in this quotation has talked about confidence, which is self-assurance and knowing yourself. Individuals working in every field of life and profession need confidence, giving them the power to believe in themselves and in their abilities.
A rising Pakistan
"I can look forward to Pakistan becoming one of the greatest nations of the world."
We all must strive for excellence when studying in school, college, and university. We must endeavour to achieve professional superiority when we begin our professional lives — as employees or entrepreneurs. However, it is in our daily effort to become great that will have a collective impact on the nation.
When we attempt to follow rules, obey our elders, live a simple and purposeful life, then we will eventually make Pakistan a great country. It is in our individual efforts to become great as students and professionals that will facilitate Pakistan progress and prosper.
Let us vow to follow the golden words of wisdom of Quaid-i-Azam Muhammad Ali Jinnah and make Pakistan better, stronger and more prosperous than before.
Long live Pakistan!
Published in Dawn, Young World, March 24th, 2018