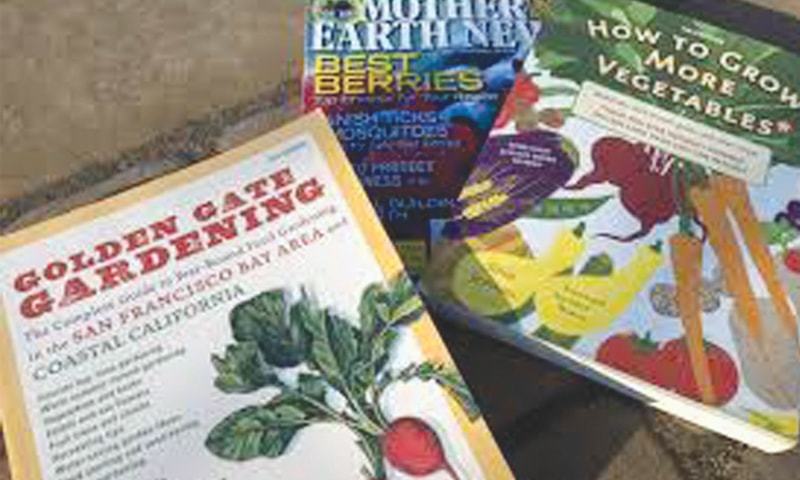 There were times when gardeners whiled away hours browsing glossy gardening magazines and discounted gardening books which flood our markets from time to time. Unfortunately, these rarely relate to any kind of sensible gardening here in Pakistan. Over more recent years, online videos of professional and amateur status add to the information deluge and, especially for 'apprentice' gardeners, often make it almost impossible to separate what may be sure-fire garden hits in some parts of the world — but bound to fail here — from Pakistan relevant advice.
The situation is further compounded by a far-from-small section of society which implicitly believes everything they read or see on the internet and when this comes to gardening, it amounts to nothing more than an expensive waste of time, effort, cash and gardening confidence.
The basic problem for gardening newbies in Pakistan is a dire lack of country-specific growing information: the little information there is in the open market is generally regionally applicable only as, thanks to the size and climatic/geological diversity we are blessed with, what grows in autumn in Karachi may not grow at all in Peshawar or, if it does, at a very different time of year under differing cultivation conditions.
Suitable gardening methods are specific to every region and plot of land
There are quite a number of Pakistan-based online gardening forums where information and experience are often freely shared. However, these forums are not foolproof either as quite a few on-line experts, well-intentioned as they are, have studied the gardening arts via internet videos/tutorials which simply cannot be applied to the growing conditions here.
Yes, it's complicated; particularly for those who are genuinely desperate to learn and then to grow whatever it is they dream of.
Yes, it's a minefield; there are lots and lots of 'rogue professionals' hiding on the internet just waiting to take your hard-earned money in return for what resembles a bona fide gardening or permaculture or hydroponic course with an attractive diploma when you pass but … has anything actually been taught and, if so, is it applicable to Pakistan and to your particular 'corner' of the country at that?
It's a conundrum and yes, it can be navigated.
The tips below lead the way to successful gardening in Pakistan:
Never be afraid to ask for gardening advice no matter how basic your question may be. If you don't understand the answer/s, say so. An experienced gardener is usually happy to share knowledge and help you along the way.

Ask the gardeners you see in action, those who love and care for their plants each and every single day. But do not, you are warned, ask a mali: unfortunately, at least 95 percent of them simply haven't got a clue aside from advising on how best — and fastest — to spend your money, saving themselves work in the process. The latter also applies to a high percentage of people working in plant nurseries where success is measured in profit.
Join your local horticultural society, or any local gardening society that is convenient for you to attend on a regular basis; asking questions of other members is an essential part of this invaluable learning experience.

Walk around your neighbourhood to get familiar with which plant species grow well there; note down when and — if possible — how specific seeds were sown, how they are cared for and how long they take to reach maturity and — this cannot be stressed enough — ask cultivation questions at every opportunity you get.

Take a close look at the soil type/condition in your area, noting its colour, texture and how it reacts to cold/heat, drought/rain and try to establish the exact nature of this soil you have as a base to work with and grow in. Is it loamy, sandy, clay? Does it dry out fast or have a tendency to waterlog? Try to learn about soil types and soil amendments — organic if at all possible — and learn about organic pest controls too.

Say 'Yes' to organic and 'No' to chemical interventions which eventually poison the earth and, via the food chain, you.
Read, study, watch but please take the time to figure out what makes sense in Pakistan as against what may sound like sense in another part of the world. Just because something grows on a certain longitude and latitude in California does not automatically mean, despite latitude/longitude, that it will grow in Karachi where climatic and soil conditions are very different indeed.

Do not follow sowing instructions on imported packets of seeds: the instructions are solely intended for the country in which the seeds were intended to be sold. For example, seeds meant for sale in the UK may specify 'spring sowing' or sowing in March/April but to sow them in March/April in Karachi is a complete waste of seed as temperatures soon climb to, for many plants, unbearable. Seeds for spring/March/April sowing in the UK are generally autumn sown, Sept/Oct/Nov in Karachi but — there is no escaping this complication — they may be spring sown up in the North.

Think and ask. Ask and think. Then ask again.
Please continue sending your gardening queries to zahrahnasir@hotmail.com. Remember to include your location. The writer does not respond directly by email. Emails with attachments will not be opened. Commercial enquiries will be ignored.
Published in Dawn, EOS, March 18th, 2018