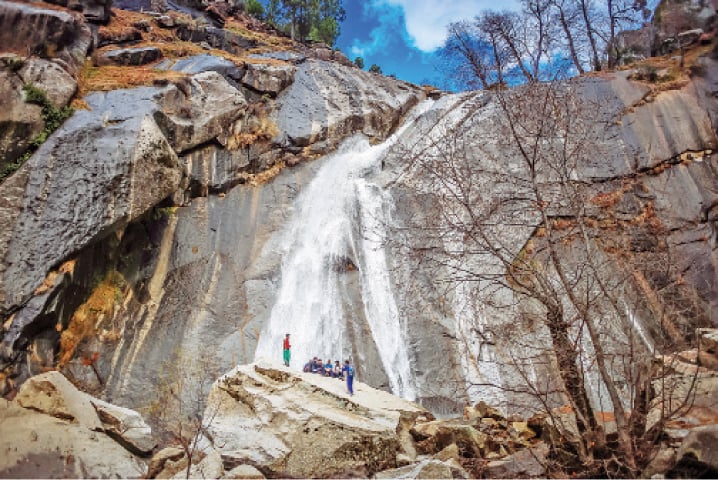 MINGORA: With the beginning of spring season in Swat, tourists have started hiking mountains to reach the hidden scenic spots in different areas of the picturesque valley.
The tourists, who seek adventure, prefer to trek and climb tough and steep mountains to explore unseen glacial lakes, pastures and waterfalls.
A group of tourists, who hiked to Charkhwa waterfall in Jambil valley, said that the site was enchanting in term of natural beauty and mystery.
"The waterfall is completely different as it is located in a mysteriously hidden valley above Jambil where one has to trek amid forests, streams and steep mountains while the roaring water fall on a huge flat rock gives a mysterious look from afar," said Zafar Ali Khan, a tourist who visited the waterfall.
Visitors say Charkhwa waterfall suitable picnic spot for students
The tourists said that the location of the waterfall was unique as there were three other waterfalls on the way to the final one.
"We came across three other waterfalls before reaching the final one, which was a bonus for us. Though all the four waterfalls are beautiful and wroth seeing yet the last one is beyond comparison. It is huge, fast and enigmatic," said Ikram Khan, another tourist.
The tourists said that the trek to all the three waterfalls offered multiple sightseeing.
"One can find thick forest, huge boulders, lush green fields, brooks and streams in the way. It is a perfect place for the nature lovers," said Mirwais Zafar.
However, the tourists said that trek to the last two waterfalls was challenging and steep. They said that tourists must have proper trekking shoes to climb it.
"The distance from Jambil village to the last waterfall is about seven kilometres, which can be covered in about two hours because the final section of the trek is steep and tiresome. Anybody, who wants to visit the site, must have proper trekking shoes and uniform," said Abdul Basit Khan.
Hamza Khan, nother tourist, said that the trek had several springs of cold water. "It is also a suitable picnic spot for students," he added.
The tourists said that government should promote the site for tourism as only locals knew about it.
"If the site is properly advertised at national level, I am sure that the site will become one of the most visited tourism spot," said Naseer Khan, a resident of Manglawar.
Published in Dawn, March 9th, 2018