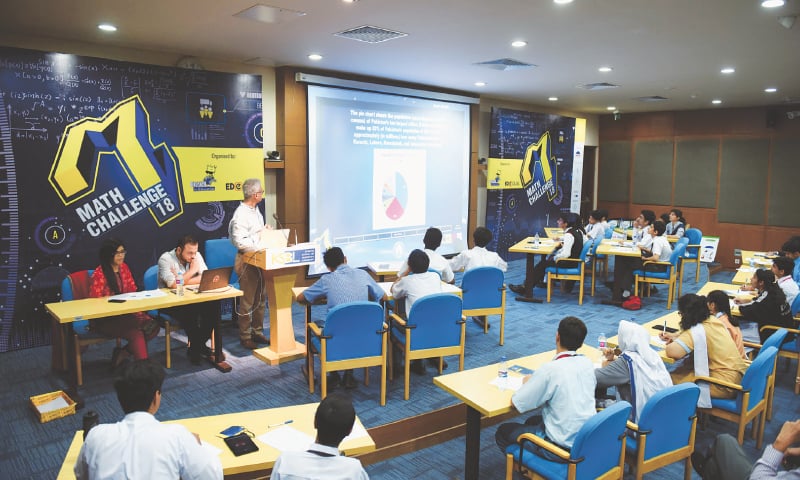 KARACHI: Plato, Archi­medes, Omar Khayyam, Galileo Galilei, Isaac Newton, Albert Einstein and all the great mathematicians from history must be smiling down from heaven as the country's young mathematicians got busy solving mathematics problems at the national finals of the Math Challenge '18 organised by Dawn Media Group and EDeQUAL at the Karachi School of Business & Leadership here on Monday.
The nationals comprised final competitions in both group one, of students of classes seven and eight, and group two, of students of classes nine and 10. No branch or area of math was left out in the questions put to the contestants. There was simple quick arithmetic, geometry, algebra, probability for which they had to calculate fractions, percentages, square-roots, ratios while also looking at measurements and graphs.
'Speed Quiz', the first round in the competition, carried eight questions and there were 12 teams competing in both groups so those who could solve the problems quickly got away with points. All they had to do was type in the answer on the tablet provided to each team. The team which typed the correct answer first was awarded 10 points and another 10 as bonus points. All the other correct entries also got 10 points. But if any team had incorrect answers, five points were deducted from their total, too. The round provided a good opportunity to the teams to get ahead early in the competition.
'Jeopardy', the other round that was also bigger and longer, carried 24 questions in six categories with two minutes given to answer them. An incorrect answer from a team on their turn meant no points but an incorrect answer from any team that pressed the buzzer meant a deduction of half the points carried by a question. For some questions that carried 30 or 40 points, there were deductions of 15 or 20 points.
Still, many teams saw themselves go into minus points in the 'Jeopardy' round. Those who gained points decided not to risk losing points making wild guesses.
Ayyan Masood, a class 10 student of The City School North Nazimabad Boys Campus, who was representing his school in the class nine and 10 group later told Dawn that he and his team member Ali Masood remained cautious throughout the round. "We had selected 30 and 40 point questions and got their answers correct also to gain points early. Then we pressed the buzzer only when absolutely sure we had the correct answer," he said.
Ayyan and Ali of The City School North Nazimabad Boys Campus also ended up as winners in group two, an honour shared by Mohammad Ashar Siddiqui and Mohammad Hammad Javed of Happy Home School.
Yes, there was a tie and both the schools were declared as the winners in the senior group. Speaking to Dawn Ashar, the older of the two from Happy Home, said that he likes to practice maths problems in his spare time. But his teammate Hammad believed that he is a born maths genius. "You have to be a born mathematician," he said. "Either you have it or you don't," the confident young man added with a smile. Still, for its worth, he also said that he always tries to remain focused during maths class in school.
Syed Kamran Hasnain, group head of MCB-Arif Habib Savings and Investments Ltd, the chief guest on the occasion gave away the prizes and certificates to the winners. "Education is the equaliser," he said, while looking at the participants of the Maths Challenge who hailed from all over the country. "You may be studying anywhere but it is your high achievements in education that got you here today. I am happy to see schools from Chenab and Peshawar also participating," he added, while appreciating the contribution of Alif Ailaan for bringing in government schools from Peshawar too to participate in the challenge.
Other organisations that supported the competition included Pakistan Alliance for Math and Science, Oxford University Press for providing the judges, KSBL, the Karachi hosts and International Islamic University, Islamabad host.
National champions
Group one (classes seven and eight):
Winner:
Lahore Grammar School-Jr & Middle JT Boys (Lahore)
Wali Waqar (class seven) and Rai M. Zain-ul-Abideen
Runners-up:
Habib Girls School (Karachi)
Arisha Ferhaj (class seven) and Saleha Abid (class eight)
Group two (classes nine and 10):
Co-winners:
The City School North Nazim­abad Boys Campus (Karachi)
Ali Masood (class nine) and Ayyan Masood (class 10)&
Happy Home School (Karachi)
Mohammad Hammad Javed (class 8) and Mohammad Ashar Siddiqui (class 10)
Runners-up:
EMS High School (Islamabad)
Ali Abdullah (class nine) and Nizalia Siddiqui (class 10).
Published in Dawn, February 27th, 2018