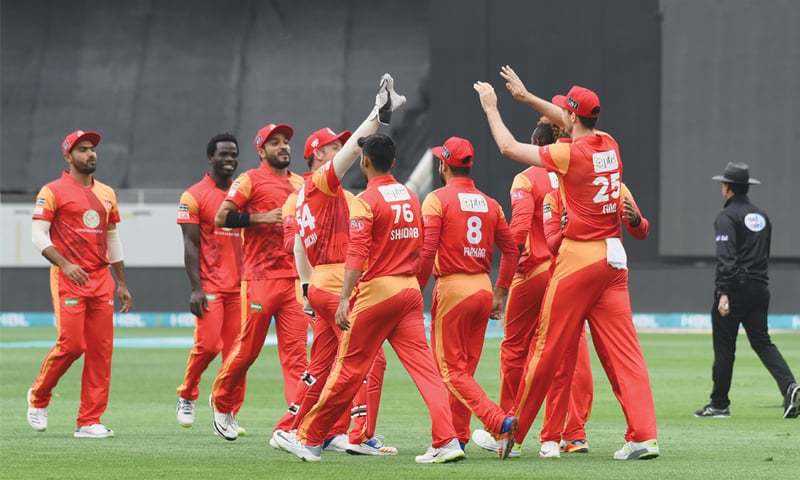 DUBAI: Young Hussain Talat helped Islamabad United survive a top-order collapse to get their HBL Pakistan Super League campaign on back on track while ending Multan Sultans' fairytale start to the third edition with a nervy five-wicket win here on Sunday.
The conditions for the first game of the double header at the Dubai International Cricket Stadium were more like England than the customary hot desert weather with light rain forcing a late start.
The bowlers upfront had a field and once Rumman Raees — again deputising for Misbah-ul-Haq, who is reported to be bothered by a hamstring issue — had called correctly at the toss, Multan knew batting would be hazardous.
Kumar Sangakkara, having come into Multan's third game on the back of successive half-centuries, failed to cash in on when Asif Ali dropped the legendary Sri Lankan left-hander off Rumman on five. But fortunately for Islamabad it cost them anything as the same combination got their man shortly afterwards.
Islamabad had the debutants on the run when a struggling Ahmed Shehzad (11 off 24 balls) was put out of his misery by Steven Finn with substitute Amad Butt holding the catch. At that point, Multan had slid to 31-4 in the 9th over.
Shoaib Malik and Kieron Pollard stopped the rot by adding 54 but Andre Russell made the breakthrough by having his fellow West Indian leg-before-wicket for a 19-ball 28, featuring three fours and one six.
Malik followed his partner 10 runs later when Shadab Khan held a good catch at point after the Multan captain had top-scored for his team with 35, a 36-ball innings containing two sixes off Shadab.
The tail had nothing to offer and the loss of last four wickets for 18 runs meant Islamabad had to chase just 114. Rumman Raees was the standout performer with three wickets foe 14 runs in 3.4 overs. The experienced Mohammad Sami was excellent in taking 2-19 in four overs with Finn giving only 14 runs in his four overs.
Islamabad's response was equally horrendous. Luke Ronchi perished to the steep bounce generated by the giant left-armer Mohammad Irfan and lobbed a catch to Pollard.
Sahibzada Farhan's first taste of PSL wasn't pleasing either as the young right-hander from Peshawar was bamboozled by Imran Tahir after making only nine from seven deliveries.
Chadwick Walton kept his side on course as the West Indies right-hander slammed five boundaries in scoring 28 from 23 balls before getting out to Junaid Khan.
Asif Ali (11) and Russell fell in successive balls in a double-wicket maiden over delivered by Imran, who ended up with 3-19.
At 63-5 it was anybody's match but the left-handed partnership of Hussain and Fahim Ashraf carried Islamabad to their first win in an unfinished partnership of 54.
Hussain, adjudged man-of-the-match, struck four fours and three sixes in an under pressure 34-ball contribution of 48, while Fahim kept him company on a 20-ball 12.
Scoreboard
MULTAN SULTANS:
K.C. Sangakkara c Asif b Rumman 6
Ahmed Shehzad c sub b Finn 11
D.M. Bravo c Finn b Sami 6
Sohaib Maqsood c Rumman b Sami 1
Shoaib Malik c Shadab b Russell 35
K.A. Pollard lbw b Russell 28
Saif Badar b Rumman 8
Sohail Tanvir run out 9
Imran Tahir b Rumman 2
Junaid Khan not out 2
Mohammad Irfan run out 2
EXTRAS (LB-2, W-1) 3
TOTAL (all out, 19.5 overs) 113
FALL OF WKTS: 1-8, 2-15, 3-19, 4-31, 5-85, 6-95, 7-105, 8-108, 9-109.
BOWLING: Rumman Raees 3.5-0-14-3; Mohammad Sami 4-0-19-2; Finn 4-0-14-1; Fahim Ashraf 3-0-17-0 (1w); Shadab Khan 2-0-17-0; Russell 3-0-30-2.
ISLAMABAD UNITED:
L. Ronchi c Pollard b Irfan 0
Sahibzada Farhan b Imran 9
C.A.K. Walton c Shehzad b Junaid 28
Asif Ali c Sangakkara b Imran 11
Hussain Talat not out 48
A.D. Russell lbw b Imran 0
Fahim Ashraf not out 12
EXTRAS (LB-4, W-4, NB-1) 9
TOTAL (for five wkts, 17.4 overs) 117
FALL OF WKTS: 1-0, 2-37, 3-47, 4-63, 5-63.
DID NOT BAT: Shadab Khan, Mohammad Sami, Rumman Raees, S.T. Finn.
BOWLING: Mohammad Irfan 4-0-24-1; Sohail Tanvir 3-0-28-0; Imran Tahir 4-1-19-3; Junaid Khan 3.4-0-20-1; Shoaib Malik 3-0-22-0 (1nb, 1w).
RESULT: Islamabad won by five wickets.
UMPIRES: R.E.J. Martinesz (Sri Lanka) and Rashid Riaz (Pakistan).
TV UMPIRE: Ahmed Shahab.
MATCH REFEREE: Mohammad Anees (Pakistan).
MAN-OF-THE-MATCH: Hussain Talat.
Published in Dawn, February 26th, 2018