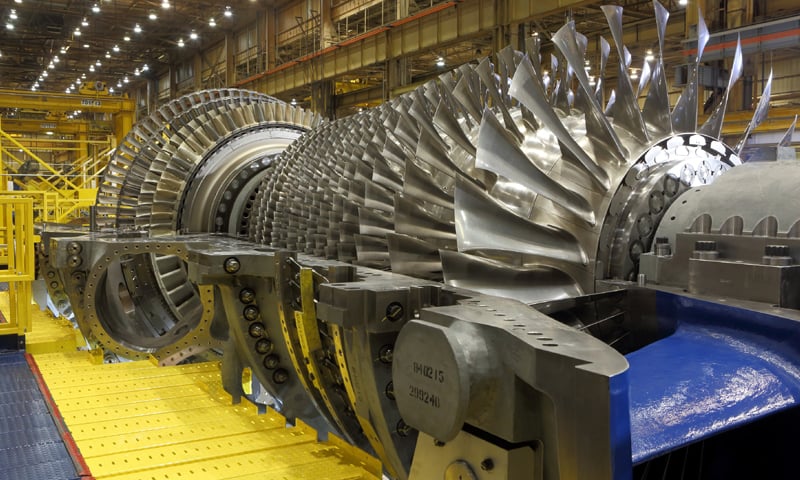 LAHORE: The three recently-built combined-cycle gas-fired power plants in Punjab are facing production delays of up to two-and-a-half months because of a "variety of factors", including but not limited to problems with the world's most efficient gas turbines.
Conversations with the senior management of the two public companies – National Power Parks Management Company and Punjab Thermal Power – created for establishing these power stations show that the commercial operations date (COD) of all the stations has now been pushed back to early March 2018. All three have been hit by delays throughout their construction.
Late delivery of gas turbines, combustion seal leak at one of the turbines at Bhikki and severe damage caused to a turbine at Haveli Bahadur Shah are some of the major factors that have contributed to commercial production delays, according to the senior management members Dawn spoke with.
Once fully operational, the three plants at Bhikki (Sheikhupura), Baloki (Kasur) and Haveli Bahadur Shah (Jhang) have the capacity to together generate more than 3,600 megawatts of electricity. The first two plants were originally scheduled to start commercial operations last month and the third one was billed to start supplying electricity to the national grid earlier this month.
Delayed delivery and technical issues hit the LNG-fired generators all last year
The Bhikki power station is being financed by the government of Punjab and the other two by the federal government. Punjab recently inaugurated another gas-fired power plant at Haveli Bahadur Shah with a nameplate generation capacity of 1,263 megawatt to be completed early 2020. With Chinese companies executing the projects as EPC (engineering, procurement and construction) contractors, GE is providing its flagship gas turbines with fuel efficiency of between 61.63pc to 62.5pc for them.
The plants are all part of the China Pakistan Economic Corridor (CPEC) initiative.
"Moreover, the RLNG (regassified liquefied natural gas) supply to the plants remained suspended for around three weeks, leading to delays in fuel testing," Ahad Cheema, the chief executive officer of the Punjab Thermal Power Ltd, told this reporter.
"We are facing what is known as launch issues, which are not uncommon with large, complex power plants of this size before their commissioning for commercial production. Nowhere in the world has a power plant of this size been completed, say, in 40 months let alone in 27 months, the time given to us to start commercial production," Cheema argued. "It's going to be a world record when these plants come online in such a short time."
A senior GE executive told Dawn that the company had done its part of the job, resolved all issues faced by the turbines and was moving ahead according to the schedule of ECP contractors.
A National Power Parks Management Company official said the federal and provincial power stations were undergoing fuel testing at the moment and will not be available for commercial operations before first week of March. "Once we are done with our test-runs with backup fuel – diesel – the plants will be linked with the national grid well before peak summer", he added.
Published in Dawn, January 30th, 2018