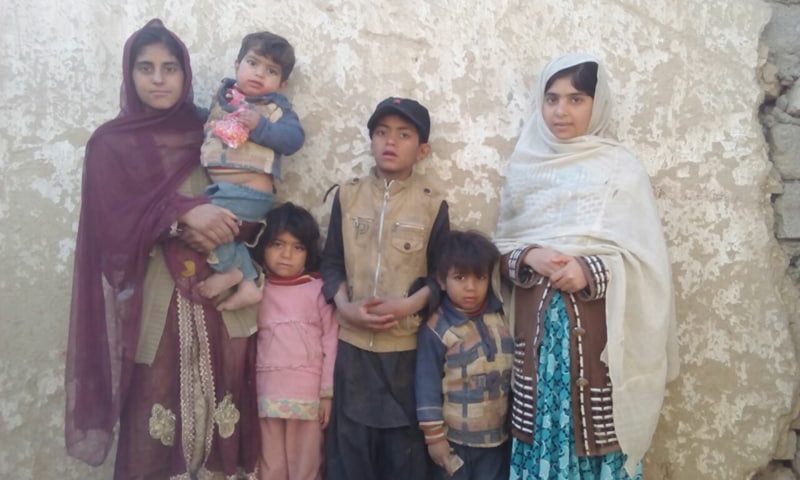 SITUATED in a corner of Killi Lala-abad, a locality somewhat removed from main Quetta city, is a tiny house that presents a dismal picture. Inside, nearly 10 people huddle around a gas heater. They are mourners who have come to offer condolences to the grieving family of Sakeena Bibi, a polio worker, who was gunned down along with her 11-year-old daughter on January 18.
"They were not provided security, which is why the incident took place," sighs Khawasti Shah, a cousin of Sakeena Bibi. "But we are proud of her... She and her daughter are alive in history."
Balochistan's polio workers often come under attack while performing their duties. Yet they brave harsh working conditions and constant threats to vaccinate children in some of the dangerous localities of the country.
Sakeena Bibi, 33, had been vaccinating children in the suburbs of Quetta over the last two years. On Jan 18, her daughter Rizwana accompanied her on her rounds in Bukhari Town of Hazaragani, which is situated on the south-western side of the city.
Polio workers, like Sakeena Bibi, are the unsung heroes of Quetta. Despite receiving a scant remuneration — Rs15,000 a month — these workers put their lives on the line to save many. Family members share that Sakeena had signed up to be a polio worker because she belonged to a poor family and wanted to be able to afford the educational expenses of her seven children.
"She would send her children to a private school by the name of Iqra, instead of a government-run school. She paid a rickshaw driver Rs50 every day for dropping her children to school," Khawasti recalls. "According to Sakeena, private schools are better than government-run schools. They provide children a comparatively reasonable education. This is why, instead of sending her children to a neighbouring government-run school in Lala-abad, she would send them to a privately-run school."
Sakeena's family hails from the neighbouring Mastung district. Her family had moved to Quetta some 25 years ago in search of better economic opportunities and decided to settle here permanently. But it was a hard life and economic opportunities were scare. The men of the family became daily wage workers and labourers. Even Sakeena's husband Jummal Shah works as a labourer and driver in order to make ends meet.
"When I think of them, I break into tears," shares Shabana Bibi, Sakeena's eldest daughter. She says she misses her mother and sister immensely and doesn't understand why they were killed when they did nothing wrong.
Her family recalls that the first time Sakeena got her salary, she held a Quran Khawani and set aside a portion of the money as khairat (charity). She also got her children and husband new clothes. This was a rare thing for the family.
"When she got her second salary, she made a room kitchen for herself, and she said it was the happiest day of her life," recalls Jummal Shah. "With the third and fourth salaries, she bought for herself shoes and a nose-pin. But she mostly bought things for members of the family, not for herself."Officials at Quetta's polio centre cite several reasons for the vulnerability of their workers across the province. They explain that they have to reach every house to vaccinate children and protect them from the crippling polio virus. It is in this context, they add, that they are directly linked to community, which is why they are vulnerable.
One of the polio officials who spoke to Dawn on the condition of anonymity says: "We do not face issues in most parts of Balochistan where the locals are in majority. In the parts dominated by mixed populations and refugees, we have to work under the shadow of threats in Quetta and northern parts of Balochistan. In 2012, a police team guarding our polio workers was attacked by militants in Balochistan's Pishin district, where refugees and people from other places also dwell."
As for Sakeena Bibi's family, they only have a humble request for the government for providing free education to her children. "It was her last wish to see her children educated," Khawasti Shah says, "Her husband, a driver, cannot afford his children's educational expenses."
Published in Dawn, January 27th, 2018