KARACHI: Humera Ghaznavi is one of the country's seasoned and respected artists. So, a retrospective of her work is not a regular exhibition, it is a memorable event. This event titled Mantiq ut-Tayr – Reminiscence of a Journey opened at the Full Circle gallery on Monday. The display contains artworks done in a variety of media, some of which date back to 1993.
Humera is inspired by the writings of the famous Sufi poet Fariduddin Attar. The title of the show, in a way, is a tribute to his monumental masterpiece The Conference of the Birds. But it would not be fair to box Humera's oeuvre in that literary corner. Her work tries to explore subjects that vary in its rich symbolism primarily because of the different media that she employs to put her ideas across. The medium that she chooses for individual work can give the viewer an idea, however faint, of her creative bent. For example, the untitled watercolour-on-paper exhibits signify a deep inquiry into the state of being (of humans) where the artist drops hints for the viewer to get to the bottom of her language of colours.
And when Humera opts for pen-and-ink-on-paper (exhibit number 14 is a case in point), her drift is much clearer: she wants to study not just the state of being but the faces that she draws lend a tangible, relatable feature to her ideas. The faces are readily relatable in terms of the emotions (or lack of it) that they evoke, which does not necessarily mean a study of emotionalism.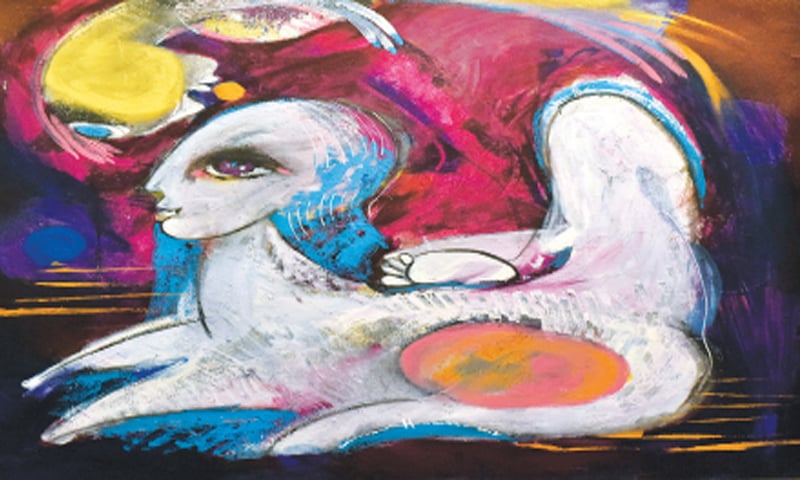 Like all artists worth their salt, Humera is interested in human beings and the baggage (psychological, physical etc) they carry with themselves in their lives. Their journey, like the journey of any other species such as birds, is worth knowing about.
The exhibition concludes on Jan 26.
Published in Dawn, January 18th, 2018
For more live updates, follow Dawn.com's official news Instagram account @dawn.today