THE WEEK THAT WAS
Aangan | ARY, Saturday 8.00pm
We have Uzma Hassan and Masroor Paras (Bano and Tora Khan in Hum TV's serial Sang-e-Mar Mar) in exciting roles and together the two create magic once again in their individual styles.
The robust storyline by Faiza Iftikhar (LSA winner for Dillagi) revolves around a joint family where you have the full range and variety of in-laws and that is where the huge cast comes in. You have Mansha Pasha, the girl who writes love stories but fears getting them published because of her conservative family who want to marry her off; Iffat Rahim as the childless daughter-in-law; Rubina Hassan as the daughter-in-law who has a child every year; and Masroor Paras as the husband who wants to go away and preach.
The issues projected are relatable and the ambience created by director Qasim Ali Mureed (Be-Inteha) is chaotic but appealing.
Paimanay | Urdu1, Wednesday 8.00pm
When Danish Nawaz (Sun Yaara) directs, there is no denying the power of the sizzle he creates. He likes on-screen chemistry between his lead actors and he has his special way of capturing it.
In Paimanay, we have Eshal Fayyaz's smouldering eyes locked with Asad Siddiqui's and her curls brushing across his love-struck face as she moves away from him. Equally enchanting are the tense moments between (good guy) Imran Ashraf and (baddie) Asad Siddiqui; both actors have done some amazing work this year. Written by Rukhsana Nigar, this story of family, love, friendship and betrayal needs to pick up pace so that Fatima Effendi's negative role gets some definition and direction.
What to watch out for
Shayyad | Geo TV, Saturday 8.00pm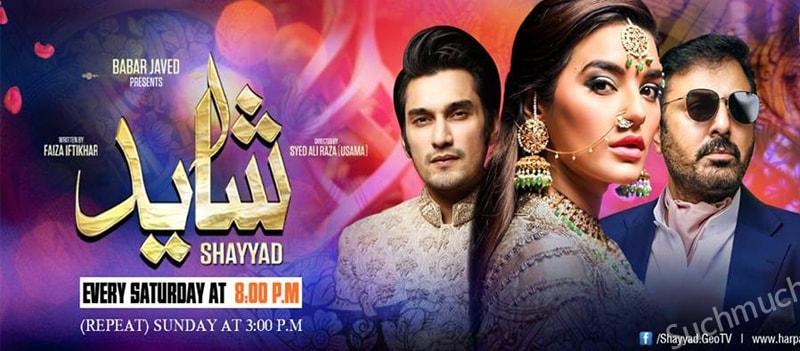 It is difficult to fathom how someone as gorgeous as Sadia Khan can be cast in a role of an older girl who has problems getting married. Secondly, she doesn't look older than Uzair Jaswal who plays Saad, the younger fellow who falls in love with her with her remaining clueless about it.
More interesting than the story is Irfan Khoosat's role as a wicked grandfather who is bedridden but manages to pull some strings. With his raised eyebrows and fluttering eyelids, Noman Ijaz is also getting better and better in the role of a glib liar but his role seems lacklustre so far. Directed by Syed Ali Reza (Khuda aur Mohabbat 2) and written by Faiza Iftikhar.
Published in Dawn, ICON, December 17th, 2017