Fantastic Beasts sequel gets a title!
The Fantastic Beasts and Where to Find Them sequel will be titled The Crimes of Grindelwald.
Warner Bros. shared the title and a first cast photo on social media Thursday, exactly a year ahead of the movie's release in November 2018.
Pottermore, the digital company from Harry Potter and Fantastic Beasts author J.K. Rowling, also shared the news and a link to the official photo.
"A familiar world. A new story. Return to the Wizarding World with Fantastic Beasts: The Crimes of Grindelwald, coming late 2018. #MagicInProgress," the company tweeted.
The photo features Gellart Grindelwald (Johnny Depp), Albus Dumbledore(Jude Law) and Newt Scamander (Eddie Redmayne), along with several other characters, including Theseus Scamander (Callum Turner) and Leta Lestrange (Zoe Kravitz).
Fantastic Beasts takes place in the Harry Potter universe decades ahead of the events of Harry Potter.
---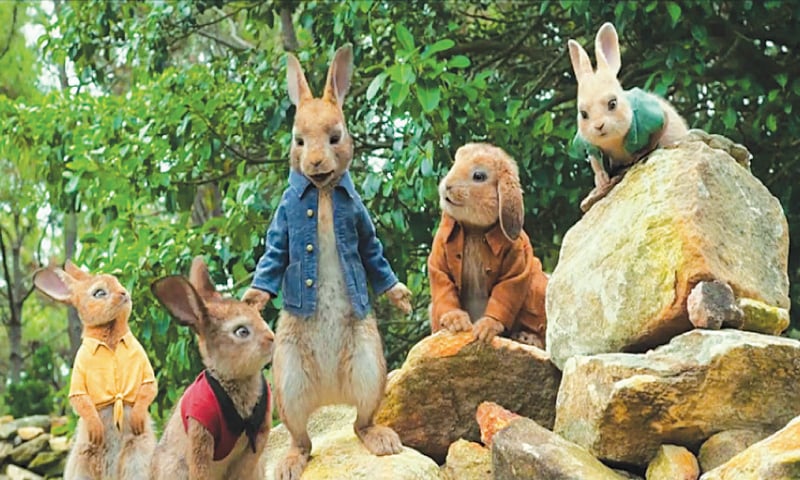 It's man vs. bunny in new Peter Rabbit trailer
Sony Pictures Releasing International has shared a new trailer for its 2018 film Peter Rabbit.
Directed by Will Gluck, the big-screen adaptation of Beatrix Potter's beloved stories features the voice talents of James Corden as the titular, animated bunny, and Margot Robbie, Elizabeth Debicki and Daisy Ridley as Peter's sisters: Flopsy, Mopsy and Cottontail. Rose Byrne plays the live-action role of kind-hearted Bea and Domhnall Gleeson portrays Peter's human nemesis Mr McGregor.
"Every British child falls in love with Peter Rabbit sooner or later. I hope that a new generation will see this film and rediscover the incredible books and storytelling of Beatrix Potter and fall in love with the character as I did. That's why I wanted to be part of this film," Corden said in a statement.
---
First footage from Jurassic World: Fallen Kingdom
Recently, Colin Trevorrow posted on Twitter the first footage from Fallen Kingdom, the sequel to his dinosaur adventure Jurassic World.
"From our Jurassic family to yours. @FilmBayona @PrattPrattPratt @BryceDHoward @LeDoctor #FALLENKINGDOM," Trevorrow tweeted.
The brief clip shows star Chris Pratt reprising his character of Owen Brady and smiling as he pets a tiny dinosaur that appears to be purring.
Co-starring Bryce Dallas Howard, B.D. Wong and James Cromwell, the film is being directed by J.A. Bayona from a screenplay Trevorrow penned with Derek Connolly. Trevorrow also serves as a producer. Fallen Kingdom is set for theatrical release on June 22. Trevorrow directed Jurassic World, which was a huge blockbuster in 2015.
Published in Dawn, Young World, December 1st, 2017