We go to sleep at 1:45am on Saturday morning because after settling Pakistan's ecstatic win in the 2nd T20 against Sri Lanka, we watch the highlights until the ads refuse to stop running.
We – my father and I – turn off the TV more out of disgust at the number of times we have to watch a salted packet of Lay's chips be opened and resealed, than any desire to call it a night.
Pakistan has swept the ODIs against Sri Lanka, and the team is now 2-0 up in the T20s; we are thoroughly thrilled. Our poor sleeping pattern of late has not been in vain!
Because we have become jaded and accustomed to match-fixing scandals in our cricketing history of the past two decades, we debate whether Pakistan will lose the match scheduled for the 29th of October in Lahore since they've already got the series.
My dad jokes this will probably happen to prevent humiliating the Sri Lankans, who will be kind enough to brave the city that almost killed them the last time they were here.
I reason that now is a completely different Pakistani attitude – for once, we're actually playing cricket to compete, not to fluke our way through the sporting world. We're going to win the 3rd T20, and we're going to do it at home, I insist.
I am so convinced this is going to happen, I am at the TCS office in Gulberg at 9am Saturday morning to buy four tickets to the match the next day. I am shocked when the young man behind the counter politely issues me what I want, no fuss, no queues, a few jokes added in regarding the different enclosures, and a moment of hesitation as I hand over a considerable chunk of my savings to buy some very pricey tickets.
Match report: Hasan stars as Pakistan upstage Sri Lanka in first T20
"Is nobody buying tickets?" I ask. "No, no, they are. You're really early. We'll be sold out by the afternoon." he replies, confident in a way that sounds empowering.
I don't look back as I walk towards my car. The world hasn't seen Pakistan in such good form in a long time; there is no way these tickets are going to waste.
I am pleased at the chance to keep such faith in our team. There is a novelty to this feeling that has been lacking for a long time, courtesy of the ugly politics, and horrible fitness levels that have marked Pakistani men's cricket for nearly a decade.
There is another reason I am grinning so widely. I've had the chance to feel like a real citizen after a very long time: work hard, earn a modest income, set aside savings after pitching in with groceries at home, and with some time over the weekend, decently queue and purchase available match tickets to watch the amazing national team play in the city's stadium.
This is my definition of good leisure, an important part of a 'good' life. And I've had the chance, for a change, to do all of this right here in Pakistan.
I am in such a good mood that my four-year-old niece, who is with me for this ride, starts to believe we are driving straight to the match. She is disappointed by the breaking news that we're going home, and that she won't be accompanying my father, khala, sister and me to the match the next day.
I find myself promising her that cricket will be back to Pakistan soon, and when it is, I will take her to see every match we can. Does she want to do that? "Yes", she replies solemnly from the back. "Do you know what cricket is?" I ask her. "Yes, with the guy swinging on TV," is how she describes what she's seen my father and me watching almost every other night all of October.
I am a proud aunt in that moment, and I want very much for my niece to grow up in a Pakistan that has its beloved sport back. Cricket in not just Lahore, but any city of Pakistan. Cricket before which we don't talk about safety, but about talent, solidarity, and profitability.
* * *

Sunday morning brings with itself haze and restlessness. When we hit the road by 4:35pm, we instantly run into a sizeable traffic jam made more problematic by the helpless traffic wardens narrowly avoiding run-ins with fearless motorcyclists.

My father has become so unaccustomed to getting to a live cricket match over the past decade that he begins demanding – to my horror – that my brother turn the car around and take us all back home to watch the match in peace on TV!

I issue calm notes of dissent from the backseat; not only have I spent Rs12,000 on match tickets, I'm tired of yelling victory slogans to the telly, not real players! If we're meant to get to the match on time, we will; the important thing is to try!
At 5:15pm, we are just managing to edge past the chaos between Model Town and Punjab University's New Campus, flashing our tickets through the windows to dozens of peering security guards. They jocularly open a cordoned section of the road, and wave us through, but this restriction is clearly working on cars alone.
Motorcyclists are routinely jumping the concrete dividers to escape the chaos unfolding on the opposite side of Usmani Road, and they may or may not have the required match tickets to be accessing this route.
The planning is spectacularly mismanaged so far, I have to admit, but from this point it is a two-minute dash to specially designated parking spots within the New Campus. We are so close to the match now, I just giddily laugh at how ridiculous everything looks.
Lights are strung across anything that won't move for the next seven hours (or until the Sri Lankans get on their flight home – who knows how our security strategies are developed?) I see wardens physically picking up, and throwing into the green belts, plastic road dividers that have demonstrated their futility in face of determined Pakistani drivers.
Green and white start to colour everything as we get closer to the parking gate, and once inside, we end up in a large field akin to a marriage arrangement – cars lined up along one end, the other end occupied by hundreds of chairs lined up in neat rows under a traditional wedding canopy.
We board a red bus, and watch a conductor yell at a young man to stand up to give his seat to my older lady. We are driven against normal traffic direction on an empty road all the way to Gaddafi.
We pass through three different security checks, and eye the guns on all the Rangers and Punjab Police officials roaming the premises who wave in return (by the end of the night, they're handing out flowers). We know this isn't how getting to a cricket match feels in any other part of the world, but the arrangements within the stadium seem top-notch.
I'm worried now my father will run out of patience again, but just in time, we enter through Gate 10 into the Fazal Mahmood enclosure. Against the arriving smog, Gaddafi is gleaming, the field is pristine green, the teams are coming out of the pavilion and we can see the pitch (as well as the stumps) at such a perfect angle, I cannot believe my eyes.
* * *

The stadium is electric. It is different to the World XI match. This is a real country-on-country contest, our boys in green, theirs in blue. We love the Sri Lankans, but we still want to win.

The air is alive with the inexplicable reverie of people who are being rewarded with other people's faith in their ability to deliver – not just security arrangements or hospitality, but the swing that takes out an opening batsman or the calm half-century that jacks the run rate up by 12.5%. The ability to deliver on that fundamental cornerstone of the Pakistani identity – cricket.

I feel incredibly fortunate. International cricket hasn't really been in Pakistan for a decade (barring a Zimbabwean tour, which was also affected by a foiled bomb incident), yet here I am, at my second match since returning to Lahore about three months ago.
The last time I came to see the World XI was because of sheer luck, and the generosity of one of my former students from Aitchison College with a spare pass into the Chairman's Box. I'd queued numerous times unsuccessfully to get a match ticket so I was understandably over the moon when the chance came along.
Afterwards, at the risk of looking a gift horse in the mouth, I told him I was never going to watch a match from the Box again – not only was most of the seating behind a wall of glass, the silence inside was eerily reminiscent of a very awkward viewing encounter with a boring old uncle.
My student and I ultimately practiced all forms of contortionism, cramped along the floor of the tight balcony outside the Box, watching the match through a white grill. That's what hunger for live international cricket looks like, I suppose.
Now, having bounded up the Fazal Mahmood stairs to grab four seats at the top right of the stands, I am the happiest I've been in years. This is not an exaggeration.
I absolutely love cricket with a passion. If your team is in such form – and the Pakistani team is – there is no better treat in the world than to have it perform to its potential in front of your eyes. If your country is 65% young – and Pakistan is – live cricket is only improved by the disproportionate presence of young people, and their unrestrained energy.
Match report: Pakistan beat Sri Lanka by 2 wickets in second T20
Being broadcast live across the world, I know I am standing in the middle of a match that is making history. This is Pakistan telling the whole world it is more than a violent, terrorist maniac seemingly anchored in the South Asian region to singularly serve geostrategic ends.
Tonight, we are the persistence of our cricketers; we are the children who have continued to play on Pakistan's streets when nobody was playing in our stadia; we are the entrepreneurial spirit that has held on to domestic cricket in the vacuum of eight years, and given the world Shadab Khan.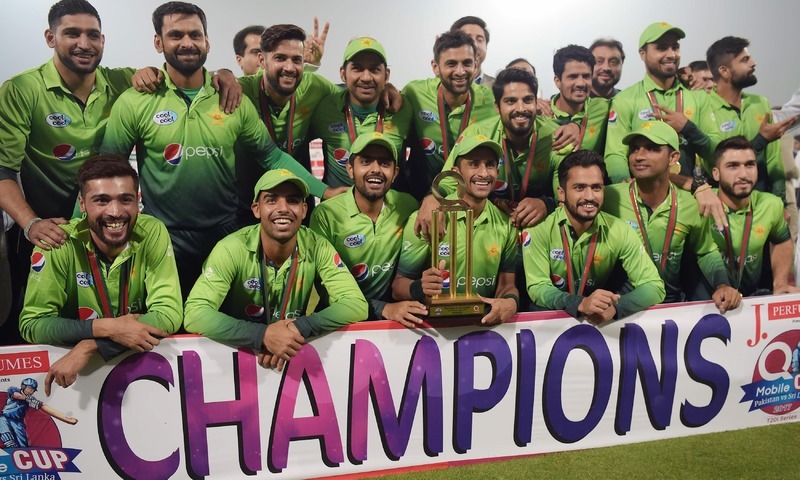 I will remember this match in different ways forever. I will remember that at about 17 minutes to 6pm, we were around 23,000 people huddled in a protective circle around international cricket at the Gaddafi Stadium, listening to the Sri Lankan anthem, then singing in soulful unison our own.
I will remember that as I emerged back into the lights from a toilet break, I saw Amir announce his arrival with his unmistakable reverse swing ruthlessly flinging the bails off of Munaweera's wicket.
I will remember the stadium's miserable attempts at sustaining a cycle of three waves to 'buck up' Sri Lanka because right in the middle of it, Hassan Ali got to Perera.
Match report: Final T20 in Lahore: Pakistan beat Sri Lanka by 36 runs to claim series
I will remember Imad Wasim turning to us in the stands from deep extra cover, signalling for us to noisily ring in the impending victory. I don't think anyone in the world will forget how that motorcycle reduced 13 professional athletes to a bunch of scrambling boys, stumbling over each other to check it out.
I will remember the shine in my father's 69-year-old eyes – normally tired from witnessing the daily antics of men his age who project themselves as Pakistan's 'leaders' – beaming with pride at the hope embodied by his country's young sportsmen.
But most of all, I will remember the pounding of my heart, the thunder of the crowd, the rhythm in our chant, the words rightfully assuming a place in my heart after a long time:
Pakistan zindabad, Pakistan zindabad.
Pakistan zindabad.
---
Have you been part of memorable sporting events in any way? Share your experiences with us at blog@dawn.com