Centuries may have passed since the reign of the Mughals, but many old buildings in downtown Rawalpindi retain some of the splendour of Mughal architecture.
In the narrow streets of the city stand buildings inspired by Mughal and Central Asian architecture, almost all of which can be spotted by their wooden balconies, known as jharokas, that loom overhead.
These homes can be spotted in Bhabara Bazaar, Kashmiri Bazaar, Mohanpura, Chittian Hattian, Shah Chan Chiragh and Purana Qila, as well as Lal Kurti and Saddar in the cantonment areas.
Built on the second storey of a building, jharokas were typically made of deodar wood and sheesham, while wealthier home owners opted for walnut wood.
Jharokas are distinctive for their carvings, as well as the use of stained glass and ceramic tiles. In older homes, the balconies are also decorated with wood or metal grills, as well as figurative carvings. Such work is visible on front walls and balconies of Sikh and Hindu homes.
However, as the style of architecture changes, jharokas are being replaced with concrete structures, while the balconies that remain are deteriorating.
In Raja Bazaar and on Jamia Masjid Road, College Road and Qadeemi Imambargah Road, homes that have long been turned into shops have preserved jharokas.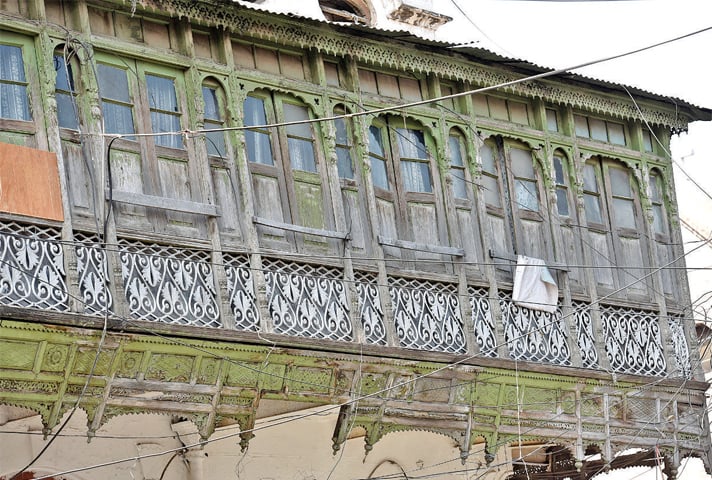 In some areas, such as Chittian Hattian and Bhabara Bazaar, these wooden balconies are even used to connect two buildings. The Haveli Sujan Singh also connects to an adjacent haveli through ha wooden balcony that hangs over a narrow street.
Wooden balconies are said to have been introduced by the Romans, after which they spread to Turkey and Central Asia, and were brought to the Indian subcontinent by the Mughals.
"The Romans first introduced them, as Romans constructed wooden balconies in the 2nd century. Wooden balconies are a main component of Turkish houses that are projected on the front of the houses for a nice view and fresh air. Many buildings in Turkey, the Middle East, Egypt and Central Asia had wooden balconies," architect Attique ur Rehman told Dawn.
He said the balconies also keep homes cooler in the summer and warmer in the winter.
Mr Rehman added that these balconies were preferred in old buildings because they could be used by women without any problems.
People who live in houses that still have jharokas are keen to repair them, but say that hiring carpenters is expensive.
"There are fewer people with expertise in this craft, and we have brought craftsmen from Lahore and Chiniot to repair the wooden balconies in Lal Haveli," said Sheikh Rashid Shafique, nephew of Awami Muslim League President Sheikh Rashid Ahmed.
Published in Dawn, October 22nd, 2017