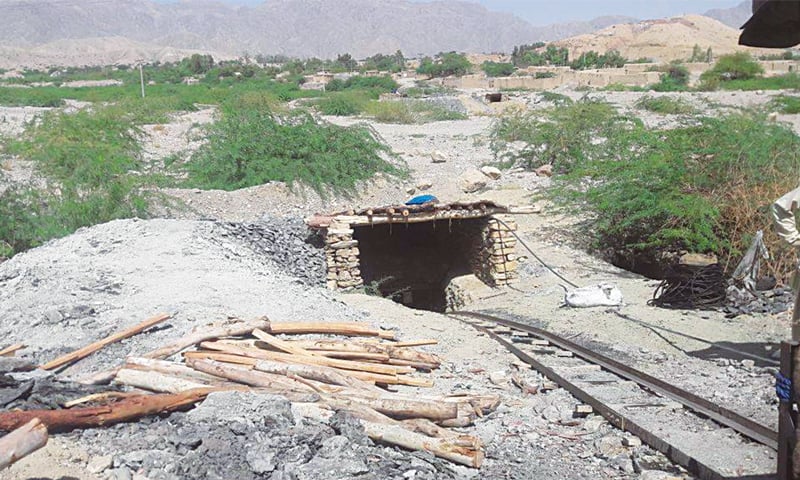 MACH: In Balochistan, one often comes across news in the local newspapers of coal miners dying deep inside mines. One such place is the congested yet green town of Mach in Kachhi district, where coal mines have existed for a long time. Mach, situated between Quetta and Sibi district, was rebuilt after the devastating 1935 earthquake.
Even before properly entering Mach, coal miners attract one's attention. One of the coal miners is Jabbar, who works a few kilometres away from town. He's busy picking up sacks of coal, and refuses to answer questions until he completes his work. Then, sitting in his broken chair with a wire and a bell in his hand, he tells Dawn: "See this, it goes down into the mine approximately 100 feet, where seven of my co-workers are working. They work from dawn to dusk. They come out only once for lunch and tea."
During our chat, the bell rings — a sequence of three. Jabbar starts pulling on the wire. "This message denotes they've filled the sacks up with coal. I have to pull them up. Rung five times, that means my co-workers are in deep trouble but there is no one to help them but me. We are not given any safety equipment. Our manager comes here once a month, although it's his duty to take care of the workers and come here regularly. He's supposed to inspect the coal mine every day before letting us in, but that doesn't happen either."
In Mach, the business of coal mines thrived in the 1980s. Since then, neither the government nor the coal mines' owners have paid heed to the vulnerability of miners. In the beginning, in Mach, coal miners would predominantly be from outside the province and the country, such as the Hazaras of Afghanistan. But sectarian violence drove some of them out. Those who remain work in the mines in double shifts — because they are hard-working, but also because they fear being targeted. "Currently, 70 per cent of the coal miners belong to Swat, or are Afghan Hazaras. The rest are from the local tribes of Mach and other areas of Balochistan," says Imran Sumalani, a Mach-based reporter.
Although it is a risky job, coal miners earn scant salaries. According to Jabbar, they are given Rs1,200 per week. "There is no bonus for us," he adds. Quetta's Daily Azadi newspaper also reports that scholarships allocated for the children of labourers have been embezzled. This begs the question of how much government officials are concerned about them. By sheer luck, Jabbar says, his group has not yet witnessed any deadly incidents.
One of the old coal mines is situated in the mountains, accessible by motorbike. Heading there, one can see makeshift shelters that the coal miners have built. At the mine, a Pashtun coal miner, Khalil, from Swat, welcomes us. He laughs upon being asked about safety measures: "We're extracting coal from below 1,400 feet. Who can come to our rescue here? Those of us that are gone, are gone. A coal mine is already something like a grave — in some places the miners go down as far down as 3,000 feet."
Khalil, who has also worked at coal mines elsewhere in the province, points out that, "In Balochistan's Dukki in the north, coal miners die from poisonous gas. In Mach, the mountains are weak — coal miners die because of avalanches, or are suffocated by gas."
Recently, three coal miners died because of gas suffocation in Harnai district. A local leader of the coal miners informal association, Bakht Nawab, says that as many as 80 miners die annually in the province.
But Chief Inspector Iftikhar Ahmad holds the coal miners responsible for the accidents. Sitting at his office on Quetta's Sariab Link Road, he says: "Coal miners start digging without inspection, which result in these incidents." He talks about coal miners entering the mines and starting to pump water, as a result of which cracks appear that emit gas.
The labour department reportedly receives millions of rupees from the Mach coal mines. However, according to a local reporter, Imran, the government entity doesn't even have a footprint here. "When there is an accident, the labour department is shamelessly silent," says activist Maulana Abdul Samad Shahwani. "There are no doctors and other health facilities. Coal miners don't have access to schools for their children, either, or places to live."
When I visit the office of the Inspectorate of Mines in Mach, the inspector was absent. In his place, a junior official says that the owners of coal mines don't care about their workers. "We took 20 companies to court for criminal negligence and they were charged Rs10,000 to 20,000 only. In 2016, they were sent legal notices but nothing much has changed. We also provide first aid to coal miners when needed."
But Khalil says that "We get nothing from them. The inspector comes only after accidents. Coal miners dying is a decision that is not in our hands. We can do nothing. But we'd like to make a humble plea to the provincial government that families ought to be compensated when tragedies occur. Too often, even if compensation is announced, it gets embezzled."
Published in Dawn, September 22nd, 2017