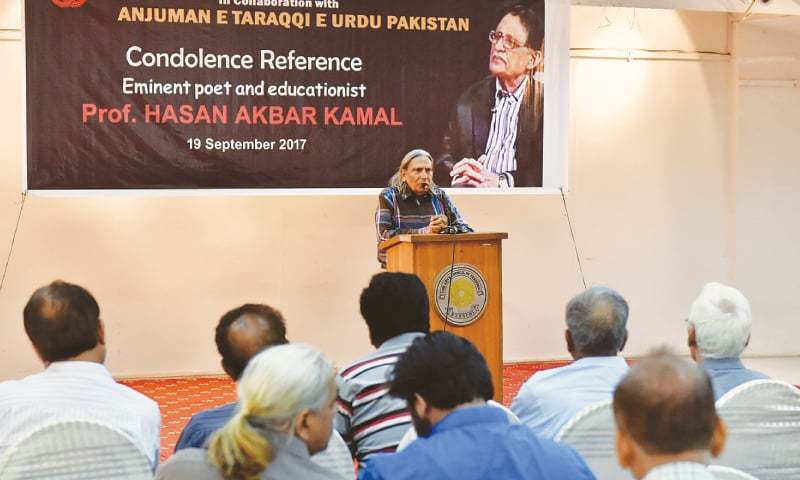 KARACHI: Friends, colleagues and relatives of Hasan Akbar Kamal, who passed away on July 21, shared their views on the life and work of the poet at an event organised in his memory at the Arts Council on Tuesday evening.
Prof Sahar Ansari said Kamal was like a younger brother to him. He had known him from the time the poet used to take part in mushairas in Sukkur and Khairpur. At the time he wrote a few letters to him to which he replied; and from there on they came closer to each other. Mohsin Bhopali and Prof Ansari also played an important role in publishing his first collection of poems, Sukhan.
Prof Ansari said Kamal was familiar with Western literature which helped enhance his creative pursuits. His critical analyses too had depth. He was a cultured soul and treated everyone with respect. Another genre of art that he dabbled in was photography. He took wonderful portraits of poets, including of Faiz Ahmed Faiz.
Dr Alia Imam pointed out two aspects of Kamal's personality. The first one was that of a teacher. A good teacher was one who helped students grow intellectually, and Kamal did that. The second aspect was of clarity of expression and thought in his poetry. "Literature does not merely represent the age and circumstances it's produced in, but is also a critic of that age," she remarked.
Dr Fatema Hassan said Kamal belonged to the first young generation of poets of Pakistan [1960s]. He wrote in a language that young people should write in. He had good critical faculty and his essay on Hazrat Amir Khusrau was a testimony to his vast knowledge of the finer points of poetry. She read some of Kamal's couplets as well. One of them was:
Funn rakhta hai taqat aur taseer alag
Shuhrat cheez alag hai aur tauqeer alag
[Art contains distinct worlds of power and efficacy Fame is a separate subject, so is respect]
Kamal's son-in-law Waqar Haider said the poet treated him like his son. He profusely thanked the audience for turning up at the condolence reference, and recited a poem penned by Kamal's daughter for her father.
Ahmed Shah said Kamal was an unassuming person. He did not hanker after popularity and immersed himself in his work. He also recited pieces from two of Kamal's nazms.
Nasir Shamsi said Kamal was a "cool, sincere and compassionate man". Another rare quality that he had was that he "was a wonderful listener" and never tried to "undermine" anyone.
Safdar Siddique Razi said he had a long association with Kamal, from the time when they were in primary school. One could sense that even before becoming a poet he had an artistic streak in him. Then Razi presented a tribute to the late poet in verse.
Salim Siddiqui reminisced about the time when Kamal was a member of the writers' guild. Like other speakers he talked about his gentle demeanour. With regard to his poetry, he said it was influenced by English Romantic poets.
S.M. Shuja Abbas anchored the programme.
Published in Dawn, September 21st, 2017