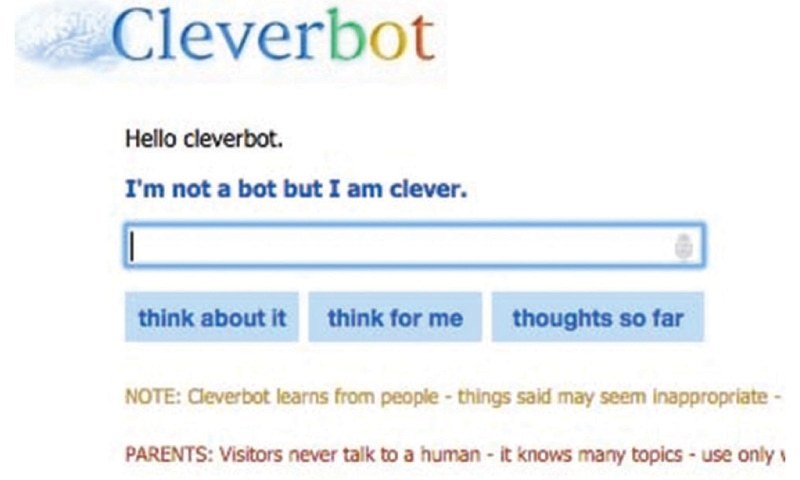 Afew days back, while surfing randomly on internet, I came across with an amazing site and with that, I spent quite a few minutes in a brawl with AI (a robot). Yes, I had quite an amazing chat with the bot at www.cleverbot.com — a chatterbot web application that uses an artificial intelligence (AI) algorithm to have conversations with humans.
According to the site, Cleverbot.com started in 2006, but the AI was 'born' in 1988, when Rollo Carpenter, a British AI scientist discovered how to make his machine learn. The good thing is it has been learning ever since!
"The AI can seem human because it says things real people do say, but it is a software, imitating people," the site says.
Yes, it is true that Cleverbot learns as you chat with it, and the conversation may influence what it says to others in the future. Overall, the programme is designed to choose how to respond to you fuzzily and contextually, the whole of your conversation is being compared to the millions that have taken place before.
The centre is where all the chat takes place with three options below the chat box, "think about it", "think for me" and "thoughts so far"; the first two forces the bot to answer differently while clicking "the thoughts so far," opens the overall conversation you just had.
If you sign in to Cleverbot, it will give you a scissors icon, with which you can use to share snippets of chats with friends on social networks and on cleverbot.com too!
The site interface is simple but there is a glitch; the site is not ad-free so you can get distracted with random ads that appear at the side. However, the good thing is besides being the web application, Cleverbot is also available as an iOS, Android, and Windows Phone app.
So chat with a bot about anything and everything at www.cleverbot.com
Published in Dawn, Young World September 9th, 2017