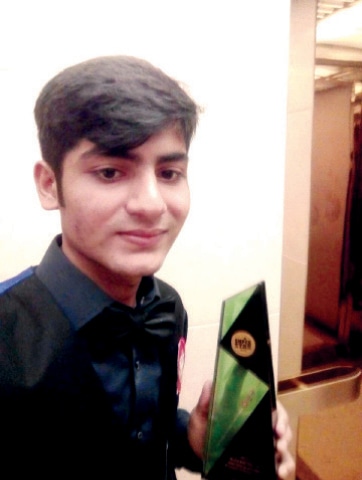 SAHIWAL: Pakistan's sports scene is dominated with cricket as it runs in the blood of the nation. For that reason, 17-year-old Naseem Akhtar, of Sahiwal, hardly found any attention from the media and public when he won the International Billiards and Snooker Federation Under-18 Snooker World Championship after beating China's Peifan Lei in Beijing.
Naseem defeated his Chinese rival in the final in the three and half hours nerve biting game.
Behind his remarkable feat stands Naseem's years-long struggle and practice.
Naseem comes from the slum area of Kot Khadim Ali Shah in the Sahiwal city. His father, Muhammad Shaban, is a car painter, and Naseem is at number six among his seven siblings.
So, how did Naseem earn the international title?
He recalled his family always opposed his infatuation with the snooker and billiard game.
Nasim started playing snooker when he was 10 years old at an old woman's compound where a poor-quality billiard table was available for 24 hours. His parents took snooker a useless and time-wasting game, mostly taken up by dropouts. He says he would try to convince his parents that snooker was just as healthy game like cricket and hockey.
Not so convinced, his father spanked him many times for playing snooker in the locality. But he remained undeterred.
Once he honed his skills, he started visiting other localities to find good quality tables. He tried at least 20 tables in different neighbourhoods of the Sahiwal city.
Naseem is a freshman in a local private college and he plans to get a higher education in some discipline.
He remembers that everyday after school, he would go to some snooker club and play game after game for hours. "Many a times, my father and brother would come to the club to take me back home at night," he said.
Over the time, Naseem started taking part in local competitions and then in other cities. With this, Naseem started earning a name among snooker players besides good money and shields.
He visits to Lahore and Karachi gave him exposure to good quality tables. At that time he started to realise that his game could be improved only by playing on good surface table and with professional players.
"Lahore was my ultimate destination because of its proximity, while going to Karachi was expensive," he said.
His shelf is full of trophies and cups.
In 2013, Naseem won the Sahiwal Championship and in 2016, he stood at 16 among 164 players in the Sher-i-Punjab Championship, Rawalpindi. Later, he won the Punjab Championship.
Naseem credits Ustad Shahbaz, a local billiard table owner, for discovering a fine player in him and mentoring him. Ustad Shahbaz also saved him from his father's beating many times. It was he who took Naseem to different competitions in other cities of Punjab. He was out of pocket when Usatd Shahbaz gave him Rs5,000 to participate in the Punjab Championship in Lahore. Once he arrived in Lahore, he learned the championship had been delayed. By that time, another competition was being held in Lahore. Naseem got registered his name and won the competition's top prize of Rs20,000. Later, he won the Punjab Championship and grabbed the Rs35,000 prize. Naseem has also won the Under 21 Punjab Championship.
Before the recent China tour, Naseem traveled to Chandigarh, India, on April 8, 2017 to participate in the Asian Junior Championship.
If Ustad Shahbaz discovered a player in him, Sohail Wahdi, an Iranian coach, professionally trained him in Lahore for the international competitions.
His family is also happy at the outstanding victory of Naseem. His father told Dawn he had never imagined that his son would become an international player.
Naseem said so far he had done everything for his game with the help of his family and friends, now the government must facilitate him and other snooker players. He said departments and educational institutions should patronise snooker in the country.
Naseem said one he planned to arrange international level tables and coaches for other Sahiwal snooker players because he believes in sharing opportunities with his city fellows.
Published in Dawn, July 14th, 2017