July 03, 2017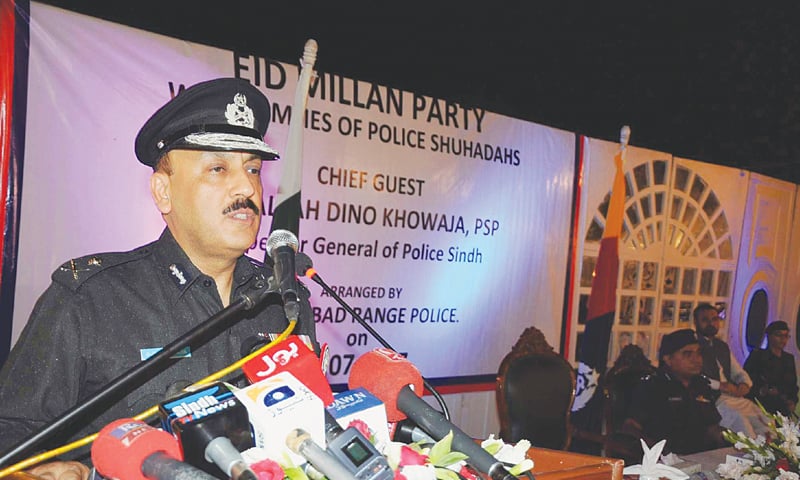 HYDERABAD: Sindh's Inspe­ctor General of Police A.D. Khowaja has said that provincial government's decision to exclude IGP's input from the process of transfers and postings of senior police officers will certainly have adverse implications as the chief minister has already had such powers.
He said at an Eid Milan party held in honour of heirs of martyred policemen and later told journalists in police ground on Saturday night that the issue would hopefully be cleared after the Sindh High Court' judgement in this regard.
He said that he did not need to pass comments on issues related to government as he was neither a politician nor a leader of opposition. It was not his domain, it was up to media and intellectuals to analyse and comment on government (actions), he said.
Being a government employee he had some limitations and he would continue to work within his limits. He was not demoralised and he was there to bolster morale of his force, he was doing his duty professionally and regularly, he said.
He said the Sindh government had been generous in allocating resources for Sindh police for which he was grateful to the chief minister. Last year, Sindh police had 26,370 submachine guns (SMGs) and this year 30,000 more SMGs were to be procured which would double the size of arms and ammunition with police. The arms would be delivered in September, he said.
He said that 12,000 pistols would be bought this year, raising the number of the handguns by 400 per cent as police had earlier 3,225 pistols while a fleet of 450 vehicles would be added by October this year to the 350 purchased last year.
The IGP said that computers were procured for each police station without demanding extra funds and police purchased over 12,000 sets of anti-riot gear from its own resources. Earlier, such gears used to be donated by people.
He said that 200Kva generators had been provided to police training schools and colleges and divisional police headquarters which had never been done before. It became possible due to Sindh government's generosity, he said.
He said that it would lead to a positive change in the force. There were no resource constraints at present, he said, adding that 21,000 policemen had been recruited this year on the basis of merit and 15,000 had been trained by army personnel. Further training was under way.
The training had brought about a visible difference in the performance of the newly trained recruits and those appointed previously. Their performance was being appreciated by everyone, he said.
"Turnaround in a department cannot happen within a day or a year. If resources are appropriately utilised Sindh police will soon become a modernised force," he said.
For the first time, he said, 2,500 personnel of information technology cadre had been sanctioned to computerize entire system of Sindh police. Reception centres in police stations and facilitation centres at divisional level were created by using available resources wisely, he said.
He said that Sindh police would have to review its policy for declaring policemen martyred in case there was negligence or violation of standard operating procedures (SOPs) by policemen during performance of duty.
No such policy review had been carried out yet but it was the responsibility of an SHO, a DSP and an SSP to get the SOPs implemented and ensure that a police constable who was performing duty at public places was aware of SOPs, said the IGP.
He informed that 1500 ex-army personnel had been recruited by Sindh government for the security of China-Pakistan Economic Corridor (CEPC) projects and a special protection unit had been created for them. There were, however, some non-CPEC projects as well but primarily the government-sponsored and CPEC projects were responsibility of police, he said.
About the emergence of a new outfit Ansarul Sharia which claimed responsibility for targeted killing of four policemen in Karachi, the IGP said that police were trying to track down the outfit's operatives in order to dismantle its structure.
DIG Khadim Rind, SSP Irfan Baloch and other police officials concerned were also present at the function.
Published in Dawn, July 3rd, 2017