At least 67 people were killed and more than 200 injured after two subsequent explosions hit a densely populated area of Kurram Agency's Parachinar city Friday evening.
The death toll was confirmed by hospital sources, who warned that the number of casualties may rise.
Parachinar District General Hospital Medical Superintendent Sabir Hussain appealed to the public for help, saying that the hospital is not equipped to handle the large number of casualties.
This is the second major bomb attack today. Early morning, at least 13 people ─ including seven policeman ─ lost their lives, while 19 others were injured in a suicide blast that shook Shuhada Chowk in Quetta's Gulistan Road area.
Local political administration officials said the twin blasts occurred in the Turi Market near Tal Adda, where a bus terminal is also located.
The second explosion targeted rescuers and bystanders who rushed to aid those who had been hurt in the first blast.
The nature of the explosions has not been ascertained as yet.
The explosions targeted people shopping in the area and those heading out of the city ahead of Eid-ul-Fitr, administration officials said.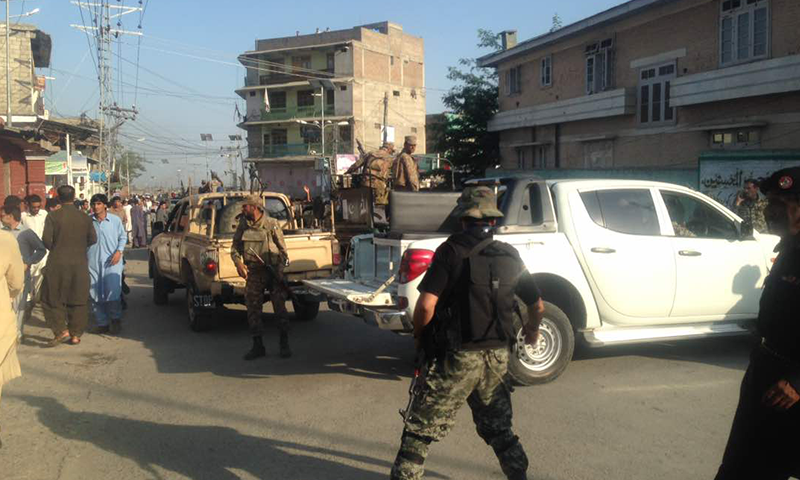 Following the blast, security forces cordoned off the affected site and conducted a search operation in the surrounding areas, with the army dispatching helicopters from Peshawar to Parachinar "for the speedy evacuation of the injured to Peshawar," according to a statement issued by the military's media wing.
Parachinar, with a population of more than 50,000, has been under strict security arrangements for quite some time. Army and paramilitary personnel have set up checkpoints on all routes leading to the town and visitors and vehicles go through extensive search and identification process.
On March 31 this year, the city had suffered a similar tragedy when 23 people were killed in a car bomb blast near an Imam­bargah at midday. More than 70 others were wounded in the attack. Another person had died later after security forces opened fire on a crowd trying to hold a demonstration in front of the political agent's office in protest against increasing terrorist attacks.
In January this year, 25 people were killed and 87 others suffered injuries when a bomb went off during peak business hours at a crowded vegetable market in the city. In what appeared to be a sign of growing cooperation among extremists, two banned groups had come forward to claim the deadly assault, with one describing the incident as a suicide attack.