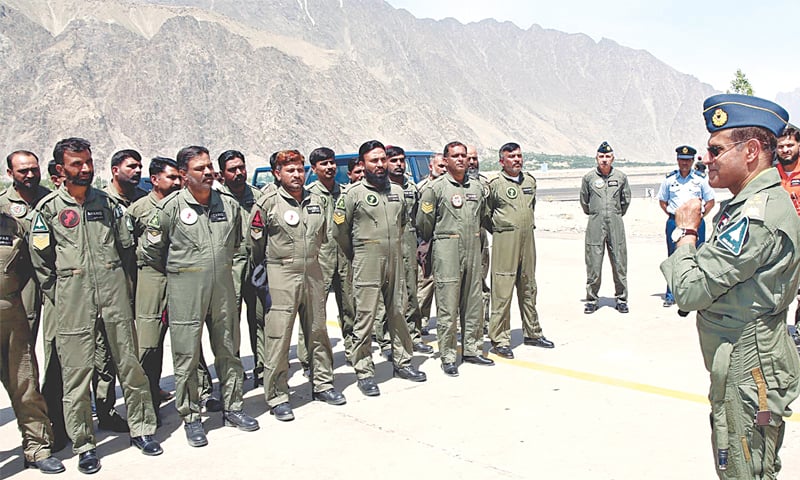 ISLAMABAD: Pakistan Air Force chief Air Chief Marshal Sohail Aman warned India on Wednesday against any misadventure.
"If subjected to any kind of misadventure, the adversary will have to face a befitting response," ACM Sohail Aman said while visiting PAF Base Qadri (Skardu), a Forward Operating Base Force in Gilgit-Baltistan, adding that the "response would be remembered by the enemy for generations to come".
He was responding to a reported letter sent by his Indian counterpart ACM B.S. Dhanoa to officers of the Indian Air Force to remain "prepared for action at a very short notice".
The content of Dhanoa's letter hinted that the call for remaining prepared was in the context of the aggravating situation in India-held Kashmir, where Indian authorities blame the indigenous uprising on support from Pakistan.
"In the present scenario, there is an ever persistent sub-conventional threat … training needs to be focused towards this," the Indian air chief had written.
The air chief visited the base to observe PAF Mountain Camp, which is an annual operational activity for acclimatising the pilots with the region. The activity is attended by various squadrons of the air force.
Pakistani media created hype by reporting that forward bases had been made operational in response to Indian threat.
ACM Aman scoffed at IAF chief's move to write letters to his officers saying the PAF did not need to do all this because its men were always ready.
"The PAF, alongside other defence forces, is ever ready to take on all kinds of challenges with operational preparedness and immaculate synergy," he said.
He recalled PAF's leading role in operations Zarb-i-Azb and Raddul Fasaad and said the PAF carried out the operations with exemplary professionalism and with zero collateral damage.
The air chief used the occasion to praise the indigenously developed fighter jet JF-17 and described it as the 'Destiny of Pakistan'.
He said JF-17 technology was being upgraded to bring it on a par with its contemporaries. "We have increased the production of JF-17 Thunder by three-fold in the past couple of years," he added.
While interacting with the PAF personnel at the base, he lauded their level of motivation and thorough professionalism.
ACM Aman also flew an exercise mission in Mirage aircraft.
Published in Dawn, May 25th, 2017