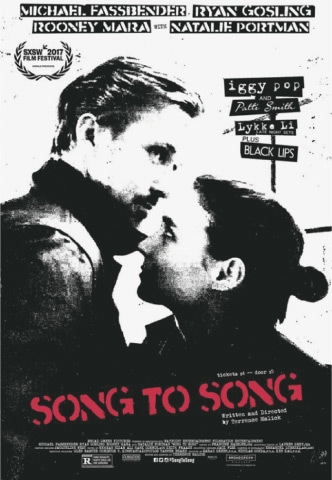 Early on in Terrence Malick's new film Song to Song, a character posits that 'any experience is better than no experience.' After having watched the film, I can assure you that Song to Song is not an experience worth having. So much has been said and written about America's most elusive and reclusive filmmaker. He has been called a poet of cinema. His films are said to be in a class of their own. But there is only so much bad poetry one can take and this tedious film is indeed third class.
Song to Song has all the trademark Malick-esque themes: rich men lost in life, young women coming of age, people looking at each other, cajoling each other, hugging each other. And of course it also features those infamous, whispery voice-overs, spoken by different actors, offering pseudo pieces of wisdom. The filmmaker has once again managed to assemble a highly talented, mostly white cast. Ryan Gosling, Rooney Mara, Michael Fassbender, Natalie Portman, Cate Blanchett, they all make the cut in this story of love, jealousy, betrayal and freedom, set against the music scene in Austin, Texas.
As with his last few films, Malick is only pretending to be interested in his actors and actresses. In fact, he is more fascinated by everything surrounding them. The interior designs of an apartment. Nature landscapes. Animals! It certainly helps that Malick has Emmanuel Lubezki by his side as a cinematographer. He captures some wonderful images here, just like he has done for Malick's last three films as well. But really, there is no real substance to all these shots. Since they have no real relevance or meaning to the plot, everything feels a bit hollow, lifeless.
---
Clocking in at 129 minutes, Terrence Malick's latest is a tedious watch
---
The greatest indicator for Malick's disinterest in his characters, not a single one of them ringing true at all, is the fact that their professions are so flimsily described and never fully explored. Not that that's a requirement, but why make it a point to have Fassbender be a music producer, have Gosling and Mara be musicians and then never really examine their professions? Christian Bale's character, who was a Hollywood screenwriter in Malick's last film, had the exact same problem. For a film about music, set around music, there is not nearly enough of it in Song to Song.
So are there any redeeming qualities, I hear you say? Are there individual flashes of brilliance, reminding us of the old auteur, who gave us masterpieces like Badlands or Days of Heaven? Well there's a brief, beautifully underplayed scene, in which Gosling and Fassbender exchange their respective jackets, perhaps signifying the fluidity of new-age relationships. And unlike in his last couple of efforts, the actresses aren't mere props. In fact, whenever Malick turns his attention to the female characters this time around, the film's dynamics instantly shift and everything lights up. This can be said of the first time Natalie Portman is introduced, or when Lykke Li has her brief entrance or whenever Patti Smith comes on screen. Smith in particular is a bewitching presence, acting as a balm to the viewer whenever she has something to say in-between all the pretentious dialogue. But it's too little too late. Terrence Malick has seriously lost his touch.
Published in Dawn, ICON, April 30th, 2017