A third degree fire broke out on the 16th floor of a building on Karachi's II Chundhrigarh Road early on Saturday morning.
The blaze was later contained by the fire department, but it has yet to be put out completely as the 17th and 18th floor still remain ablaze.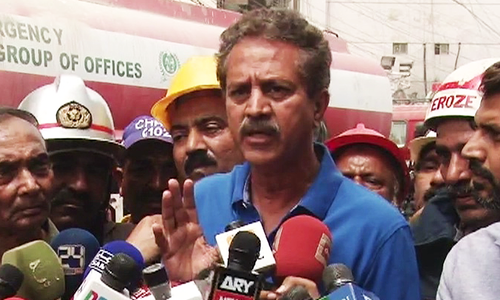 The building was evacuated and one person received minor injuries in the process.
Mayor Karachi Waseem Akhtar while talking to reporters claimed that Karachi's fire department is getting no support from the provincial or federal governments.
"I sent in a list of equipment that needs to be repaired and bought in the fire department, but got no response, as usual. Today this fire was put out by the department, with Karachi citizens rescuing other citizens... kudos to them for the effort."
Five fire tenders, a fire snorkel and water bouser were used to contain the fire, however the fire snorkel can only reach up to the 14th floor of the building. The blaze started at the 16th floor and has moved up to the 17th and 18th level.