April 23, 2017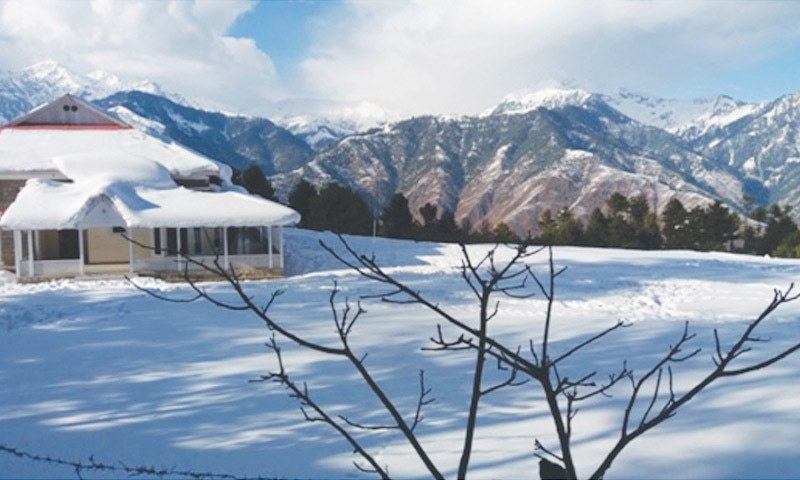 y parents' generation talks of Murree as their choice holiday destination but for us younger lot, those are only legends. Increased commercialisation has taken much of Murree's soul away and as my group of friends planned a vacation from Peshawar last January, Murree was immediately thrown out of consideration. Shogran and Siri Paye stood out for us — they are still largely untouched by crass commercialisation despite having a very vibrant tourist scene.
After doing some homework, we proceeded to Mansehra to head onwards. "Aao Gi Aao, Ghazikot, Lari Adda, Aao Gi [This bus for Ghazikot, Lari Adda come this way]," chanted a conductor at the bus stop on main Mansehra Road. It had rained a lot the night before we packed off to Mansehra but the city was merely a brief stopover for our journey onwards. We managed to get on a coach that was about to leave in the next five minutes.
Mansehra City is of course the hub of Mansehra District. The district is comprised of five tehsils: Mansehra, Balakot, Oghi, Baffa and Darband. Our destination was Shogran and then Siri Paye — both located in the Kaghan Valley of Mansehra District.
---
Getting to Shogran in winter can be a hassle but getting there is half the fun
---
To reach Shogran and then Siri Paye, you have to ride a coach that stops at Kewai, which is some 24 kilometres away from Balakot. The bus to Kewai passes through the picturesque town of Ghazikot, about 38 kilometres away from Mansehra. After a four-hour-long drive, the bus pulled up at Ghazikot. Despite it being cold and frosty there, we decided to stay there overnight.
But the morning brought another sight: as I peeked out of the window to see what the sky has brought this time round, it was beautifully blue, shining with the glint of sun rays and with a wreath of clouds to move with us. Our journey to Kewai was beginning in earnest.
We got on to another bus at Ghazikot's Lari Adda and asked the conductor to drop us off at the main Kewai bazaar when we reached there. I tried to get some shut-eye on the way but the ride to Kewai was torturous. Perhaps fate wanted us to revel in nature's beauty that was around us rather than sleeping.
I was excited at reaching Kewai because the actual trekking along the slippery trail of Shogran begins from there. Before setting feet on the road to Shogran, we regrouped at a small but hospitable hotel in Kewai. We were warned by local drivers that we won't be able to make it all the way to the top since there is snow on the road. Even Jeep drivers had rolled metal chains around their tyres to grip the snowy road better. Undeterred by the warnings, we packed some biscuits, juices, and water bottles, and bid Kewai adieu.
Shogran is a hill station that can only be reached through a four-wheel drive. When the winters set in, the snow blocks everything from reaching Shogran — from backpackers trekking through to the top to vehicles that can easily get there during the summers. Having not heeded any advice, we ran into trouble hardly three kilometres from Kewai.
But just as our hopes were about to be doused, a few homes emerged out of nowhere. Some people were sitting around a campfire wearing shawls and sweater to beat the weather. Perhaps lost tourists were a common sight as four children — Tauseef, Abdullah, Bilal, and Salamat — immediately understood why we were there.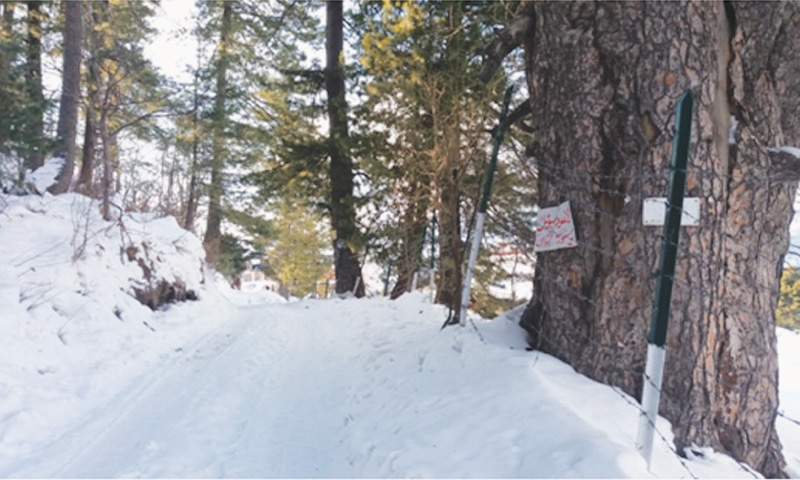 "Is there any shortcut to Shogran? I asked Bilal.
"Yes, there is," he replied while pointing towards a small snow-covered trail, "but be careful, your shoes are slippery."
Bilal was right because I had actually failed a few times before following the path that separated from the main road. His other friends also found the trek challenging. But nonetheless these four boys decided to follow us.
"You should return," I urged them. "We love talking to you and enjoy the weather at the same time," replied Abdullah.
These children made us think about how things should be kept simple. Few fears, no burdens and no melancholy either. They laughed and regaled us with tales of the area, even showing us foxes' claw imprints in snow. From time to time, Tauseef and Abdullah would duck as Bilal and Salamat would hurl snowballs at them.
As we climbed up the road again, I asked about another shortcut. "It is there, but we would never recommend it," Tauseef replied and looked at his other friends. It turned out that the other path was infested with hounds that won't let anyone pass through. "These dogs bark at anyone new here," Tauseef explained. "People feed them well to scare away foxes and brown bears that may eat their hen and other livestock."
There were other stories too as we traversed the landscape. Kewai's villagers as well as those who live in Shogran make most of their living from tourism. Even Bilal's uncle owned a jeep that transports tourists from Kewai to Shogran and to Siri Paye. Some of their neighbours worked at tourist motels in Shogran.
A few kilometres before our destination, a jeep pulled up. Bilal, who was skidding on the snow, gestured us to hop inside. We reluctantly bid farewell to our young friends; the journey could not have been more authentic without these children. But this decision proved wise as with every turn and twist in the road, there was a breathtaking scene waiting for us.
After half-an-hour, we reached Shogran. The snow didn't forget to leave its dazzling mark here. From motels to marquees to a small mosque, they were all snow-white. The mosque was in fact beautifully decorated with granite tiles. On its walls was exquisite artwork to add greater character to the architecture. Pine trees added a streak of green to the valley.
Awe-struck with the beauty, we roamed the valley for an hour. Although I captured Shogran's beauty through my camera lens, I couldn't help ask who to credit these amazing pictures — Mother Nature's adept hands for carving this amazing heaven on earth, or myself for having snapped it.
I eventually retreated to the thought that had God's glory not found its way to Shogran, my camera and I would have been unable to capture it.
The writer is a freelancer based in Peshawar. He writes on travel, health and lifestyle
Published in Dawn, EOS, April 23rd, 2017