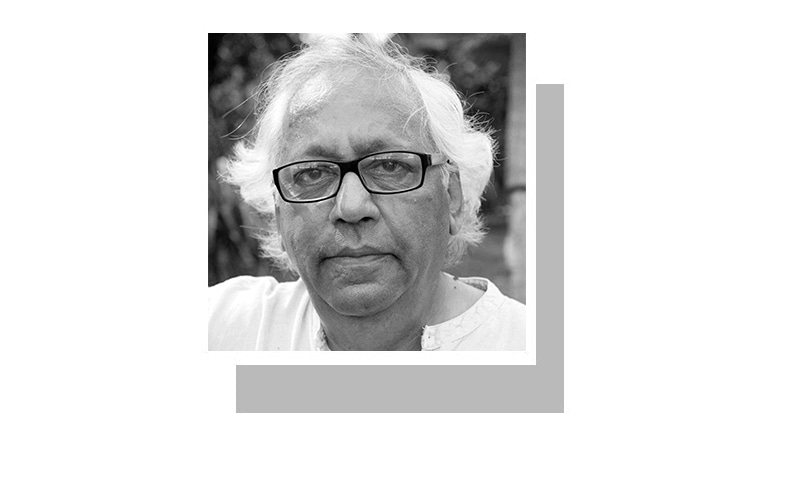 I WASN'T aware of this term's existence till a couple of years ago, and I bet our Chinese friends aren't happy with being associated with it, if only by name.
Basically, 'China cutting' refers to the practice pioneered by the MQM of slicing plots from parks and land earmarked for public amenities, and converting them into residential and commercial property that is sold off for huge profits. Several MQM leaders are alleged to have made fortunes from this daylight robbery when they were in power.
So I found it somewhat ironic for Karachi's mayor, Waseem Akhtar of the MQM, to thunder that "Karachi was nobody's personal property". This was in response to the Sindh government's recent decision (stayed by the court) to hand over Clifton's Bin Qasim Park to the real estate tycoon, Malik Riaz, for 10 years.
The idea was for him to spend his own money to restore the dilapidated park after years of neglect under the city and provincial governments. It once had an amusement park, and a lovely little aquarium paid for by the Japanese, who also supplied the fish and organised their display. Now, the park is a wasteland of scrub, sand dunes and blowing shopping bags.
The media jumped on the bandwagon, screaming about yet another scandalous land grab. Now I'm no fan of Malik Riaz, but the fact is that he has a strong motive to restore the park, as it is clearly visible from his huge high-rise project, and has the deep pockets to clean it up.
---
Many MQM leaders are said to have profited from the practice.
---
But this isn't the only contentious proposal relating to land. Recall the huge wave of indignation that roiled our political waters when it emerged that the former army chief, Raheel Sharif, had been given 90 acres (36.4 hectares) of prime agricultural land as a farewell present. This caused the general's many admirers to wring their hands in despair, despite the fact that all army chiefs are similarly favoured upon retirement.
Pakistan is dotted with defence societies where land acquired from provincial governments is parcelled and sold to serving and retired officers. They then usually flog their plots at a substantial mark-up to civilians.
I am not suggesting any illegality here. Nevertheless, this massive real estate operation is seen as being facilitated by the resources and clout available to the military. And while I certainly would not like to see retired officers living in poverty, no other military I know of is as generous as ours when it comes to the officer corps.
According to the rules formulated by our long-gone colonial masters, state land could be transferred to the military for specific purposes. However, the land is supposed to revert to the state once it was no longer being put to its designated use. But the latter part of the rule was overlooked, and the military wanted more and more land as cities grew and surrounded army cantonments.
So if a firing range, say, could no longer be used without endangering civilians, there was a strong case for asking for more land further away. But instead of surrendering the existing firing range to the provincial government, it would be converted into yet another 'defence society', developed and allotted to officers who paid the charges in instalments. The land's prime location would fetch a large profit to its new owners.
No notable city in Pakistan is without its own defence society. Agricultural land, too, has been militarised on the pretext of adding to the country's defences. Thus, it has been pointed out that thousands of acres along Punjab's border with India were parcelled into farms and sold to retired officers at nominal prices, or allotted to recipients of military honours. The justification was that the presence of armed retired officers and their staff would somehow provide us with a layer of security against an Indian attack.
But the security establishment has always been past master of the game, and has put the likes of the MQM and Malik Riaz to shame. And the best thing about its real estate operation is that it's all entirely legal.
But then what about all the land being allocated for infrastructure projects and industrial zones under the China-Pakistan Economic Corridor? Under what terms are the Chinese acquiring it? Some reports have mentioned a 99-year lease. But how much annual rent, if any, would be paid? Will the trucks and trains carrying goods to and from China pay a toll?
This aspect of CPEC remains opaque, as do others. Until greater clarity is provided, it must remain in the category of China cutting. The question to be asked — as Pervez Hoodbhoy did recently on these pages — is what happens when we run out of land? This moment will come in the near future at the rate at which we are multiplying.
Published in Dawn, April 15th, 2017