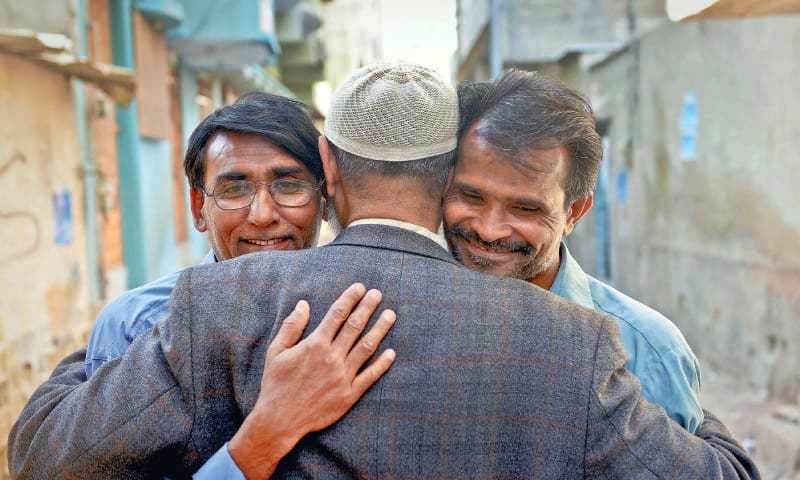 KARACHI: "After being washed up ashore we realised that we had reached Sanaa, Yemen. We performed sajda to thank God that we were in an Islamic country," says Mohammad Siddiq Ahmed Bhatti, who returned to Pakistan five days ago along with six other Pakistani fishermen after 11 years thanks to the efforts of the International Committee of the Red Cross (ICRC) and the Pakistan government.
"We gave ourselves up to the Yemeni authorities because there was nothing to fear from our Muslim brothers. Besides, it wasn't really our fault that we were there. We were caught up in a storm and lost our way.
"The current was so strong that our boat sank and we were boat-wrecked," he said, recalling the happenings of May 21, 2006. "I will never forget that day."
There were 12 of them. Over the years two died and returned home in a casket and they left behind three of their colleagues. "We were tried in court for arriving in Yemen without the necessary papers. We showed them our fishing permit and fishermen's cards and explained to them the circumstances behind our turning up on their shore.
"At first they pardoned us but asked for fine. When we told them that we were poor fishermen and had nothing, not even fish as our boat sank, they arrested us and implicated us in false cases. Corruption is everywhere," he said.
"For two years, no one knew anything. Behind bars we didn't know whom we should get in touch with. Back home our families had already given up on us. They thought we were dead.
"Worry and tension cut short the lives of two of our friends. Saeed Hakeem Dad died of heart failure and Wali Jan Lakho had a stroke," he recalls painfully.
Volunteers of the International Committee of the Red Cross regularly visit jails to help prisoners and distribute blankets, medicine, etc. That's when the 12 Pakistani fishermen were discovered. The Red Cross contacted the Pakistan Embassy in Sanaa with information about them.
"The consulate helped us get in touch with our families back home. The first time I heard my children's voices over the phone I thought my heart would burst. They had given up on us and couldn't believe that we were alive.
"That done, work to bring us back started. Our ambassador in Yemen, Dr Irfan Yusuf Shami, used to visit us, but he returned to Pakistan three years ago and the embassy closed.
"We were also being helped by some Pakistani women whose husbands were stationed there. Seeing our plight they would bring us home-cooked food and even money. They were all from Lahore and cared for us like elder sisters. But then after the problems (outbreak of civil war in 2014), they, too, returned to Pakistan and once again we were all alone," he says.
Bhatti, who suffered a mild stroke during captivity and has limited movement in his left arm, says that he is Katchhi. He was born in Baba Bhit Island, but later moved to the mainland Karachi. "Still, fishing is my ancestral profession and I won't give it up," he says.
Sulaiman Siddiq Sulaiman, another fisherman, who also returned with Bhatti and happens to be married to one of his cousins, says that he was born in Baba Island but also moved to Karachi later. In fact, both men had moved again, this time to Gwadar for better prospects in fishing. That's when they got caught up in a storm on that fateful day to end up in Yemen.
"All the other 10 fishermen hail from Balochistan. It is not unusual to find Baloch fishermen in Sindh and vice versa," says Sulaiman. He says that it really didn't make any difference whether they were Katchhi, Baloch or Sindhi on foreign land. "The staff of the Sanaa central prison would bring a plate of food for 20 people to share. If we asked for more they would tell us to buy it from the prison canteen. All of us were in the same boat. There were prisoners from Syria and Tanzania as well," he says.
"But what really bothers us now is that three of our brothers are still there. We hope the government, with assistance from the ICRC, will succeed in bringing them back. They too have families," he says before becoming quiet.
Speaking about families waiting for their return, Bhatti said both his parents passed away while he was in jail in Yemen.
The ICRC took the trouble to fly a few family members of the returning fishermen to Islamabad to receive them when they returned in the middle of the night on Friday. "I was looking at my grown-up son and he was looking at me, but we couldn't recognise each other. He was only 10 when I vanished," he says.
Both the fishermen said they were so happy to reach Pakistan "that the moment we set foot on Pakistani soil, we kissed the tarmac. We had not planned it beforehand. It was just a spontaneous gesture from all of us," he says.
The ICRC helped bring them to Karachi from Islamabad while the Baloch fishermen have been flown to Turbat after touching base in Islamabad.
Published in Dawn February 14th, 2017