California Pizza Publishing Partner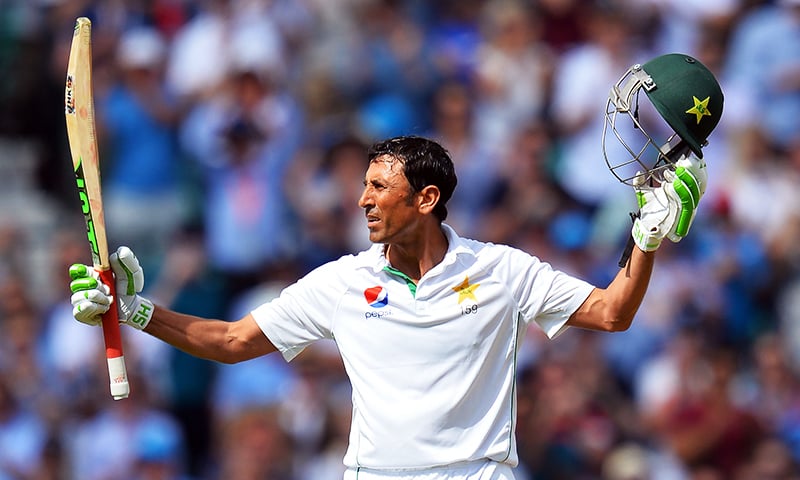 LONDON: Younis Khan's superb double century took Pakistan into a dominant position in the fourth Test against England at The Oval on Saturday.
The veteran batsman's 218 was the centrepiece of Pakistan's 542 all out at tea on the third day in reply to England's 328. Younis received excellent support in a ninth-wicket stand of 97 from Mohammad Amir, who scored 39 not out.
Younis's sixth innings of 200 or more in Test cricket was a dramatic way for the 38-year-old to end a run of low scores. He had managed just 122 runs in six previous innings this series, with a best of 33 in Pakistan's first Test win at Lord's.
1000+ fours
Younis's 308-ball stay on the crease included 31 fours and four sixes. With this innings, Younis's tally of total number of fours hit in his 108-match career so far reaches to 1,027. However, during this time span, the 38-year-old veteran has hit only 64 sixes.
Sixth 200+ score
Younis, who debuted in the year 2000 under the captaincy of Saeed Anwar against Sri Lanka in Rawalpindi, has been a mainstay in Pakistan's middle-order for over a decade.
He has been an integral part in the team post-2003 World Cup and formed a deadly batting combination with Inzamam-ul-Haq and Mohammad Yousuf. They were known as Pakistan's "big guns".
Younis's heroics at The Oval today was his sixth 200th+ score, making him stand at No. 9, shoulder-to-shoulder to with Pakistan great Javed Miandad, in the list of batsmen with most double hundreds in Test cricket.
Australia's Sir Donald Bradman tops the list by scoring past 200 runs 12 times in his career.
He is followed by Kumar Sangakkara of Sri Lanka with 11 200+ scores, Brian Lara (West Indies, 9), Wally Hammond (England, 7), Mahela Jayawardene (Sri Lanka, 7), Marvan Atapattu (Sri Lanka, 6), Virender Sehwag (India, 6), Javed Miandad (Pakistan, 6), Younis Khan (Pakistan, 6), Ricky Ponting (Australia, 6) and Sachin Tendulkar (India, 6).
Younis is the only player from the list who continues to feature in international Test matches.
His top score in Test cricket is 313, scored against Sri Lanka in Karachi in 2009. Pakistan hasn't played a Test match on its soil since then.
32 Test tons
Sachin Tendulkar leads the list with 51 Test centuries. He holds the record to be the undisputed lord of Test cricket by playing 200 Test matches and maintaining a career average of 53.78. The best is always looked upon as the benchmark.
Younis may not be able to match the class of Sachin, but nonetheless has made a name for himself good enough to be standing at No. 9 on the list of most Test hundreds.
He has so far scored 32 Test centuries. Two more tons and he will find himself at the number fifth spot.
On the list, Sachin is followed by Jacques Kallis of South Africa with 45, Ricky Ponting (Australia, 41), Kumar Sangakkara (Sri Lanka, 38), Rahul Dravid (India, 36), Sunil Gavaskar (India, 34), Brian Lara (West Indies, 34), Mahela Jayawardene (Sri Lanka, 34), Younis Khan (Pakistan, 32) and Steve Waugh (Australia, 32).
Younis is the only Pakistani to have scored 30+ Test hundreds.
9456 Test runs
There have only been 12 batsmen in cricket's history to have scored past 10,000 runs in Tests. A rare feat which symbolises temperament of a batsman in cricket's five-day format, none from Pakistan has ever done so.
With 218 against England at Kia Oval, Younis stands at 9,456 Test runs in 108 matches at a career average of 53.72. He needs 544 more runs to have his name included in the list of those who have scored past 10,000 runs in the game's most-challenging format.
As the England's Test tour ends, Pakistan look forward to two Test match against West Indies, two against New Zealand and three against Australia.
For Younis, the equation before possible retirement is simple: 544 runs to get in seven Tests. Will he be the first Pakistani to do so?